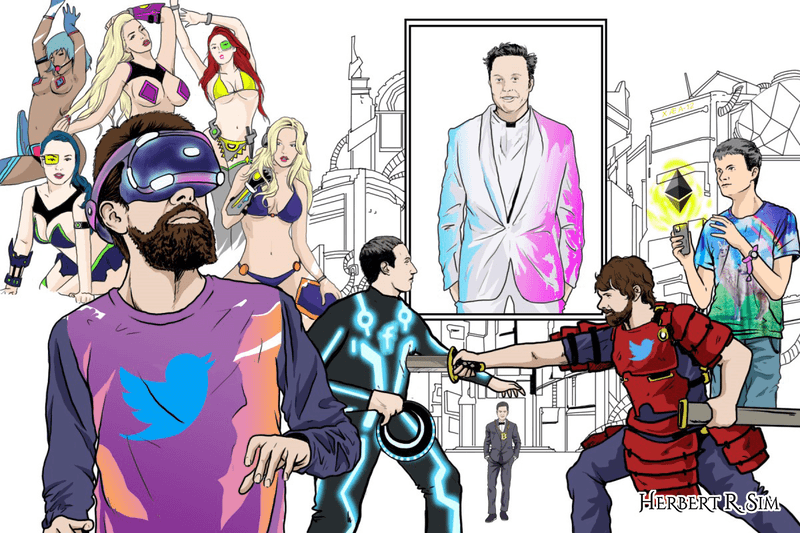 In my latest illustration, I draw Jack Dorsey wearing VR googles, in a Metaverse of 'hot girls', with him as a Samurai stabbing Mark Zuckerberg in a TRON suit. With Elon Musk, Vitalik Buterin, founder of Ethereum, and myself The Bitcoin Man in the backdrop of a Cyberpunk city.
————————————————–
If you think Big Tech is controlling your life through social media and mobile devices now, wait till you hear about the Metaverse. Gamers and pop culture nerds may be more familiar with the term but, in a nutshell, the Metaverse is a hybrid of real and virtual living space for all people.
A portmanteau of 'Meta' meaning 'beyond' and 'verse' for the universe, the Metaverse was first mentioned in the 1992 novel Snow Crash by Neal Stephenson. The concept of the Metaverse may not be new but technology today — especially with the advancement of virtual reality (VR) and augmented reality (AR) technology – is the bridge from sci-fi to real life. As surprising and sudden as this seems, this progression is neither a surprise nor sudden. Ever since the invention of the television, engineers have been trying to outdo each other in making the celluloid experience more immersive. You cannot get more immersed than living in a virtual world.
The Metaverse that Big Tech built
In June 2021, Chief Executive Officer of Facebook Mark Zuckerberg unveiled his vision of turning the popular social media network into a Metaverse company. A peek into the work being done at Facebook Reality Labs reveals VR collaboration with content producers and media owners.
Spark showcases AR experiences with a slew of apps and devices, including Facebook's own smart glasses, Ray-Ban Stories, a tie-up with Essilor Luxottica, which lets users listen to music, take calls and capture videos and photos. Most recently, Facebook announced an update to its Portal teleconferencing device. Its Horizon beta project aims to be a virtual town hall for people to meet digitally.
Facebook is not the only one with world-building ambitions. Microsoft is also getting into the fray. Not only is it building an enterprise Metaverse, it says it is "uniquely positioned" to help companies create Metaverse apps with its artificial intelligence and mixed reality tools. Its Xbox division is already poised to render a digital world for us to interact in. Even though Apple has not announced its plans for the Metaverse, it has big dreams for AR, so does Magic Leap ­– one of the first AR app to launch in 2011. You can bet Google — one of the first to show its Google Glass —will not be far behind.
Playtime is over
As usual, gaming companies are no slugs in this department. Epic Games, makers of the popular Battle-Royale game, Fortnite, claims it is not just a game but a Metaverse. Gaming platform Roblox is also building a Metaverse. Novaquark General Manager Sébastien Bisch uses the analogy of a shared experience between two or more people attending a concert within a game (without actually being at the same venue or even zipcode) as a Metaverse encounter. The company develops a user generated MMO Dual Universe.
The need for a Metaverse does seem more acute for gamers, especially in massive multiplayer role-playing ones. Afterall, what could be more satisfying than sitting down for a drink at a virtual tavern after a team raid? In fact, many people turn to the movie Ready Player One as the definition of the Metaverse. In the movie, gamers don haptic suits to feel the game for the immersive experience.
The only thing that stands in the way of a Metaverse in the gaming guild is a standardised way to pay. Apple, like every digital company, guards its payment ecosystem and is reluctant to open up to other payment mechanisms. Epic's battle with Apple is not so much about Apple's control on apps developers but about opening up "locked systems" for the Metaverse.
————————————————–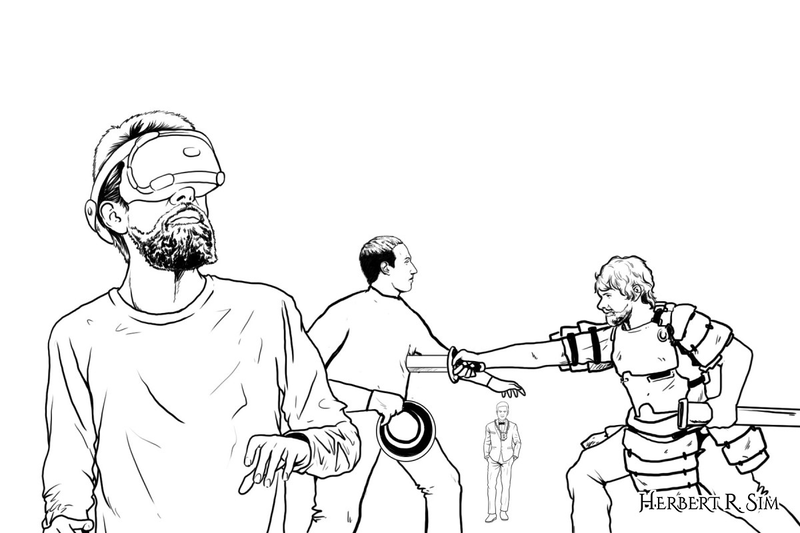 Above is a GIF to show the process, the hours of Work-In-Progress of the sketching of the art.
————————————————–
Right on the money
The answer may (again) be referenced to a gaming term, "coin" — Bitcoin, that is. Creator of the hugely popular virtual world-slash-game Second Life, Philip Rosedale wants to use blockchain to record creations made by developers, such as clothes or buildings, for purchase in the Metaverse.
His company High Fidelity is banking on the decentralised technology to tag items to players instead of games, which lets you trade and transact goods across multiple games or worlds. High Fidelity has also created its own cryptocurrency known as High Fidelity Coin (HFC) as a standardised way to track transactions. Unlike other crypto, it cannot be mined and is traded at 100 HFC to US$1.
Virtual transactions can earn you real bucks too. In the Decentraland Metaverse, users snap up "land parcels" to be developed into venues for K-pop concerts in Korea. Users pay real money to "live" in the online world. Marginalised by rising residential prices and greater income gap, many of these Generation MZ users opt to hang out with friends in the Metaverse, shopping, and hosting social gatherings. It lets them party in the cloud (nine) too.
Korean Chaebol Samsung is also cashing on this trend with its Samsung Global Metaverse Fund, which invests in cloud computing and VR as well as online gaming, gaming payments, 3D design tools, platform businesses, mobility and the luxury goods industry.
Is it any wonder, then, that Facebook is pushing so hard for its own cryptocurrency, DIEM (Formerly LIBRA)?
Going to the great Metaverse in the cloud
Big Tech is definitely driving this new future. Microsoft's implantable chip for transactions and Elon Musk's neurochip seem geared for a fully immersive virtual world. With extended lockdowns, shuttered flights and greater technology that fosters "real" human connection, the Metaverse may be closer than we think.
A snap poll done by Loup Ventures revealed almost 12 per cent of its respondents already think we are living in a simulation and more than half (57 per cent) think humanity will live in a simulation at some point in the future.
In the 2020 comedy series, Upload, the protagonist Nathan Brown is uploaded into a digital "heaven" when his self-driving car gets into an accident. His girlfriend uploads his consciousness into a Metaverse funded by her real-world bank account. As a result, Nathan is under her beck and call as he needs her cash to live in the afterworld. The couple even attempts sex using a haptic suit.
Is science fiction colliding with the real world? If it is, will you choose the blue pill or the red?
————————————————–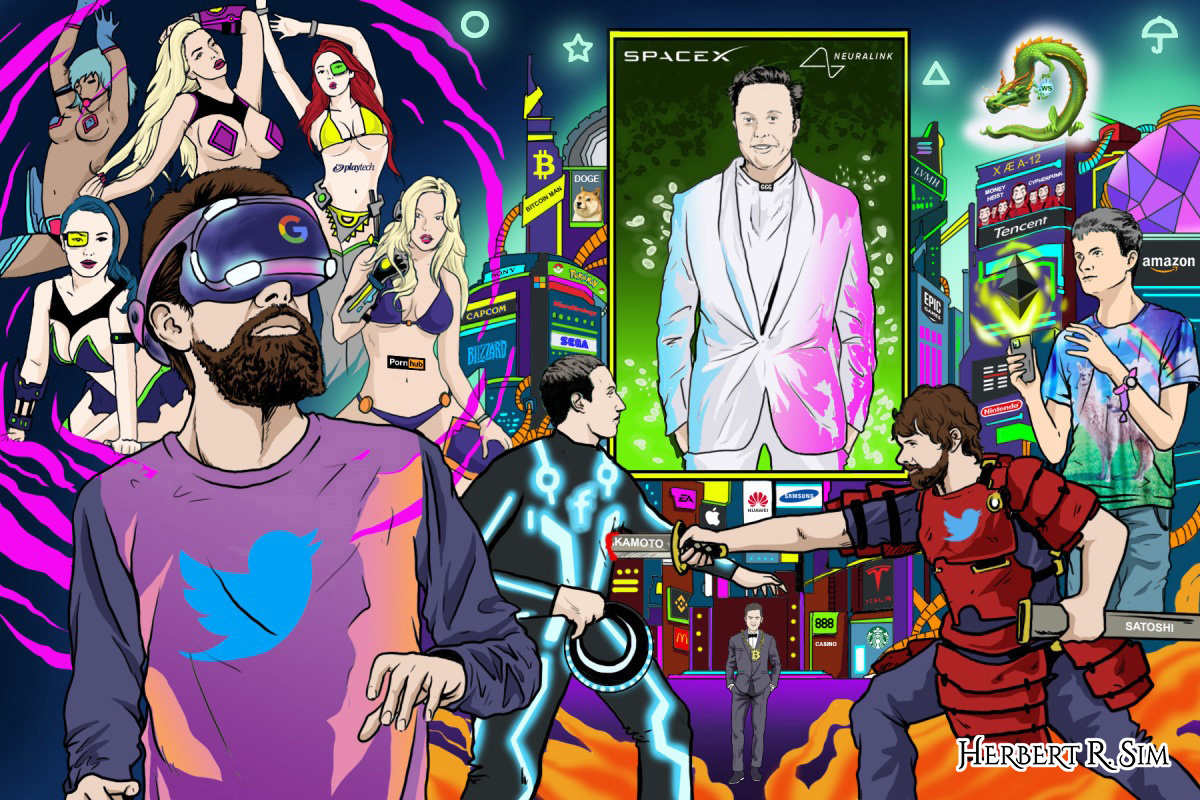 In the final illustration, there are plenty of clues within the Metaverse art – from Brand logos, to Names (e.g. Satoshi Nakamoto, X Æ A-12, 666), also you can also notice at the top right corner a DRAGON Emoji url (.ws – Unicode: xn--0n8h.ws).