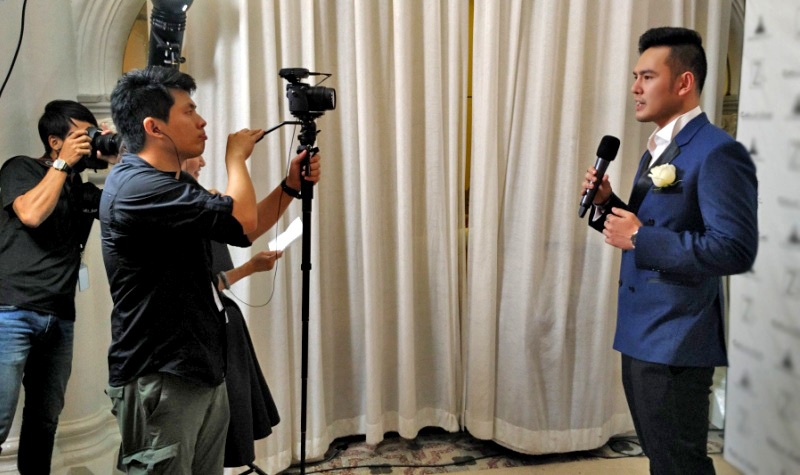 12 Wealth and honor come from you;
you are the ruler of all things.
In your hands are strength and power
to exalt and give strength to all.
13 Now, our God, we give you thanks,
and praise your glorious name.
— 1 Chronicles 29:12-13
Herbert Rafael Sim (沈峻霆), is a futurist, philanthropist, entrepreneur, investor, digital illustrator and writer. Some might even know him as 'The Bitcoin Man" or 比特币侠.
Herbert is currently one of the less than 50 verified 'blue tick' public figures in the Cryptocurrency and Blockchain industry, in the world, across social media platforms – Twitter, Facebook, Instagram, by the handle of @herbertRsim; other social platforms include: Medium and LinkedIn.
This website is used as a blog to house Herbert's opinion writings, digital illustrations, and more. The opinions held by Herbert are mostly about transhumanism, a philosophical and intellectual movement which advocates the enhancement of the human condition by developing and making widely available sophisticated technologies that can greatly enhance longevity and cognition – Genetics, NeuroChip, Medicine.  Herbert draws inspirations from Niklas Boström and David Pearce – both co-founders of the World Transhumanist Association. And to being able to finance and develop such technological sophistication, a stronger more robust financial framework is required, thus his writings delves into Bitcoin and blockchain technology.
Herbert is a Cypherpunk (数码朋克) enthusiast – creator of 'Cypherpunk Girl' character, embraces and champions the theory of decentralization, to make CCU, a repository of knowledge and education for Crypto and Blockchain, free for all.
Current Positions
Herbert is currently the CEO of Swipe2Trade – crypto exchange with user-friendly swiping interface.
Herbert is also the founder of Crypto Chain University (CCU), the world's first repository institute for Blockchain and Cryptocurrency research, established in February 2010. CCU is the first of its kind, a non-profit research-only institute, focused on the public policy issues facing blockchain, cryptocurrency and decentralized computing technologies like Bitcoin and Ethereum.
Herbert uses the brand of "The Bitcoin Man" as an angel investor and advisor to multiple technological startups in the blockchain industry – YUSE.io – A multi-utility token for your everyday life; ShareMine AI – Sustainable 'green' mining pool; DefiSportsCoin – Shaping the Future of Sports with Blockchain.
Past investments include:  TEVEL, a location-based social media platform integrated with blockchain technology from Israeli; TaoDust, the world's first equity crowd-funding platform powered by blockchain technology from Malta; Future1Exchange, an Estonian licensed Digital Assets Exchange; Karuschain, a blockchain technology platform for the precious metals mining industry; GLBrain, online community management built on blockchain technology from Germany;  Bitcoin Bottle – Crypto Merchandize; DeFinance.App – Community Powered Hybrid Decentralized Exchange; MetaLoka – 'Time Travel Themed' MMORPG Metaverse built on blockchain; FortuneZ – Markets, Crypto, Gaming News publication; BeFaster – Health & Lifestyle Mobile App built on blockchain technology; Solidus AI Tech – World's first Artificial Intelligence Utility Token; ETHEKing.io – Play-To-Earn Game built on blockchain technology.
Former Positions
Herbert has contributed to top international publications such as Forbes and Huffington Post.
Herbert was previously the CEO of WeWay.io; Chief Marketing Officer of Cryptology exchange, and prior to that, the Global Operations Director at Huobi Global.
Herbert was the CEO and founder of high fashion & luxury online magazine, WardrobeTrendsFashion a.k.a. WTF. Founded in 2009, WTF is one of the world's largest repository of fashion labels' campaigns and lookbooks from across the globe. The publication was acquired in February 2017, and he served as a member of the board for the online publication till February 2018.
Herbert started his early career in a public relations agency, where he worked as a consultant on retainer for American Express, Fujitsu, Fuji Xerox, HTC, Coffee Bean & Tea Leaf (CBTL), and more…
Activism
Herbert is also an activist for children living in poverty, and champions creating awareness for World Vision, a Christian humanitarian, development and advocacy organisation devoted to improving the lives of children, families and their communities around the world.
His philosophy shared with the young ones is to "Follow your Heart, Chase your Dreams". He writes to help others see that no matter where you come from, you can still achieve your dreams.
Personal Hobbies
Herbert also sets aside time to pursue his interests in the creative arts such as music – piano and guitar, as well as producing on digital illustration visual arts – besides his typical illustrations of crypto and Bitcoin, draws portraits of famous individuals, and scenes of Bible stories. Herbert also dabbled with film production as well, and has been listed as Executive Producer on the Internet Movie Database (IMDb) for a number of films, as well as television shows.
Additional Information
This website HerbertRSim.com, is Herbert's official personal website, which has the official URL shortcut of the rare single character domain name – ☓.com (registered on 3 February 2005). Herbert used ☓.com for Crypto Chain University, from February 2010, and acquired it back from Crypto Chain University on 10 December 2014. The English alphabet, X.com is owned by Elon Musk. ☓.com's unicode/punycode is xn--33h.com. The symbol of "☓" known as Saltire, is also called Saint Andrew's Cross or the Crux Decussata. It is a heraldic symbol in the form of a diagonal cross, like the shape of the letter X in Roman Numeral of the number 10. ☓.com was acquired on 11 July 2023 by anonymous buyer.
Intermittently, Herbert Sim used SuperHacker.com (Est. 1999) as his website/blog, today, the url is used as a shortcut pointed to 'The Bitcoin Man' page.
Herbert is also the owner of NeuroChip.com. It is interesting to note that the world first Neurochip was published online by Naweed Syed in August 2010, with earlier experiments on neurochip technology dating back to 2003. Herbert's domain url of NeuroChip.com was registered in 1999.
Herbert also owns GeneticsTechnology.com, registered in 2002; and PoliticalEconomics.com, registered in 2002.
The domain url of TheBitcoinMan.com (registered on on 30 June 2016) was also acquired and initially used to showcase Herbert's creative works in Blockchain and Bitcoin. It is now used to house the projects that Herbert invested into, and advised with. Herbert also owns the Instagram page "@TheBitcoinMan" and facebook page 'The Bitcoin Man" (created in 9 February 2017).
Herbert also owns the emoji domain urls:
News Coverage
Full List of News Coverage about Herbert Sim
Personal Awards
'30 Under 30′ Award by Oklahoma City University
Education/ Accreditation
2020-Ongoing – PhD in Economics, University of Malaya, Malaysia,  (Thesis – Geopolitics, Artificial Intelligence).
2016-2017 – Master of Business Administration, University of Wolverhampton, UK.
2007-2010 – Bachelor of Arts, Liberal Studies & Mass Communications, Oklahoma City University, Oklahoma City University, USA.
—————————————————–
—————————————————–