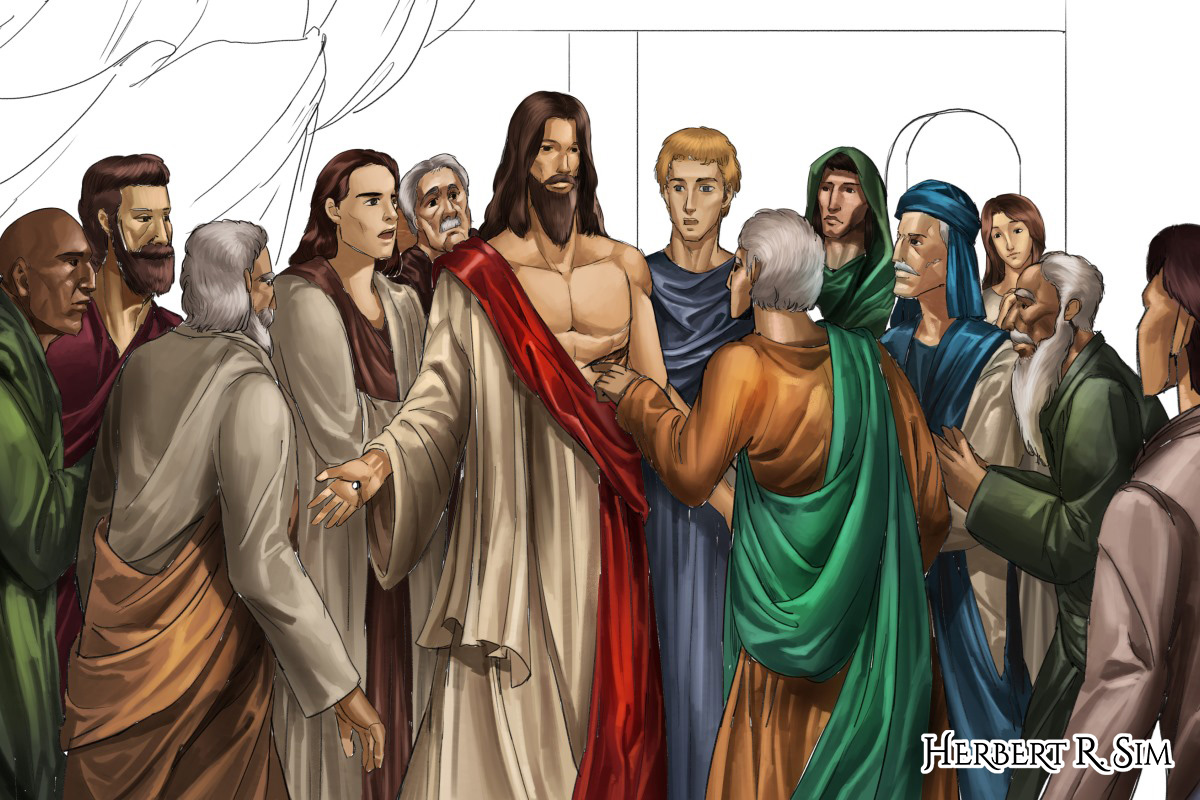 Above is my illustration sketch, of Jesus' Special Resurrection Appearance for Doubting Thomas. For me, it is a very beautiful moment, that Jesus accommodated even a skeptic.
———————————————————-
A doubting Thomas is a skeptic who refuses to believe without direct personal experience — a reference to the Gospel of John's depiction of the Apostle Thomas, one of Jesus' disciples, who, in John's account, refused to believe the resurrected Jesus had appeared to the ten other apostles until he could see and feel Jesus's crucifixion wounds.
How did Jesus respond to Thomas?
What did Jesus do with such a man? He made a special resurrection appearance for him. He condescended to Thomas and his desire to know for himself. What amazes me about this is that Jesus came to Thomas on his level. He didn't rebuke him. He didn't humiliate him. He could see that deep down in Thomas's heart, he really wanted to know God. Jesus came to him and said, "Reach your finger here, and look at My hands, and reach your hand here, and put it into My side. Do not be unbelieving, but believing" (John 20:27).
Jesus may have challenged Thomas's doubt, but he also didn't condemn him for his lack of faith or pessimism. Instead, he came down to Thomas's level, overcoming his fear and uncertainty with compassion and grace.
Lessons from Doubting Thomas
You might be someone who is a bit skeptical, a bit unsure of your faith. You may have a lot of questions. Deep down inside, you want to know God. You want to know for yourself. The risen Lord has something for you. He can turn your skepticism into belief.
Don't be afraid or hesitant to come to Him with your questions, with your doubts. Come to Him as you are. Allow Him to answer you.
At the same time, "blessed are those who have not seen and yet have believed." This, highlights that if you want greater blessings, simply believe in Jesus, with child-like faith.
The same way, the thief on the cross beside Jesus went to be in heaven with Him, simply by believing that Jesus was the son of God.
———————————————————-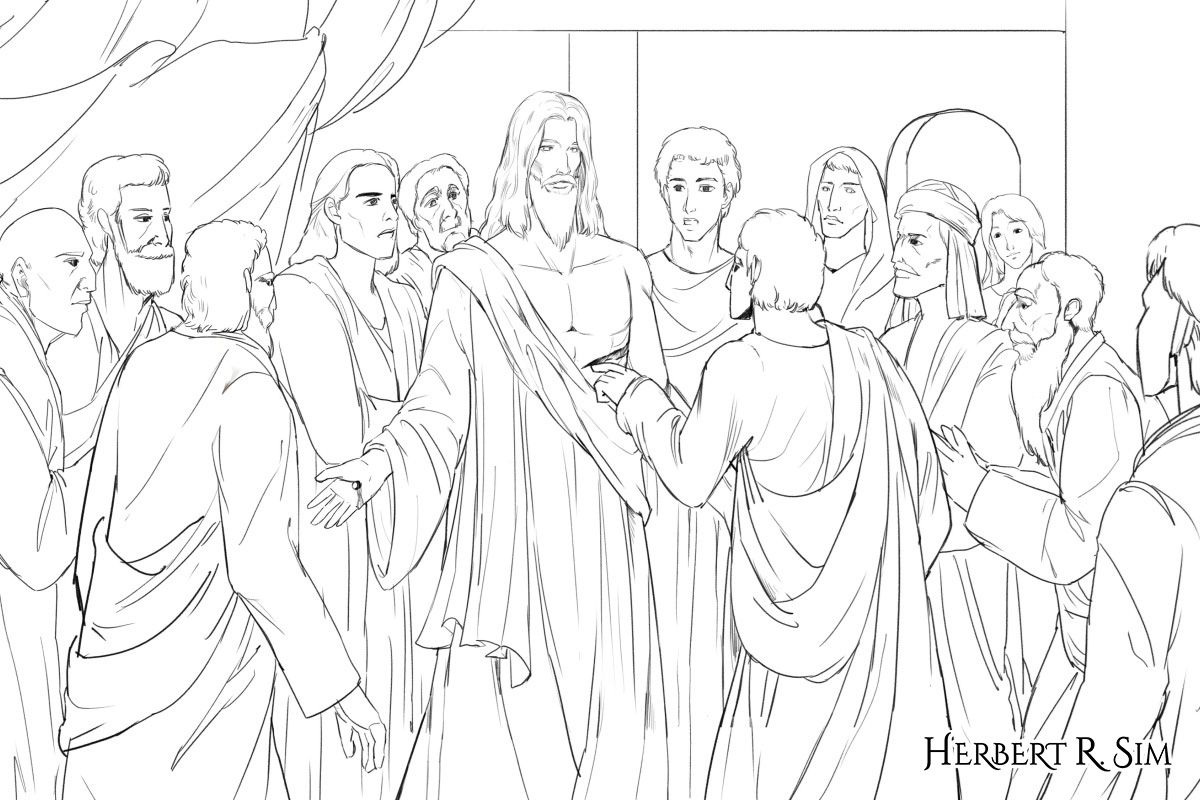 In my work-in-progress sketch, I made sure to showcase the eleven disciples (minus JudasIscariot), and Mary Magdalene (the first person whom he appeared to after his resurrection).
———————————————————-
Doubting Thomas Bible Story
Jesus Appears to Thomas
24 But Thomas, one of the twelve, called Didymus, was not with them when Jesus came.
25 The other disciples therefore said unto him, We have seen the Lord. But he said unto them, Except I shall see in his hands the print of the nails, and put my finger into the print of the nails, and thrust my hand into his side, I will not believe.
26 And after eight days again his disciples were within, and Thomas with them: then came Jesus, the doors being shut, and stood in the midst, and said, Peace be unto you.
27 Then saith he to Thomas, Reach hither thy finger, and behold my hands; and reach hither thy hand, and thrust it into my side: and be not faithless, but believing.
28 And Thomas answered and said unto him, My Lord and my God.
29 Jesus saith unto him, Thomas, because thou hast seen me, thou hast believed: blessed are they that have not seen, and yet have believed.
———————————————————-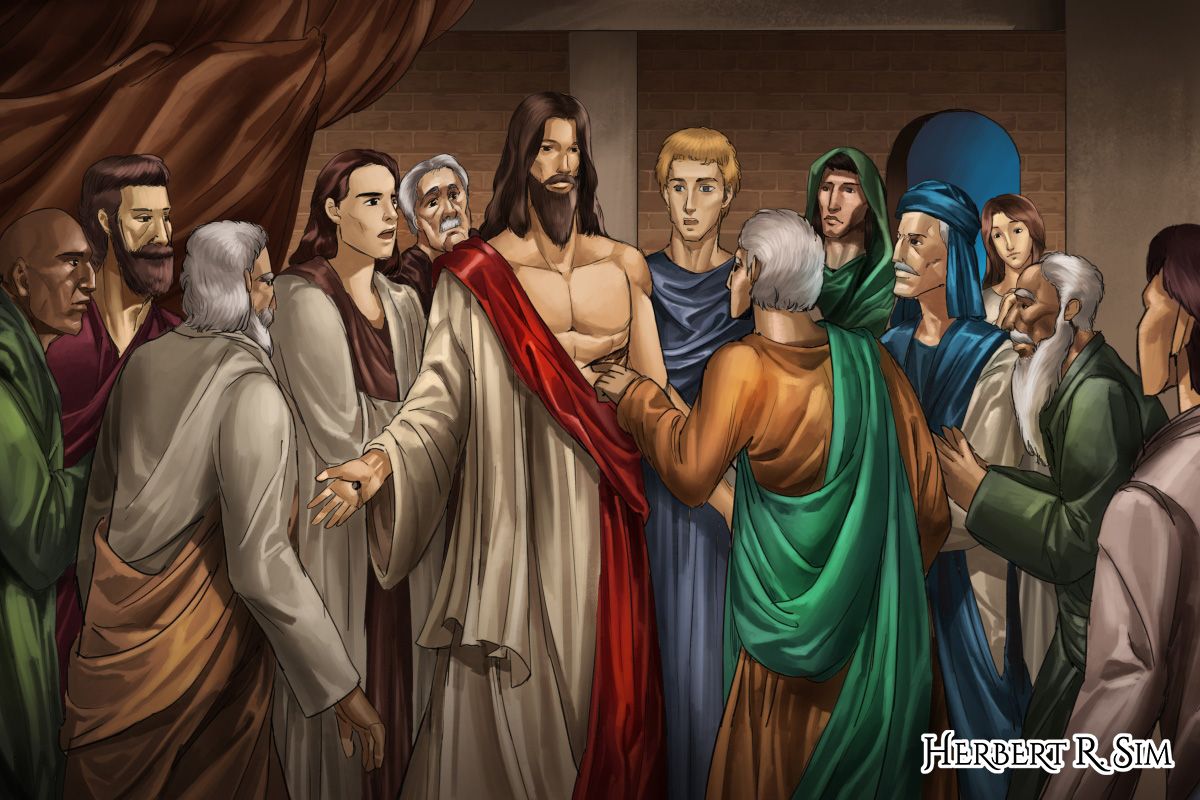 In my final illustration, the focus is on the action of Thomas reaching out his hand and putting it into Jesus' side. Also, notice the detailing of Jesus' nail-pierced hands.