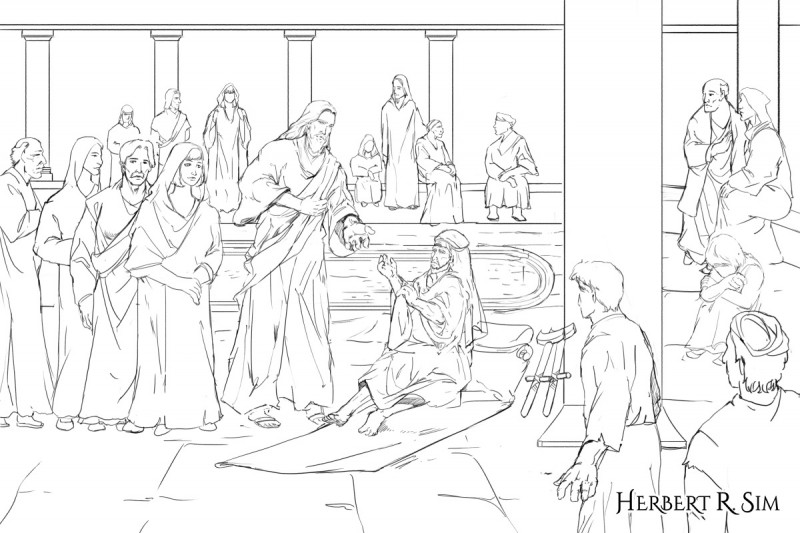 In my latest illustration, I illustrate one of the 7 signs of Jesus – Healing the paralytic at Bethesda. And Jesus picking that one man, out of the entire crowd to heal specifically.
———————————————————
In approximately two weeks' time is Michaelmas, also known as the Feast of Saints Michael, Gabriel, and Raphael, the Feast of the Archangels, or the Feast of Saint Michael and All Angels) is a Christian festival observed in some Western liturgical calendars on 29 September.
That said, the focus of Christianity should always be on the Holy Trinity — the Father, the Son (Jesus Christ), and the Holy Spirit. And today in advance of that festival, I publish my illustration of Jesus healing the paralytic at Bethesda.
So in this story of Jesus healing the Paralytic at the Pool of Bethesda, was a great crowd of people — paralyzed, blind, lame, sick — all waiting for the water to be troubled. Out of that crowd Jesus picked one lone man. He did not healed everybody at the area, he did not invite them all to come down so that he might lay hands on them. He went to only one man.
The value of a story like this, and the reason it is in the gospels, is not only to reveal to us who Jesus was — truth about the Lord himself — but also to show us how God proposes to deal with human helplessness and weakness. It was undoubtedly the helplessness of this man that drew Jesus to him.
We all can see ourselves, in a sense, helpless, weak, crippled and lame, lying at the pool of Bethesda this morning. We all need help, especially during COVID-19 corona virus pandemic that has affected the world at large in many different ways, industries, and more. We all find ourselves paralyzed at times, unable to do the thing we want or ought to do. We find we are lame: we do not walk very well spiritually. This story is included in the gospels in order that we might understand how God proposes to help us through the ministry of Jesus.
———————————————————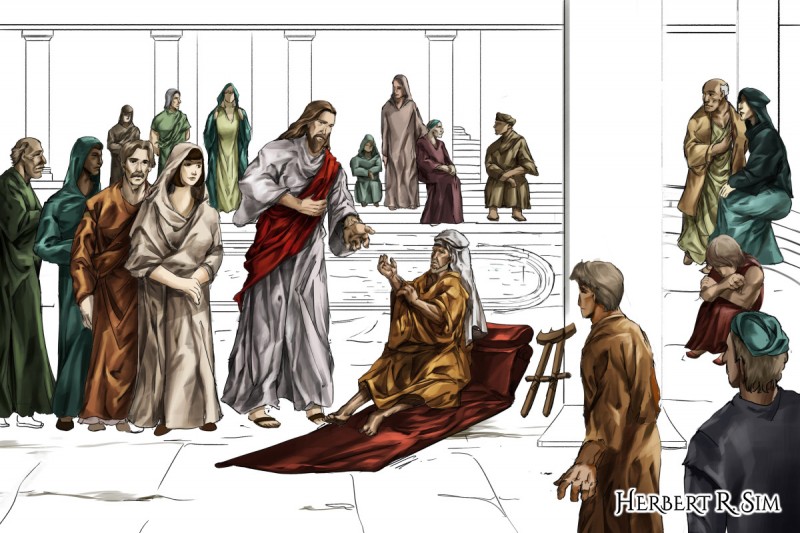 Detailing and coloring in the sketch, you could see steps were added as well. The Bethesda Pool, where Jesus heals the paralytic man in the Gospel of John, is a complex site. It appears to have been a mikveh, or ritual bath.
———————————————————.
Versus 8 was the crux, and most impactful verse of this story:
8 Jesus said to him, "Rise, take up your bed and walk." 9 And immediately the man was made well, took up his bed, and walked. — John 5:8 (NKJV)
The man by faith, believed he was healed by Jesus, and immediately took up his bed and walked. Note that it was his faith in Jesus, and Jesus' words, not faith in himself.
That is a critical clue many miss when they are looking for help from God. Many preachers are teaching the law, by the works of man (keeping the 10-commandments, being holy), but with Jesus, we are now under His Grace, it is by Jesus completed work on the cross that we are made righteous before God.
We need to believe in Jesus' power, instead of our own works, like the man, who believed in Jesus's power, and His words, and by faith did exactly as Jesus' commanded.
Similarly, whatever we are praying for, we need to hope and believe in Jesus' power to do the impossible in our situation. Knowing that it is because of His completed work on the cross, that is why we can stand before God holy, unblemished, and thus, having God's favor.
11 If you then, being evil, know how to give good gifts to your children, how much more will your Father who is in heaven give good things to those who ask Him! — Matthew 7:11 (NKJV)
———————————————————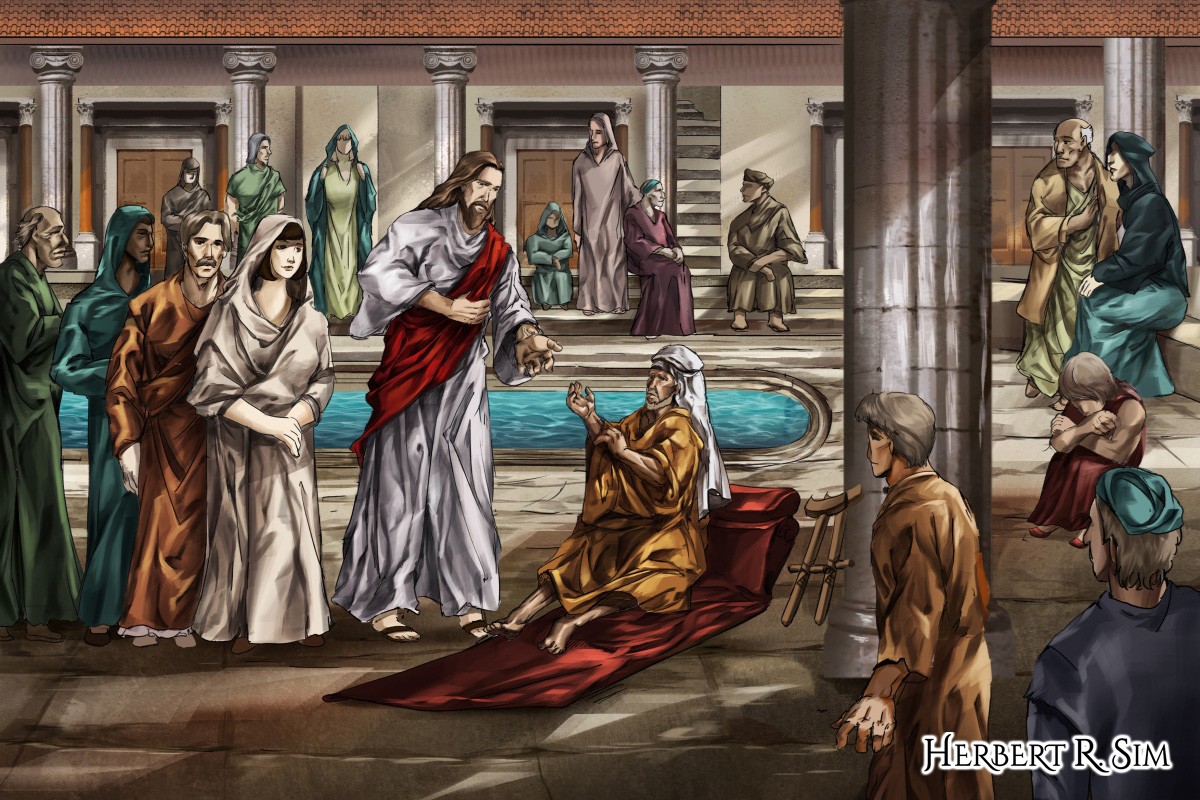 In my final illustration in full color, what I am depicting is verse 6 and 7, where Jesus was speaking to the paralytic man, asking him "if he wants to be healed". As this is the most impactful portion, the man believing in Jesus' power that Jesus was able to heal him if Jesus wants or wills it.
———————————————————.
A Man Healed at the Pool of Bethesda
5 After this there was a feast of the Jews, and Jesus went up to Jerusalem. 2 Now there is in Jerusalem by the Sheep Gate a pool, which is called in Hebrew, Bethesda, having five porches. 3 In these lay a great multitude of sick people, blind, lame, paralyzed, waiting for the moving of the water. 4 For an angel went down at a certain time into the pool and stirred up the water; then whoever stepped in first, after the stirring of the water, was made well of whatever disease he had. 

5 Now a certain man was there who had an infirmity thirty-eight years. 6 When Jesus saw him lying there, and knew that he already had been in that condition a long time, He said to him, "Do you want to be made well?"

7 The sick man answered Him, "Sir, I have no man to put me into the pool when the water is stirred up; but while I am coming, another steps down before me."

8 Jesus said to him, "Rise, take up your bed and walk." 9 And immediately the man was made well, took up his bed, and walked.

And that day was the Sabbath. 10 The Jews therefore said to him who was cured, "It is the Sabbath; it is not lawful for you to carry your bed."

11 He answered them, "He who made me well said to me, 'Take up your bed and walk.' "

12 Then they asked him, "Who is the Man who said to you, 'Take up your bed and walk'?" 13 But the one who was healed did not know who it was, for Jesus had withdrawn, a multitude being in that place. 14 Afterward Jesus found him in the temple, and said to him, "See, you have been made well. Sin no more, lest a worse thing come upon you."

15 The man departed and told the Jews that it was Jesus who had made him well.