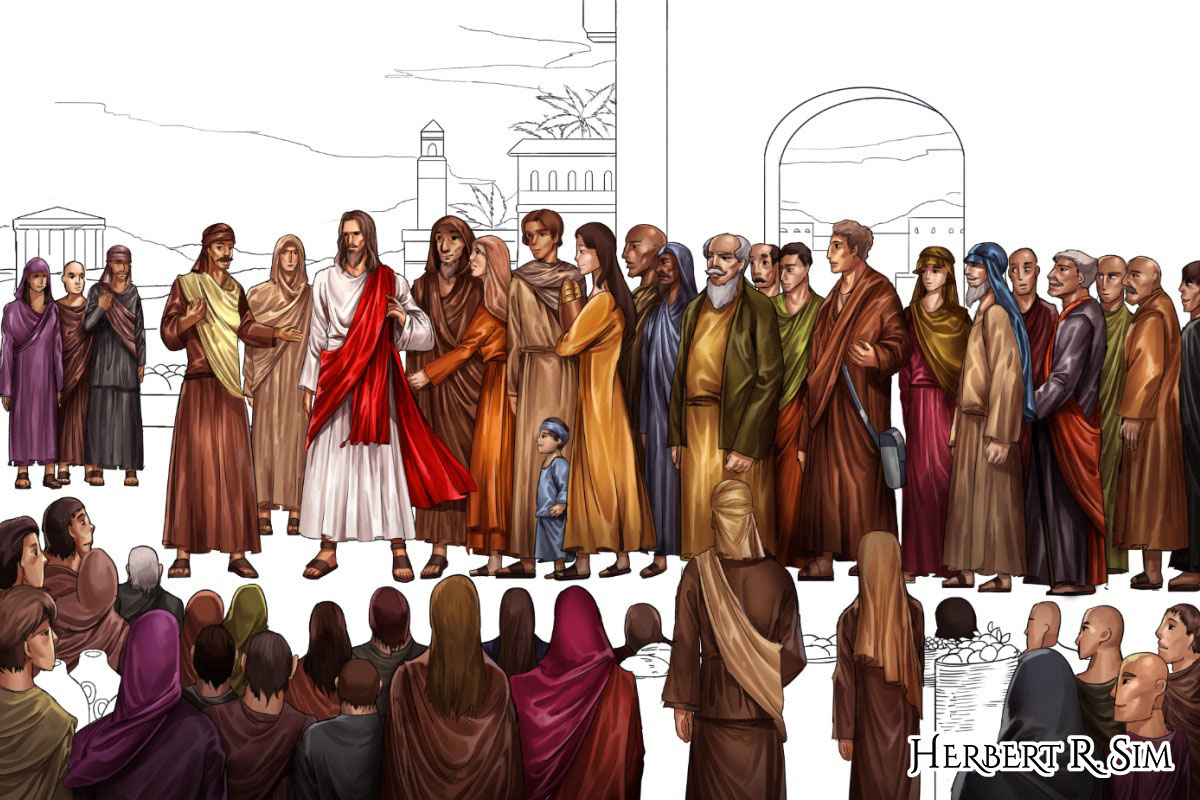 Above is the sketch of one of the many miracles by Jesus, but this specific miracle – the 'woman with the issue of blood' healed by Jesus was mentioned in all 3 the Gospels – Matthew, Mark, Luke.
———————————————————-
You are facing an impossibly hopeless situation in your life. It could be a debilitating sickness, a marital situation, a financial crisis, or a prolonged challenge. In the natural, the future looks dismal and there appears to be no reason to hope. If that is you, I encourage you to believe that you too can experience the kind of breakthrough this woman experienced.
Imagine: for twelve long years, she had watched helplessly as her condition went from bad to worse no matter what she tried. Most of us would have given up. How did she find hope in the midst of her hopelessness? What gave her the courage to hope again?
I believe that the secret to her faith can be found in these five words: "She had heard about Jesus."
What do you think she heard about Jesus? This is an important question because whatever she had heard imparted an audacious sense of Bible hope and confidence in her. And this imbued her with a boldness and tenacity to risk everything just to touch the hem of His garment. She knew well the religious laws concerning unclean persons such as herself meant that she could be subjected to public humiliation and, very possibly, violence if she was recognized. Clearly she must have had no doubt in her heart that she would be completely healed the moment she touched the hem of His garment or she would not have risked it.
The Bible does not tell us exactly what she heard about Jesus, but I submit to you that she must have heard story after story of how Jesus healed the sick everywhere He went, how good and gracious He was even to the unclean lepers or the down-and-out who came to Him. What she heard about Jesus produced in her a positive, confident expectation of good, which we can see in what she declared: "If only I may touch His clothes, I shall be made well." This hope then resulted in a faith that was effortless.
Faith as defined in God's Word is "the confidence that what we hope for will actually happen" (Hebrews 11:1, NLT). In other words, the hope that she had in the goodness of Jesus became faith, and this faith gave her the boldness to press through the crowd and receive her healing from Jesus.
What are you hearing about Jesus? The more you hear about His goodness and grace, the more faith will unconsciously arise in you to receive your miracle. I highly recommend to hear this teacher/preacher – Joseph Prince.
———————————————————-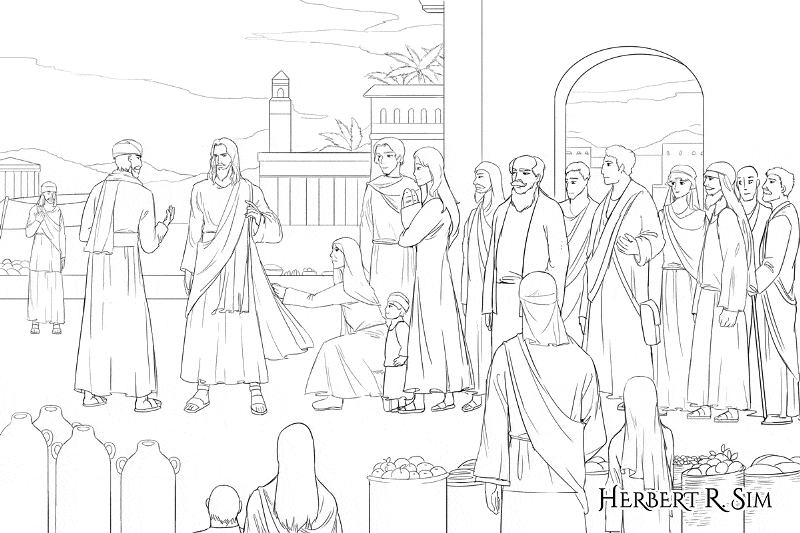 In my work-in-progress sketch, you will notice how I pivoted and changed to make the focus of the woman touching Jesus' cloak as subtle as possible. As she did it secretly, hiding among the crowd surrounding Jesus. If you noticed, I used the title of "Yahweh-Rapha" instead of "Jehovah-Rapha", to emphasis on proper reverence as
God

, rather than just Lord.

———————————————————-
Jesus Heals a Sick Woman
18 While he was saying this, a synagogue leader came and knelt before him and said, "My daughter has just died. But come and put your hand on her, and she will live." 19 Jesus got up and went with him, and so did his disciples.
20 Just then a woman who had been subject to bleeding for twelve years came up behind him and touched the edge of his cloak. 21 She said to herself, "If I only touch his cloak, I will be healed."
22 Jesus turned and saw her. "Take heart, daughter," he said, "your faith has healed you." And the woman was healed at that moment.
— Matthew 9: 18-22
Jesus Healing the Bleeding Woman
21 When Jesus had again crossed over by boat to the other side of the lake, a large crowd gathered around him while he was by the lake. 22 Then one of the synagogue leaders, named Jairus, came, and when he saw Jesus, he fell at his feet. 23 He pleaded earnestly with him, "My little daughter is dying. Please come and put your hands on her so that she will be healed and live." 24 So Jesus went with him.
A large crowd followed and pressed around him. 25 And a woman was there who had been subject to bleeding for twelve years. 26 She had suffered a great deal under the care of many doctors and had spent all she had, yet instead of getting better she grew worse. 27 When she heard about Jesus, she came up behind him in the crowd and touched his cloak, 28 because she thought, "If I just touch his clothes, I will be healed." 29 Immediately her bleeding stopped and she felt in her body that she was freed from her suffering.
30 At once Jesus realized that power had gone out from him. He turned around in the crowd and asked, "Who touched my clothes?"
31 "You see the people crowding against you," his disciples answered, "and yet you can ask, 'Who touched me?' "
32 But Jesus kept looking around to see who had done it. 33 Then the woman, knowing what had happened to her, came and fell at his feet and, trembling with fear, told him the whole truth. 34 He said to her, "Daughter, your faith has healed you. Go in peace and be freed from your suffering."
— Mark 5: 21-32
———————————————————-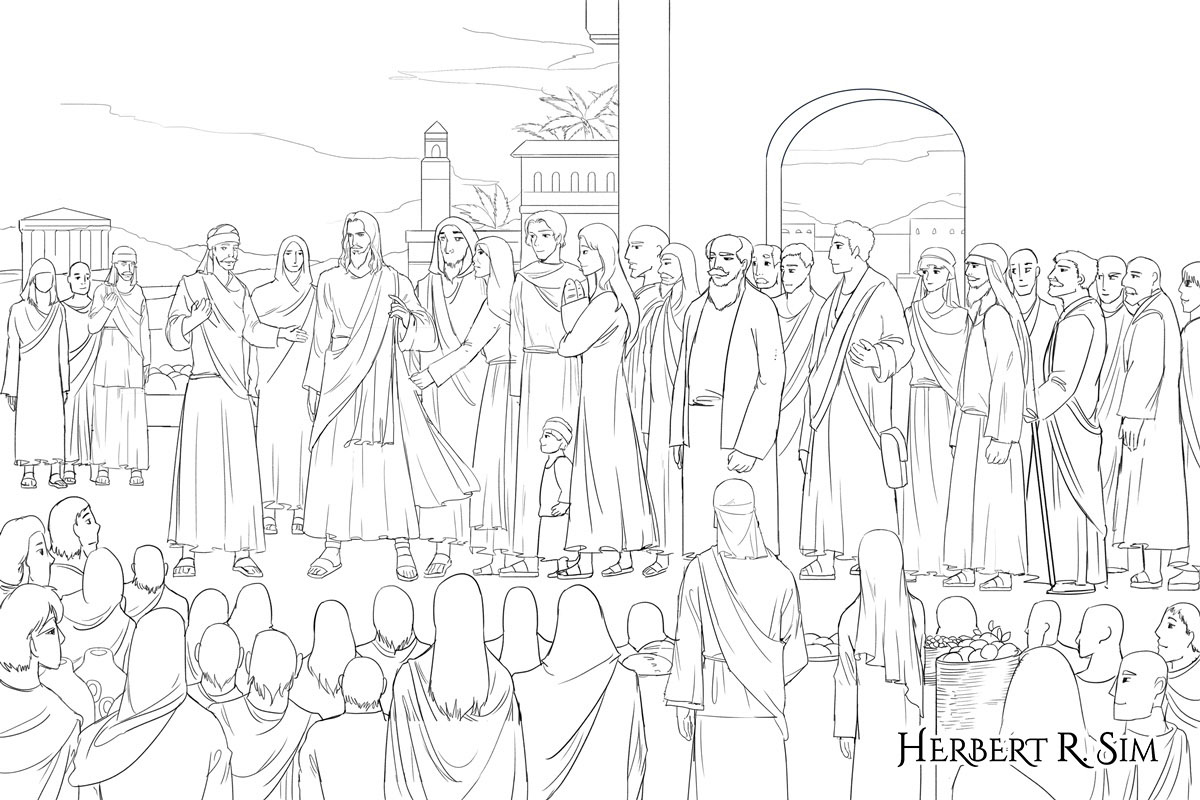 Jesus said, 

"Someone touched me; I know that power has gone out from me." But the crowd all around Jesus probably touched Jesus at some point too. This woman that I drew, just behind Jesus, has the faith knowing that just one touch of Jesus could heal her, and that's how she tapped into Jesus' power!
———————————————————-
Sick Woman Healed by Jesus
40 Now when Jesus returned, a crowd welcomed him, for they were all expecting him. 41 Then a man named Jairus, a synagogue leader, came and fell at Jesus' feet, pleading with him to come to his house 42 because his only daughter, a girl of about twelve, was dying.
As Jesus was on his way, the crowds almost crushed him. 43 And a woman was there who had been subject to bleeding for twelve years,[c] but no one could heal her. 44 She came up behind him and touched the edge of his cloak, and immediately her bleeding stopped.
45 "Who touched me?" Jesus asked.
When they all denied it, Peter said, "Master, the people are crowding and pressing against you."
46 But Jesus said, "Someone touched me; I know that power has gone out from me."
47 Then the woman, seeing that she could not go unnoticed, came trembling and fell at his feet. In the presence of all the people, she told why she had touched him and how she had been instantly healed. 48 Then he said to her, "Daughter, your faith has healed you. Go in peace."
— Luke 8: 40-48
———————————————————-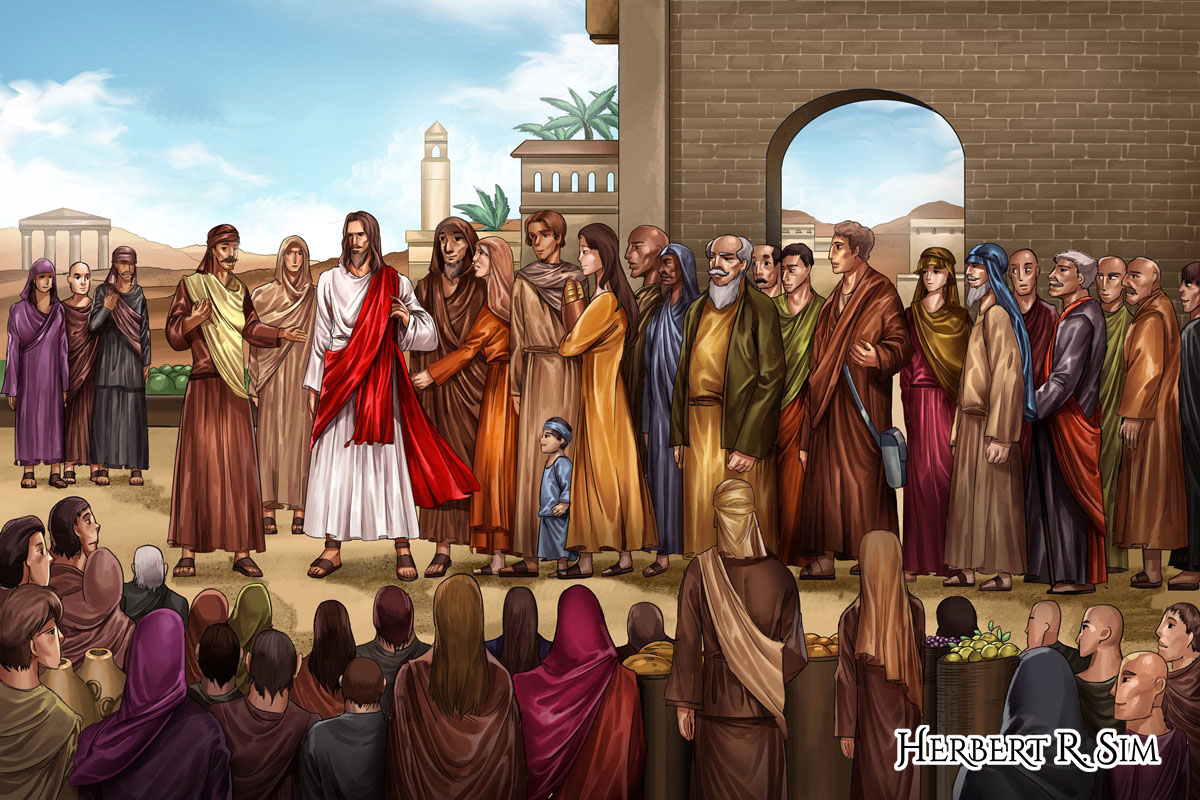 In my final artwork above, you might start to notice by now that my art featuring Jesus, He is always dressed in white, with a red sash. It is my signature to showcase of Jesus' eventual completed work on the cross in His Holiness – white, He shed His blood for our salvation – red.