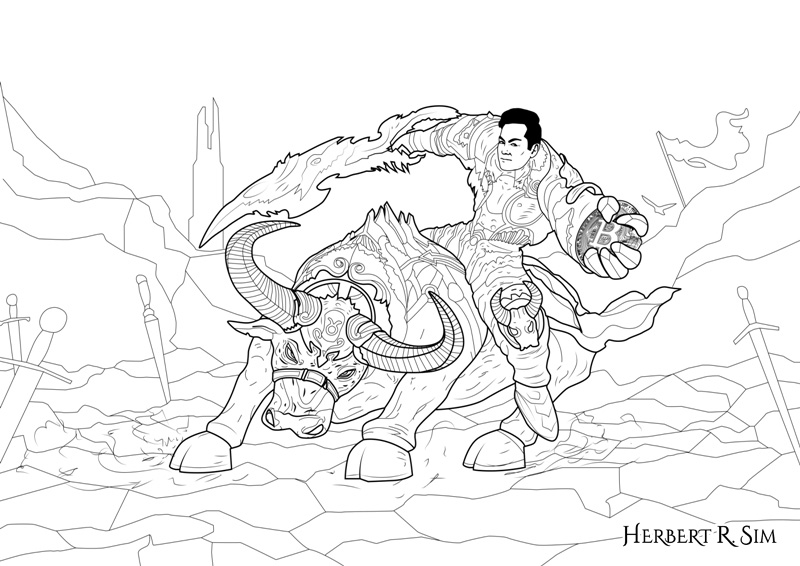 In my latest digital illustration, I attempt to sketch the "Crypto Warrior" riding the "Bullish" bull, grasping onto the Bitcoin.
The price of Bitcoin, that fabled byword for Cryptocurrency, just hit a giddying all-time high of USD $20,089.00 today, with an astounding market capitalisation of more than $326 billion and volume exceeding 13 billion. It has been nothing short of a meteoric rise for Bitcoin, which just one year ago, was trading at between $930 and $978.
This set the stage for the cryptocurrency's value to cross the psychologically significant $1,000 mark into 2017. Since then, it has been a year of breaking record after record. As May 2017 drew to a close, the price of Bitcoin crossed $2,000 for the first time and subsequently surpassed $3,000 just weeks later. By the first week of September, Bitcoin prices exceeded $5,000 for the first time. And to think that predictions for 2017 prices made last year ranged from a mere $1,500 to $3,000.
Beating the Bear Sentiments
Bitcoin prices shot way up despite skepticism, criticism and outright dismissal from the traditional finance industry and regulators, who would naturally be ill at ease with any indications of a change in the status quo. Comments ranged from Bitcoin being purely a bubble with no real value, to a means for illegal activities, to being just "evil".
Yet there were those such as Christine Lagarde, Managing Director of the International Monetary Fund, who displayed wisdom and foresight in saying that "not so long ago,  some experts argued that personal computers would never be adopted and that tablets would only be used as expensive coffee trays. So I think it may not be wise to dismiss virtual currencies."
There was also Ravi Menon, Managing Director of the Monetary Authority of Singapore, who was of an open mind (06/29/15, Source) in saying "whether digital currencies will take off in a big way remains to be seen. But it is a phenomenon that many central banks are watching closely, including MAS. And if they do take off, one cannot rule out central banks themselves issuing digital currencies some day!'" Notably, financial institutions such as Goldman Sachs have taken due notice of Bitcoin and started providing in-depth coverage and price analysis.
Convincing the Regulators
Bitcoin has defied expectations despite adverse regulatory measures by some governments. Russia, for instance, in 2014 issued warnings against using Bitcoin and stated that treating it as a parallel currency was illegal since only the fiat currency (i.e. the Rouble) was the official currency.
Fast forward to 2017 and the remarkable turnaround is apparent as Bitcoin has proven its potential over an extended period of time. Russia is poised to perform a 180 degree U-turn as new cryptocurrency laws are expected to be introduced for official consideration by Russia's national legislature on 28 December.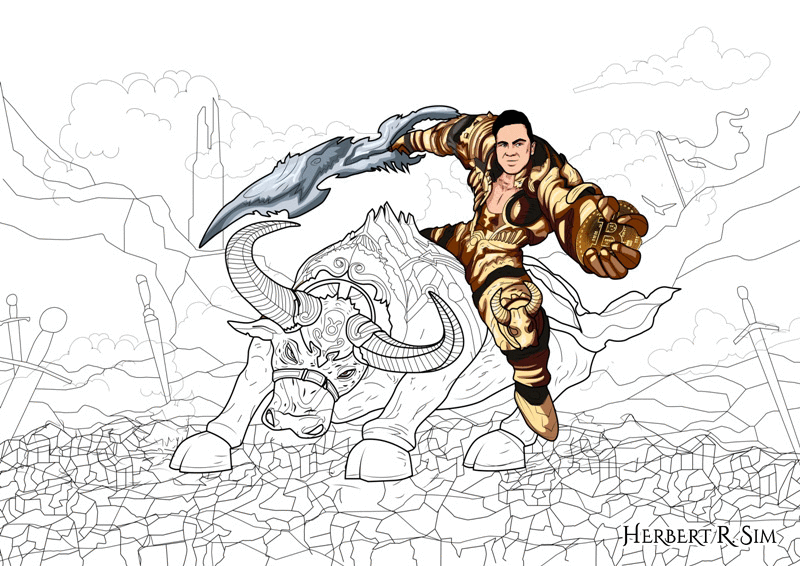 In the 2nd sketch, I made modifications – the Crypto Warrior stares intently at the Bitcoin which he reached out, grasping it tightly.
This move is expected to formalise new rules around the creation and exchange of cryptocurrencies like Bitcoin and is expected to be cleared by early 2018. Such rules lend legitimacy and legality to activities related to Bitcoin and other cryptocurrencies in Russia, which could have a knock-on effect in other countries.
Japan is another country that has embraced cryptocurrencies. In September 2017, its Financial Services Agency officially recognised 11 companies as registered cryptocurrency exchange operators. This follows a law passed in April 2017 recognising Bitcoin as legal tender.
Explaining the Bull Run
There is a confluence of factors that have contributed to the rise of Bitcoin prices in 2017. From a macro-perspective, Jordan Hiscott, chief trader at social trading platform ayondo markets, believes that Bitcoin's rapid growth model is a sign of shifting paradigms in the financial world.
One where technology is changing the dynamics of the way things are done and older, traditional organisations are seeing their long-held dominance being disrupted by the likes of Bitcoin. Growth is boosted by new avenues for trading and other transactional activities coming online, providing a wider audience with an ever-growing number of ways to get involved in Bitcoin. Not to mention the fact that there is only a finite amount of Bitcoins in existence – 21 million to be precise. It is estimated that more than 80% of Bitcoin has already been mined.
From a micro-viewpoint, growth comes from a segment of crypto-enthusiasts who believe that Bitcoin is a store of value. This group of enthusiasts have bought and held bitcoin and will not sell it at any current price. More and more bitcoin fans are entering into this group and they are driving up demand. And from a technical angle, Bitcoin is extremely secure thanks to the cryptographic technology used for each transaction, which underpins confidence in Bitcoin's integrity.
Looking Ahead
Bitcoin shows promise in reaching greater heights as it continues its forward momentum. CME Group Inc. and Cboe Global Markets Inc., two major financial market operators, are poised to offer Bitcoin futures contracts, easing the way for mainstream investors get in on the act. In fact, CME, the world's biggest exchange owner, said its contracts will begin trading on 18 December 2018, marking a watershed for Wall Street's engagement of Bitcoin. That is not to forget the impact that Bitcoin can make in our everyday lives in everything from banking, to peer-to-peer exchange to retail. Here's to the progress of Bitcoin and cryptocurrencies in 2018!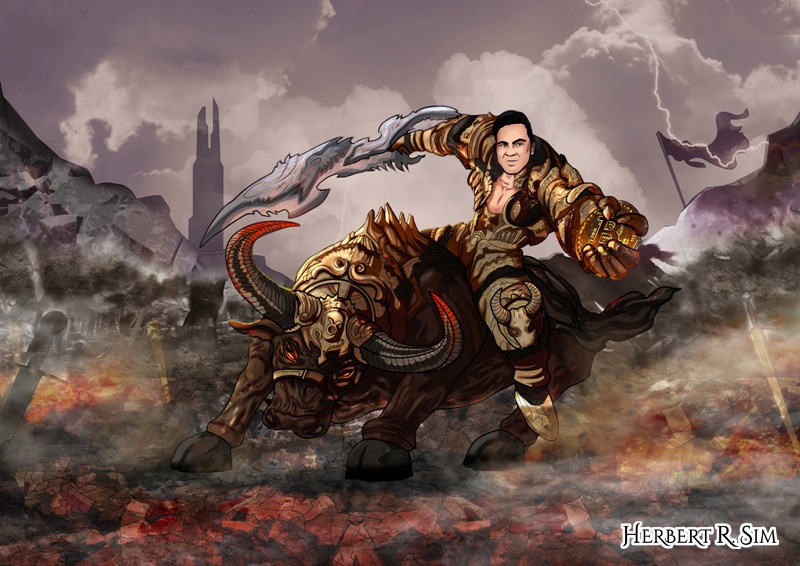 I made sure to capture the detailing of the battlefield with an orange glow from the flames, with the fog of war – "The Battle For the Bitcoin". The illustration showcases the "Bitcoin Warrior" triumphantly grasping onto the prized possession of the Bitcoin, riding on the bull, whose eyes are bullish-ly red from the intensity of the charge.