My latest illustration features myself a.k.a. TheBitcoinMan, in a representation of Blockchain working hand-in-hand with artificial intelligence robot – ZOFIA, which made her debut in my illustration in 2015.
—————————————————————-
Blockchain and Artificial Intelligence (AI) are forging ahead as disruptors and innovators in various industries. The vital healthcare industry is no exception, as new technologies and possibilities are unearthed that can benefit healthcare institutions, professionals and most importantly, the patient at the centre of it all.
AI in healthcare comprises a collection of multiple technologies enabling machines to sense, understand, learn and act so they can perform clinical and administrative functions. Unlike older technologies such as algorithms and tools that only complement a human, healthcare AI today can truly augment human activities.
With the huge potential to unleash improvements in cost, quality and access, AI's popularity in healthcare is soaring. According to Accenture, growth in the AI health market is expected to reach US$6.6 billion by 2021 – a compound annual growth rate of 40%.
Likewise, blockchain has the potential to transform healthcare by increasing the security, privacy and interoperability of health systems. As reported by Deloitte, this technology could provide a new model for health information exchanges by making electronic medical records more efficient, disintermediated and secure. Blockchain-based systems also have the potential to reduce or eliminate the friction and costs of current intermediaries.
Personalized Medicine
The application of AI solutions in healthcare could improve and even save people's lives. The prospects of personalized medicine are today still being discussed in terms of aspirations and potential. Personalized medicine refers to a healthcare approach where diagnoses and treatments are highly tailored to meet the patient's personal and family history as well as his or her specific risk factors and genetics. Although many personalized medicine options are little more than fads, AI could well change that. As more and more data is collected and analyzed by deep learning AI models, personalized medicine may well become a common reality.
The evolution of personalized medicine begins at the diagnosis stage. Home-based AI-driven diagnosis is still in its early stages, but exciting applications are emerging. For example, Remidio, a medical device company from India, makes a mobile phone-based diagnosis for diabetes by analyzing photographs of a user's eye, a method which has already been used successfully.
Eventually, AI-driven personalized medicine may be able to analyze a person's personal genome and determine what treatments are most likely to be effective. However, the machine learning training dataset for this doesn't exist — yet.
—————————————————————-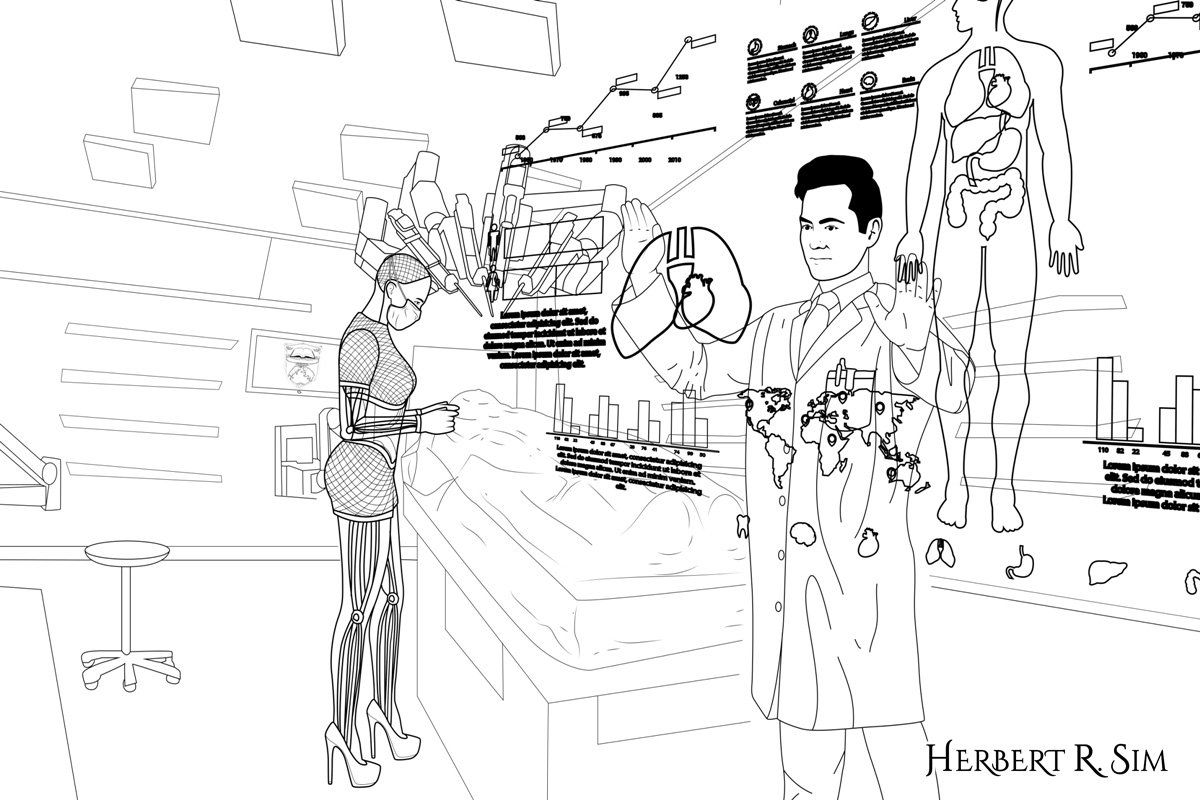 Here you can see further detailing of my illustration, in futuristic style. You will also notice that I decided to drop the doctor's coat off from ZOFIA, so that you can see the intricate machine parts of her body.
—————————————————————-
Robot Surgeons
AI may also be of help in one of the most "hands-on" areas of medicine: surgery. To be sure, there have been robotic solutions in surgery for years, including the advanced da Vinci system which enables surgeons to take control of precision robotic equipment to perform minimally invasive procedures. However, these are 100% human-controlled machines with no AI elements. But not anymore.
The Smart Tissue Autonomous Robot (STAR) can already suture stitches that are cleaner and more accurate than what a human surgeon can do. Early tests show that the technology can also accurately remove a tumour with less damage to the surrounding tissue. Furthermore, many of these robotic procedures can be conducted laparoscopically (i.e. keyhole surgery), making healing much faster and reducing the risk of infection.
Through AI, robots can draw on data from previous procedures to inform new surgical techniques. The results look promising. One study comprising 379 orthopaedic patients found that AI-assisted robotic procedures resulted in five times fewer complications compared to surgeons operating alone.
Dental Care
When one needs professional dental care, it becomes a matter of dollars and cents given the high cost of treatment and care involved. Of great concern is the fact that 80% of the world's population cannot afford good dental care as it is beyond their financial reach.
On the supply side, Philipp Grenzebach, a young business developer, observed a highly fragmented dental market which does not function cost-effectively because of middleman involvement for insurance, tariffs and other settlements.
Enter blockchain, which offers much greater efficiency, and Dentacoin, an Ethereum blockchain-based cryptocurrency for the global dental industry. The main goal of Dentacoin is improving global dental care and ensuring its affordability by cutting costs and increasing benefits for all industry players through a reward system.
Dentists who provide quality service are rewarded for their reputation in the Dentacoin network. Similarly, patients get rewarded for their feedback and detailed reviews that guide other patients to choose a dentist who suits them.
The Dentacoin ecosystem includes a decentralized database of medical records, access-controlled by individual patients. Using blockchain, Dentacoin can be independent from banks, which reduces expenses but speeds up transactions.
—————————————————————-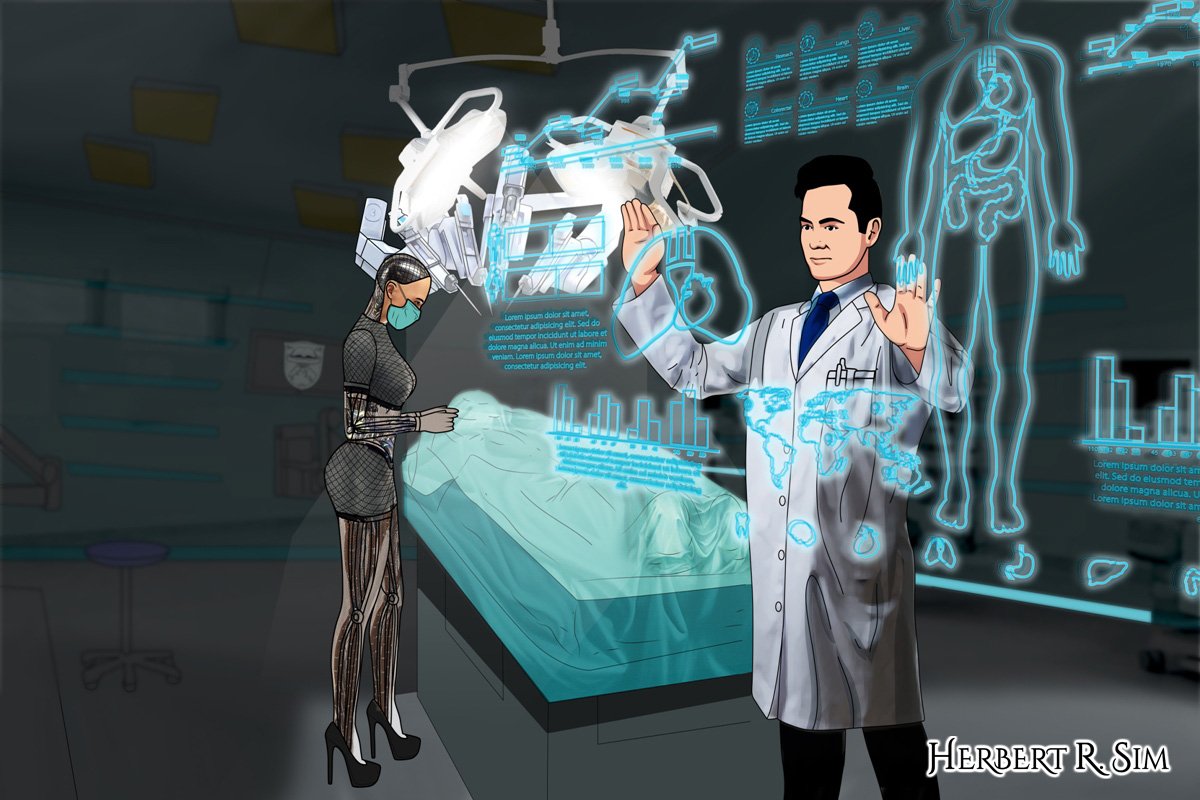 Final illustration in color. If you look closely, you'll also see the initial logo of Crypto Chain University (CCU) in the background, just behind ZOFIA. CCU is the world's oldest institute for compiling Crypto and Blockchain research papers, established in 2010.
—————————————————————-
Clinical Trials
One aspect of blockchain technology is smart contracts, a computer code running on top of the blockchain that contains a set of rules under which the parties to that contract agree to interact with each other. If and when the pre-defined rules are met, the agreement is automatically enforced.
In the medical field, smart contracts manage the permissions that doctors have to edit information in a patient's records. This ensures that only doctors who are involved in the patient's care have access to the records, though other doctors may still be able to see the records.
That said, this has implications not just for patient care, but clinical trials as well. In 2017. Forbes estimated that up to 50% of clinical trials went unreported, and researchers often fail to share their study results (up to 90% in some cases). This asks serious questions of patient safety issues, and creates knowledge gaps for healthcare stakeholders and policymakers.
Blockchain offers a solution as a platform to store these trial results and give only relevant doctors the permission to edit. However, other interested doctors can still be granted access to view the information of the trial. Clinical trial information stored on the blockchain eliminates the need to report it elsewhere. This creates an easy way to share data among the medical community in different institutions and countries.
These use-cases are just a sliver of the immense transformative power that AI and blockchain possess when it comes to the healthcare industry. From the human genome to the operating theatre and beyond, these technologies play a profound role in helping healthcare stakeholders to safeguard and restore the heath of people all over the world.