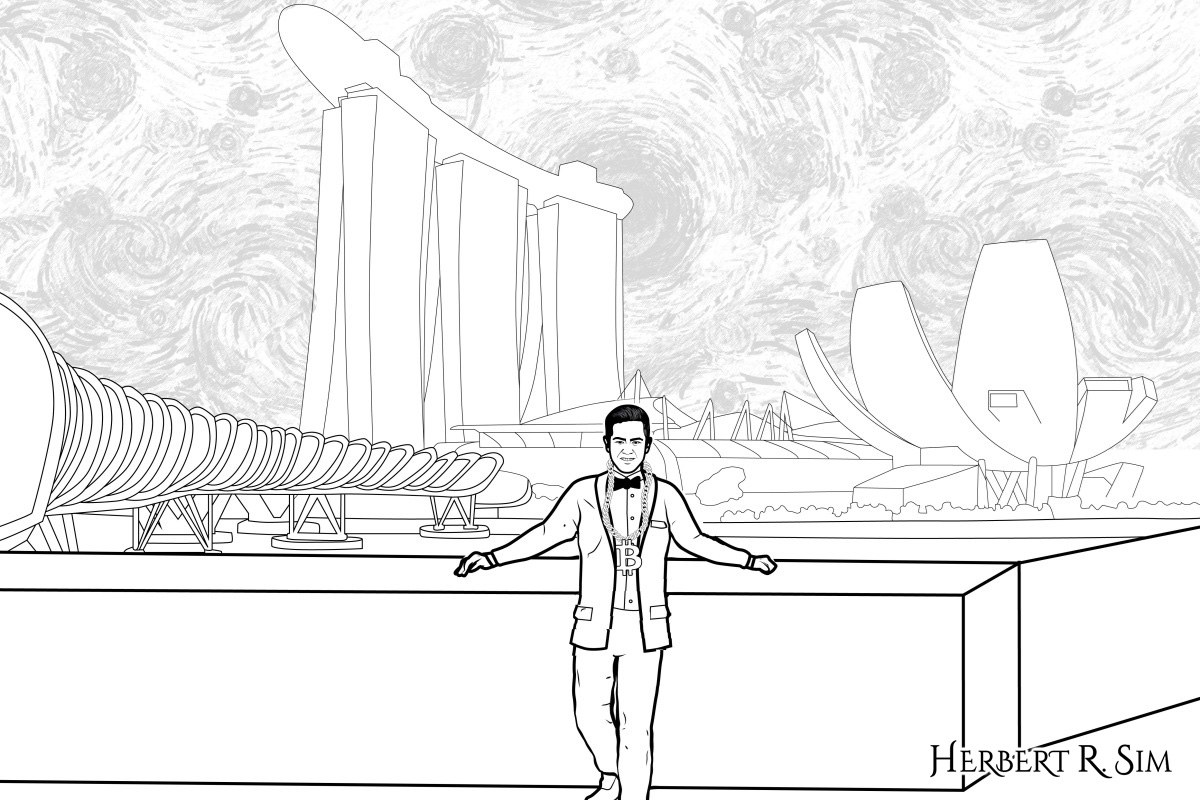 In my latest illustration referencing, the renown 'The Starry Night' painting by Vincent van Gogh, featuring myself, a.k.a. The Bitcoin Man.
——————————————————————-
Singapore's blockchain scene is buzzing with innovations and new projects driven by both the government and private sectors. Blockchain, the underlying technology of cryptocurrencies, lends itself very well to leverage on Singapore's existing global reputation in the spheres of banking, finance, trade and logistics. Not to mention numerous other exciting blockchain start-ups and tie-ups in industries as varied as healthcare, real estate, technology and governance.
Distributed Ledger Technology
A major area where blockchain is flourishing in Singapore is in fintech and the financial services sector. This converges with Singapore's world-renowned position as a banking and financial centre on par with the likes of Hong Kong and Switzerland.
According to the Bank of International Settlements, Distributed Ledger Technology (DLT) or blockchain has captured the attention of many in the financial sector, including those involved in payment, clearing and settlement, with its potential for increased efficiency and higher resiliency.  As a result, there have been numerous public announcements and news articles about a new project, partnership, round of investment funding, or white paper on DLT. Central banks have also unveiled DLT-related research or initiatives in support of the development of blockchain in the private sector.
DLT is at the forefront of this massive push for innovation across the financial services ecosystem. Although DLT is far from a one size-fits-all solution, it has the potential to drastically change the way we do business and interact with one another. The technology is otherwise known as the "Internet of Value" as it increases the efficiency, security and transparency of transactional activities.
Project Ubin
Riding on the DLT wave, a consortium of banks in Singapore, with the support of the Monetary Authority of Singapore (MAS), and blockchain technology company R3, have since November 2016 been developing a payment system prototype under the name Project Ubin. The consortium comprises the likes of Bank of America Merrill Lynch, Credit Suisse, DBS Bank, Hongkong And Shanghai Banking Corporation, J.P. Morgan, Mitsubishi UFJ Financial Group, OCBC Bank and UOB Bank, underscoring the level of interest and buy-in for the exploration of DLT.
This collaborative proof-of-concept project uses DLT for the clearing and settlement of payments and securities, but without lengthy processing times, expensive processing fees or intermediaries. Through practical experimentation, the project aims to help MAS and the industry better understand blockchain technology and the potential benefits it could bring.
Phase 1 of Project Ubin was concluded earlier this month, with the project achieving the objectives of producing a digital representation of the Singapore dollar for interbank settlement, testing methods of connecting bank systems to a DLT, and making the MAS Electronic Payment System (MEPS+) interoperate with the DLT for automated collateral management. These outcomes are set to provide guidance on future projects such as cross border payments, automation of securities issuance, and trading and settlement using blockchain technology. It will also help MAS and the industry to develop more user-friendly and efficient alternatives to current systems.
Already, MAS has plans for two spin-off projects that will leverage the lessons of the project. The first project, by the Singapore Exchange (SGX), will focus on making the fixed income securities trading and settlement cycle more efficient through DLT. The second project focuses on new methods to conduct cross border payments using central bank digital currency.
——————————————————————-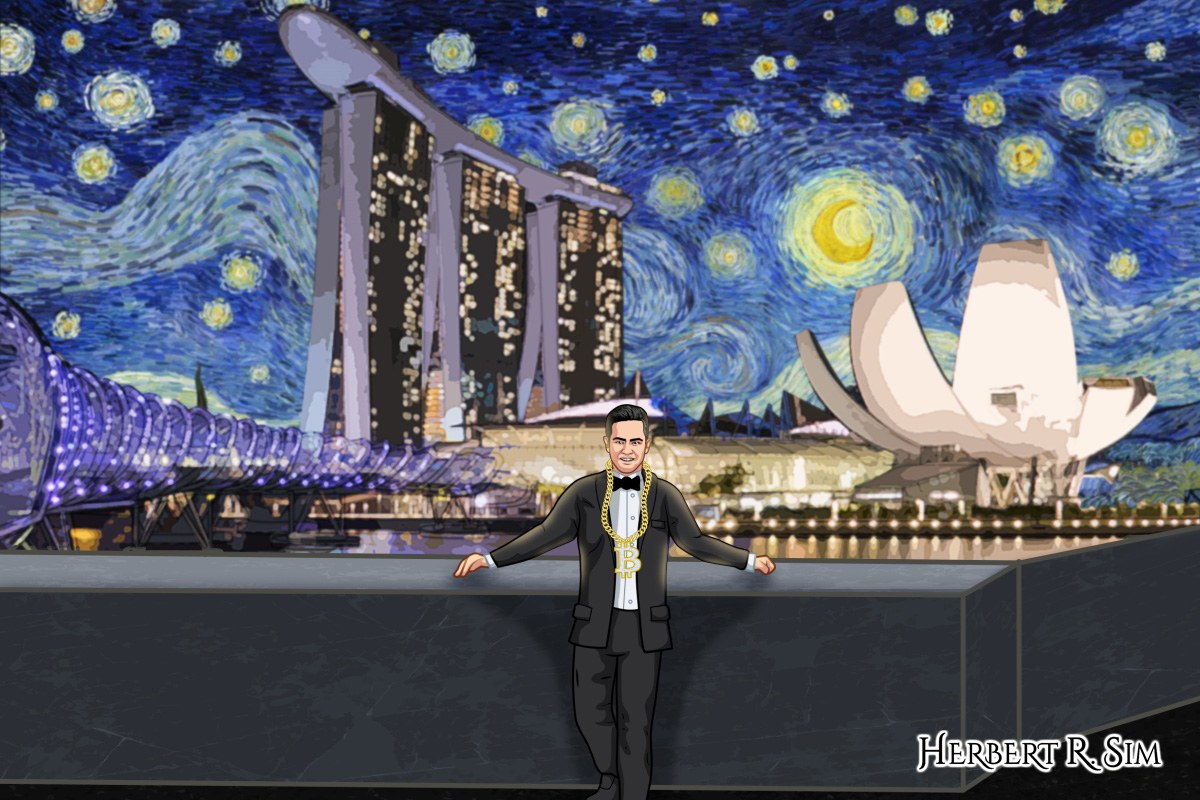 ——————————————————————-
Global Blockchain Hub?
In a speech in 2016, Dr Beh Swan Gin, chairman of Singapore's Economic Development Board (EDB), said that Singapore is building a "smart financial centre" where technology will be used to increase efficiency, create opportunities and manage risk. He added that EDB is working closely with MAS to develop an ecosystem for innovation where Singapore can be the 'lighthouse' for the commercialisation of new solutions before they are scaled globally.
To that end, blockchain-based initiatives such as Project Ubin by stakeholders in Singapore's financial ecosystem look poised to propel Singapore into the position of a global blockchain hub. Already, MAS is in the early stages of discussions to develop links from Singapore to other countries using DLT to allow cross-border payments to be settled directly using central bank accounts.
Other developments contribute to the prospect of Singapore as a global blockchain hub. In July 2016, global technology company IBM set up a blockchain innovation centre in Singapore in collaboration with EDB and MAS. The centre's early priority was to build blockchain expertise in Singapore in relation to trade finance processes.
The centre is focused on the development of applications and solutions based on enterprise blockchain, cyber-security, and cognitive computing. IBM is said to provide the expertise to design, build and run a Digital Blockchain Ecosystem in Singapore, which it aims to scale globally to enable Singapore to be a leader in blockchain technology. Additionally, the centre works with government authorities, academia and other industries to foster innovation in the region, nurture homegrown talent and make Singapore a pioneer in Fintech innovation.
One area being watched with interest is the application of blockchain to the global trade and logistics industry, another globally-recognised attribute of Singapore's economy. PSA Singapore Terminals has signed up to work with IBM in building a "trade ecosystem" connecting financial technologies with "the physical world of global trade and logistics".
It is becoming increasingly clear through these innovations and initiatives that blockchain technology has the potential to propel Singapore to the position of global blockchain hub. The wide-ranging applicability of blockchain means that it is able to enhance Singapore's existing strengths as a financial services, and trade and logistics hub, as well as catalyse the development of new industries and businesses.