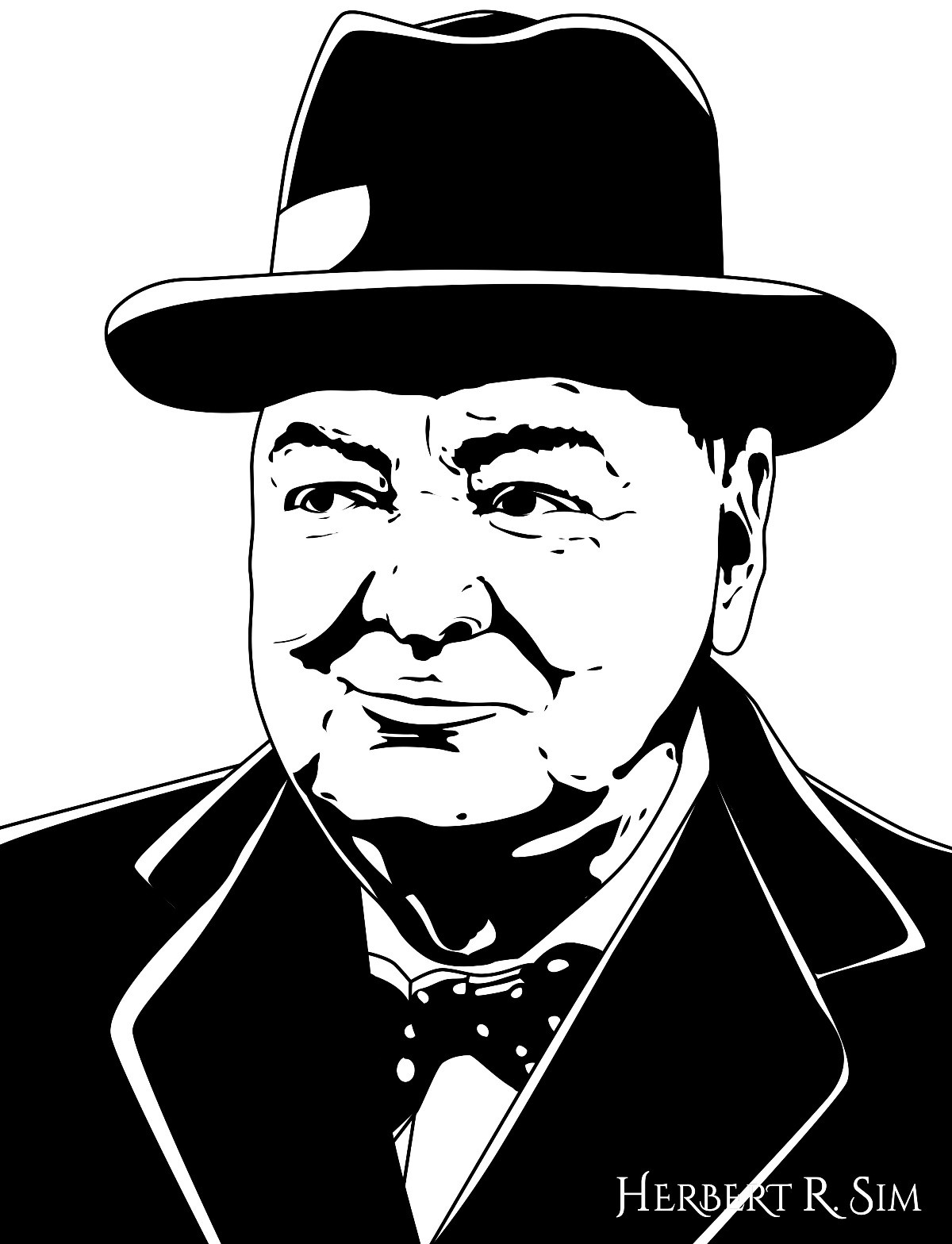 Referencing this portrait of Winston Churchill via Huffington Post, I digitally produced this digital illustration sketch.
———————————————————————
One of the most immediately recognizable faces of the 20th century, Sir Winston Leonard Spencer-Churchill, whose astonishing life has made him a world icon.
Prime Minister of the United Kingdom from 1940 to 1945 and again from 1951 to 1955. Throughout all that period he might have made opponents, he might make friends; but no one could ever disregard him.
Here was a man who was as an instrument. An instrument for freedom. Freedom for human life against tyranny.
So much so that in 1899, just as he was entering the South African military front, his car was ambushed and he was taken hostage by the Boers, descendants of Dutch settlers fighting against the natives and the supporting British army.
With his wits, and his courage, he managed to escape by climbing a wall at night. By sheer luck, he managed to find refuge at a British coal mine manager's house.
The new-found friend kept him hidden in a mineshaft for three days and subsequently sent him back to the battlefront in a wool-filled rail truck into Mozambique. From there, Churchill caught a ship back to South Africa and rushed to the front a newfound hero.
However, Churchill's political career began only in 1900 when he was elected to Parliament, a position he would hold for more than 60 years.
A man who started off with an academic record that could at best be described as patchy, it took a lot of determination for him to be known as a voracious reader. His ability to process vast quantities of text and to quickly grasp its key points is astonishing.
Churchill's reputation among the general public remains high: he was voted number one in a 2002 BBC poll of the 100 Greatest Britons of all time.
As a young boy, I was always intrigued by his quotation collections. He is still, after all a man who is quoted in the English language perhaps more than anybody, with the exception of Shakespeare.
Did you know Churchill invented a word or two. For instance, he is credited with inventing the word 'summit' in 1950. He is also said to have helped 'quisling' come into popular usage as a synonym for a traitor.
Among his many achievements, his artistic side, to me, is most inspiring. Churchill had been writing nearly all his life. He wrote about 20 books over the course of his life, the first of which detailed his army experiences in India, Sudan and South Africa.
For two years – between 1903 and 1905 – young Churchill wrote an ambitious two-volume biography of his own father. No doubt it received a huge amount of critical acclaim at the time. It was a bold step he took, uncommon for young men back in those days.
Churchill was awarded the 1953 Nobel Prize for Literature, "for his mastery of historical and biographical description as well as for brilliant oratory in defending exalted human values".
A man full of determination. Strong and bold with his words. But with a soft heart.
While most of us equate Churchill to the British bulldog (obviously), the politician actually had a soft spot for cats – and one in particular: a marmalade-colored cat with a white bib and socks named Jock.
Named after his private secretary, Sir John "Jock" Colville, Jock left a legacy. After Churchill's death in 1965, it was written that a marmalade cat named Jock should always live in Chartwell (now run by the National Trust).
Churchill's first speech to parliament as Prime Minister was the famous "I have nothing to offer but blood, toil, tears, and sweat" will forever be embedded in my mind.
On 24th January 1965, at the age of 90, we lost what I feel, the greatest Englishman of our time.
———————————————————————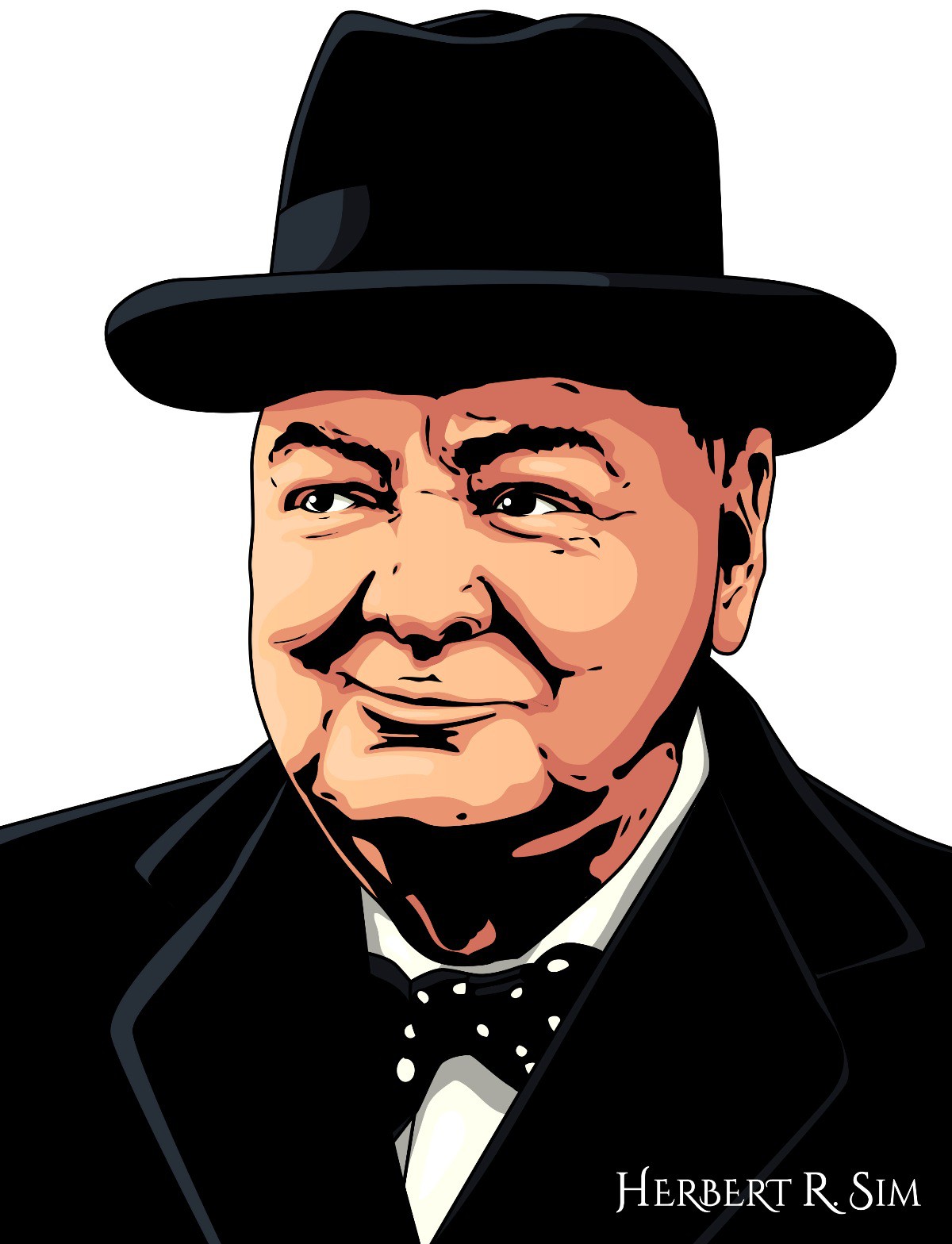 Above is my final digital illustration of Sir Winston Churchill