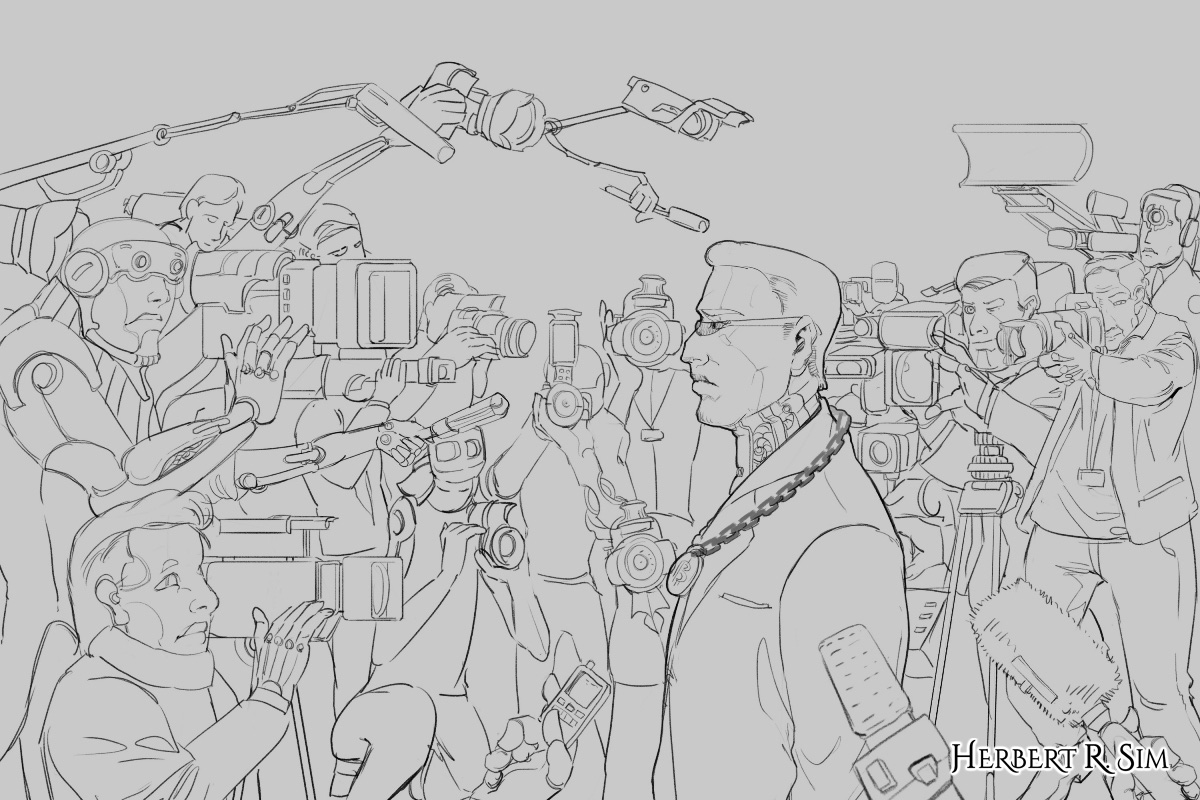 My latest illustration sketch featuring a crowd of global cryptocurrency and blockchain media gathering to interview the founder of Bitcoin, Satoshi Nakamto. The illustration is drawn in futuristic style, as you can see the reporters, and even Satoshi himself is already half cyborg. My take is that Satoshi will may only finally reveal himself in the distant future when artificial intelligence is already integrated across our society.
—————————————————
As a Bitcoin maximalist, I am glad to share that Bitcoin has finally infiltrated the mainstream consciousness.
The current state of the media today is — their attention has been captured.
Bloomberg put it on its terminals for traders and Bloomberg BusinessWeek put it on the cover of their magazine (as a unicorn). There's a Wall Street Journal BitBeat blog devoted to it. Newsweek put it on their cover in an unmasking of its mysterious creator Satoshi Nakamoto gone awry. Bitcoin has its own magazine created by its supporters and its own news service – CoinDesk, started by investor Shakhil Khan.
Google search trends shows increasing interest, especially when Bitcoin's price has spiked, with the most interest in December 2013 when Bitcoin, worth mere pennies a four years earlier, surpassed $1000 a coin.
According to a recent survey from The Street and research firm GfK, 75% of people still don't know what Bitcoin is and 80% wouldn't consider using it.
Here in my latest article, I manually compile a list of over Top 100 News Websites on Bitcoin, Cryptocurrency and Blockchain Technology. The list is NOT sorted according to ranking per se. Also, I do not add aggregators, or ICO projects or exchange blogs, but main news websites. I will be periodically updating this post itself, to make a more complete listing. Please contact me if you know of any other blogs or websites that I should include into this list.
—————————————————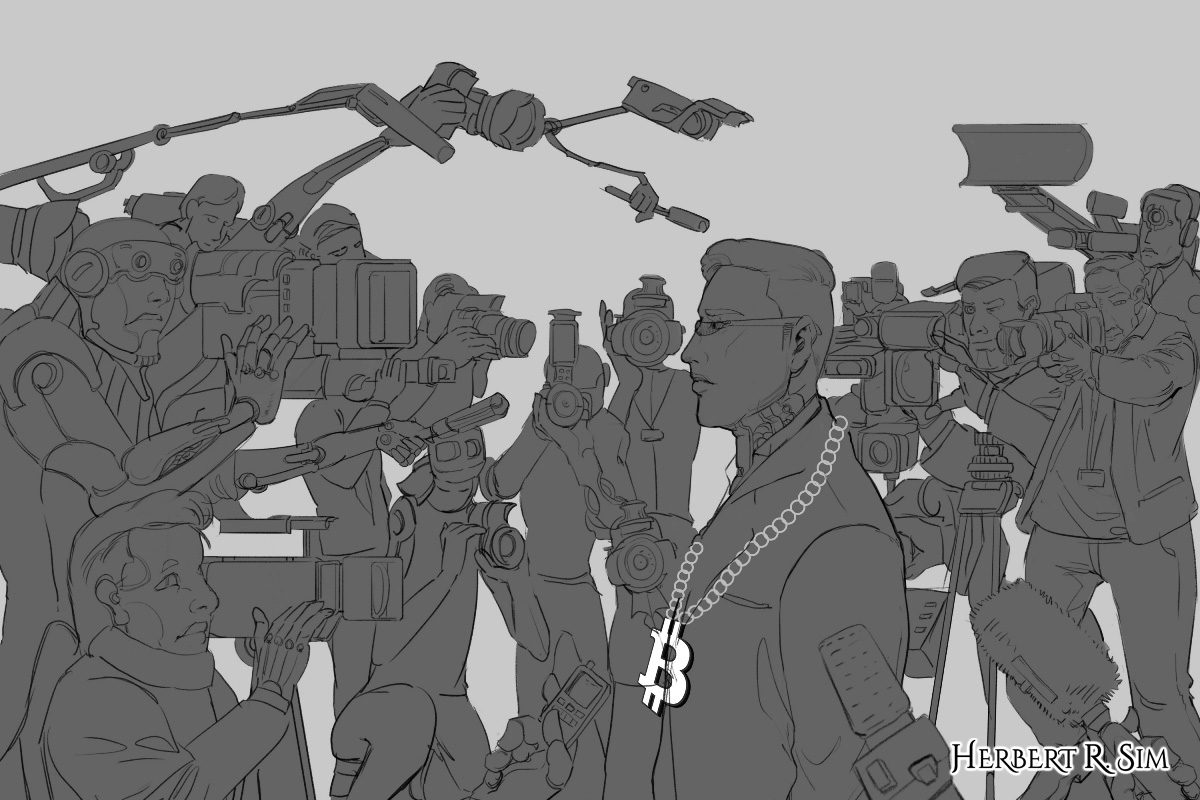 Here I share the work-in-progress, as I enhance the focus of the illustration towards the necklace around Satoshi Nakamoto's neck – a big chain with the Bitcoin Logo dangling slightly below his chest.
—————————————————
Top 10 News Websites on Bitcoin, Cryptocurrency and Blockchain Technology
(Last updated 15 Jul 2018)
CoinDesk is the world leader in news, prices, and information on bitcoin, blockchain technology, and other digital currencies. They cover news and analysis on the trends, price movements, technologies, companies and people in the bitcoin and digital currency world.
CoinTelegraph is a completely independent publication covering cryptocurrency, the blockchain, decentralized applications, the internet of finance and the next gen web. We offer the latest news, prices, breakthroughs and analysis with emphasis on expert opinion and commentary from the digital currency community.
Unique insights and strong opinons. News for the American audience. We cover major U.S. business stories and bring a unique perspective for the Millennials.
Jinse, possibly the biggest crypto/blockchain media in Chinese language, a one-stop blockchain industry service platform integrating industry news, information, market information, and data.
Bitcoin.com is the world's premier 24/7 news feed covering everything bitcoin-related.
Bitcoin Magazine is the world's first magazine dedicated to the cryptocurrency. Founded in 2011, Bitcoin Magazine is the oldest and most trusted source of news, insight, reviews, guides, and price analysis on bitcoin, ethereum, blockchain technology, cryptocurrencies, the darkweb, and other decentralized technologies.
NewsBTC is a Bitcoin news service that covers cryptocurrency news, technical analysis and forecasts for bitcoin, litecoin, dash, doge & digital currencies.
Founded in year 2000, FortuneZ is a global business publication covering markets, cryptocurrency, and iGaming, sports betting, eSports news, and is dedicated to helping its readers and viewers succeed big in business through unrivaled access and best-in-class storytelling.
Bitcoinist is a Bitcoin news portal providing breaking news about decentralized digital money, blockchain technology and Fintech.
HackerNoon is an independent technology media site, how hackers start their afternoons, that covers cryptocurrency and blockchain technology. Definitely one of top my go-to news portals.
—————————————————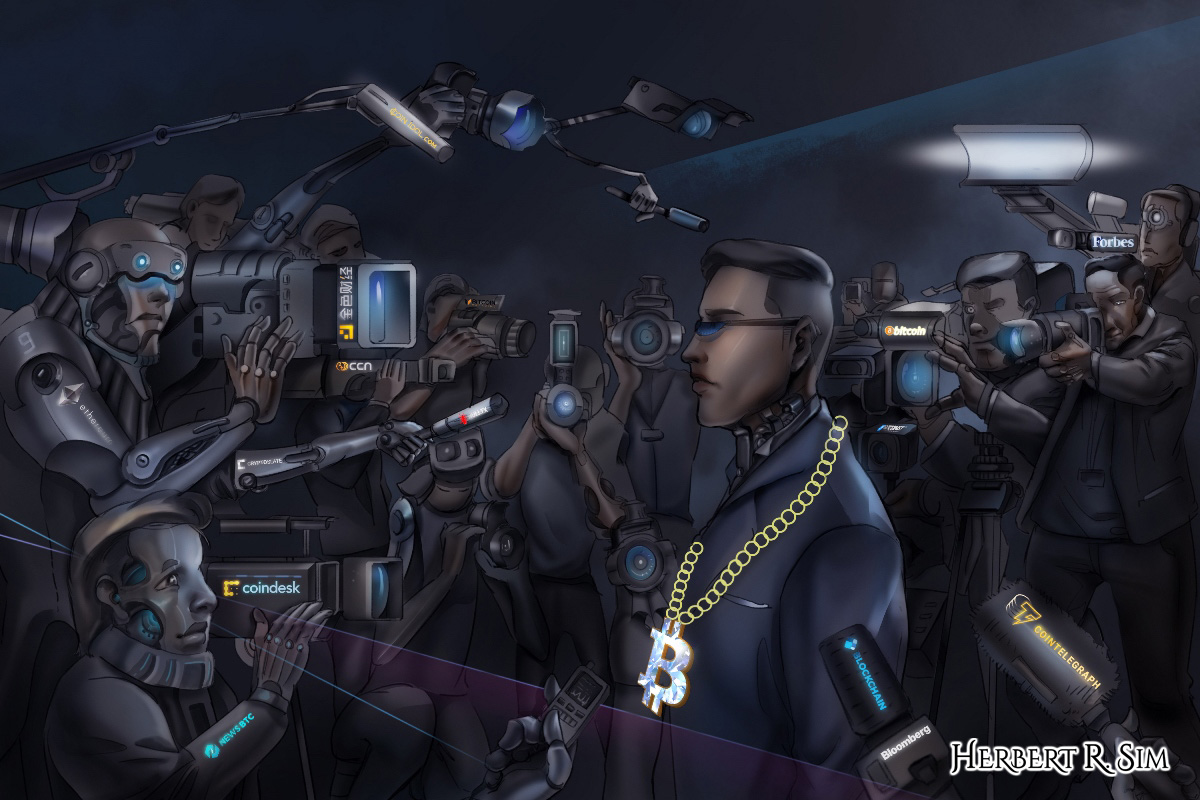 In my final illustration in full color (updated on 15 Jul 2018), you can see that the 'Bitcoin Logo Chain' hanging around Satoshi's neck is illuminating in futuristic technological style. And the logos of the different crypto/blockchain media on the equipment. I entitle the illustration – "Satoshi Nakamoto Uncovered: The Big Media Announcement".
—————————————————
I decided to update the list and make it more extensive. To reiterate, this list is NOT sorted according to ranking per se. Also, I do not add aggregators, or ICO projects or exchange blogs, but main news websites. I will be periodically updating this post itself, to make a more complete listing. Please contact me if you know of any other blogs or websites that I should include into this list.
Top 100 News Websites on Bitcoin, Cryptocurrency and Blockchain Technology
Bringing you news, analysis, opinion and insight from the fast-moving blockchain world. Our team of journalists and contributors cover the likes of cryptocurrencies, wallets, exchanges and ICOs across a wide range of sectors including retail, fintech, banking and gaming. We go beyond the press releases and marketing hype to tackle all the industry topics that matter.
Founded in the second quarter of 2014, CoinSpeaker is one of the most influential news source written for everyone dealing with FinTech, Blockchain, Cryptocurrencies, Payments and Internet of Things.
Blockonomi is a fast-growing blog launched in 2017 which aims to cover aspects of Cryptocurrencies, fintech and the blockchain economy. We focus on creating information articles and tutorials to help you gain an understanding of this new technology.
Crypto Briefing exists to advocate for the safe and responsible integration of blockchain and cryptocurrency into mainstream life. Expert analysis, ratings and reviews of upcoming ICO's, along with informed opinion and updates on the cryptocurrency world.
CoinGape provides fastest and latest news, prices, charts, reviews and analysis in bitcoin and block-chain tech.
BLOCKTV is the premier televised news source for the blockchain and cryptocurrency community.We are a live, 24/7, TV news channel dedicated to premium reporting on the blockchain and cryptocurrency markets. Founded in 2018, BLOCKTV is focused on bringing the most reliable, real-time, innovative, in-depth, and edgy news and updates to the blockchain technology and cryptocurrency community globally.
Get the latest news about the cryptocurrency. We provide Bitcoin, Altcoin, Bitcoin Cash, Mining tool information. We are the leader in the Crypto Market.
Cryptovest is a website that provides news, information on ICOs, and market data. In addition to these more mainstream features, Cryptovest has a list of executives, which contains some helpful info. However, this list seems incomplete. Further, the website has information on vendors looking to provide blockchain-related services.
BTCManager is a cryptocurrency news publication that refers to itself as the "home for Bitcoin, Blockchain, Ethereum and FinTech news and information." This news outlet covers all aspects of the blockchain industry and does not shy away from covering topics such as crypto-anarchy, privacy, and crypto-politics.
Coingeek is a news outlet run by the mining operation with the same name. Owned by gambling mogul Calvin Ayre, this media outlet – much like bitcoin.com – has become a publication that almost exclusively promotes Bitcoin Cash.
Cryptocurrency General Guides And /Altcoins Daily News And Analysis . How Tos for Cryptocurrency Newbies and Crypto college.
Bloxlive.tv, the world's first DLT & FinTech news network streaming around the clock. We feature breaking news, market analysis and event coverage in this dynamic and revolutionary finance and technology marketplace.
Find resources for anything related to the crypto currencies world – Bitcoins and Altcoins. Crypto trading How To, Index and home for alternative coins.
A blog about Blockchain news and the leading global blockchain & bitcoin events. Blockchain Agenda with is the largest Bitcoin and Blockchain technology focused event series worldwide.
Cryptonews.com is the newest addition to the blockchain media landscape. It was founded in early 2018 to provide guides, reviews, and daily news coverage about the digital currency sector.
BitcoinChaser offers high-quality coverage and promises the most up-to-date information about bitcoin, blockchain and other cryptos hot on the market. As well as information, Bitcoin Chaser offers in-depth interviews with influencers on the market, namely CEOs and other big names from cryptocurrency startups and investment companies.
The Bitcoin News is all about Decentralised Bitcoin and Crypto News.
Anyone with a special interest in learning more about crypto and blockchain related news will find daily updates in short, easily digestible form on TheBlock. Their bite-sized news format makes it easy to understand crypto in-depth and summarize major articles to short, easy-to-understand texts.
CoinIdol News is an international crypto and currencies media outlet focusing on the latest news about Bitcoin and altcoins, Blockchain and distributed ledger technology solutions, FinTech and financial innovations on the world's market.
Blokt is a relatively new blockchain news publication that covers "the latest in breaking crypto news, cryptocurrency guides, and ICO analysis." It is a useful source of information for beginners as well as experienced digital currency investors.
Trustnodes provides the "latest news on all things Blockchain, Ethereum, IoT, Fintech and Bitcoin." It is an excellent resource to stay up-to-date with current events that are shaping the digital currency industry.
CryptoNinjas is a global news & information source that supplies economic and industry information on bitcoin, blockchain and the cryptocurrency market.
Coinworldstory provides latest review from , ICO, Hyip, Bitcoin , Paid To Click , Blockchain Technology, Affiliate Marketing, MLM, Etc . Our Team Expert In This Field And Provide Latest Information To Our Users.
Block Geeks is an overall blockchain and bitcoin resource for the Bitcoin newbie. Their mission proudly states they are "a groundbreaking learning experience". Alongside the usual crypto news updates, Block Geeks offer free educational courses which give you the chance to earn coins while learning along the way. Further, they provide accelerated programs filled with useful information on how to be a blockchain developer.
Coinstaker provides "Bitcoin News, Service Testing and Monitoring" according to its website. The news outlet provides coverage about bitcoin, altcoins, and initial coin offerings as well as a range of guides and reviews.
Live Bitcoin News is one of the world's leading bitcoin networks where you will get all the latest news, charts, guides and analysis about bitcoin.
CryptStorm is a cryptocurrency and blockchain news site that informs about the latest trends in the crypto world.
99bitcoins was among one of the first crypto news sites to set up a crypto-education platform. The site offers precise reviews of how to buy bitcoin and how to use certain exchanges. They also provide a comprehensive list of who accepts bitcoin and where. 99bitcoins also offer different educational courses on basic and advanced crypto knowledge.
CryptoSlate is a blockchain media with the mission "to deliver transparent and accurate coverage of cryptocurrency and blockchain adoption". It was founded in 2017 and is based in Seattle. CryptoSlate's website provides regularly updated news and articles related to blockchain and cryptocurrency. It also provides ICOs, cryptocurrency rankings and blockchain events.
Cryptoconvert's site is all about cryptocurrency and blockchain news for daily satisfaction of readers.
Follow Coin Currency News to get the latest cryptocurrency news.
We are Coindoo, a digital media and information services website operating in the cryptocurrency and blockchain industry. Our main purpose is to inform and offer our readers top-quality and relevant news from the crypto world every day.
Blockchain News is building a must-read, premiere news brand focusing not just on blockchain technology and cryptocurrency markets—but also on the culture and personalities of the industry, founded in 2015 by Richard Kastelein.
BlockPublisher is a dedicated independent blockchain and cryptocurrency news publication with the sole goal of contributing and adding value to the blockchain community. We strive to deliver round the clock news covering blockchain startups, industry regulations, providing expert's opinions through exclusive interviews and reporting altcoins & bitcoin developments.
Null TX (previously The Merkle) provides the latest news in crypto along with educational articles regarding Bitcoin, Ethereum and other cryptocurrencies. It also has a dedicated finance section which features news in the financial technology sectors. This site publishes many news and articles per day. NullTX was founded in 2014 with its headquarter in San Francisco.
Ethereum World News is a digital currency news publication that focuses primarily on the Ethereum network but also covers the latest trends and developments in the broader blockchain industry.
CoinSpice.io is a feisty pirate ship, dedicated to covering just spicy crypto things. We say what other news outlets won't dare. We name names. We put our views out there, front and center. Read, listen, watch CoinSpice content, and immediately you'll know where we stand. We have a sincere bias toward the currency side of cryptocurrency, and are pretty sure most blockchain talk is so much piffle. We advocate for decentralized, borderless, permissionless, censorship resistant, peer-to-peer, digital cash technology available to everyone from Lambo dreamers to the most economically desperate people on the planet.
Coin Journal is a bitcoin news publication.
BitcoinExchangeGuide is a digital currency exchange comparison platform that also provides daily news coverage of all things digital currency and blockchain.
ETHNews is a news media outlet that covers Ethereum and blockchain ecosystem news including breaking news, announcements, and in-depth analyses on Ethereum and blockchain technology.
Cryptobitnews.co.uk is a multi-platform publisher of news and information. Cryptobitnews.co.uk has earned a reputation as the leading provider of cryptocurrenty news and information that improves the quality of life of its readers by focusing on finance.
A blog dedicated to exploring the possibilities of Bitcoin.
UseTheBitcoin.com is focused on delivering the latest cryptocurrency news to the crypto enthusiasts out there.
After being established in 2017, CryptoDaily is one of the fastest growing blockchain and cryptocurrency news sites out there. Not to mention that it is one of the few free to publish media networks throughout the crypto space.
The advent of cryptocurrencies has led to the startup of several companies, exchanges, blog and websites, etc. As a growing industry, content creation is useful for proper documentation of facts, news, and happenings in the community. Today, we review Global Crypto Press, a top-notch website for Cryptocurrency content.
BTC-ECHO is a German-based news platform that gives recent updates on cryptocurrencies or digital assets like Bitcoin and Blockchain News. No one needs to tell anybody that they have the most amazing designs and pictures published with their news. All designs are in high-display which makes them reading easy and interesting.
CoinAdvice is an independent information and services group envisioned to be one of the most revealing & leading news home covering cryptocurrency, blockchain, and decentralized applications.
AltBitNews is a cryptocurrency news portal committed to track and publish the latest events, updates, incidents, and information from around the world. We cover all the breaking news and we base our focus on crypto news, ICO's, events and announcements. Our motto lies in providing correct and relevant information in right time as we very well understand its importance.
We centralise cryptocurrency news, information & trends. Scouring the net 24/7 & archiving huge amounts of data, we hope to help bring all your cryptocurrency research into one, easy to use site.
Blockchain-Hero as German-language news platform for cryptocurrencies and blockchain.
TheCryptoUpdates is an independent publication house which believes in bringing light to the hidden secrets of the blockchain industry. We have explored nooks and corners of the blockchain world and the cryptoverse. This blog has well-crafted articles explaining the need-to-knows about the blockchain industry.
Coinedict brings cryptocurrency news for investors and blockchain enthusiasts which is readily consumable. Coinedict is the one-stop platform for information regarding digital currencies. Be its market analysis, investment tips or the latest developments in Altcoins, we have it all covered. Coinedict is bestowed with a team of experts, empowered and skilled in covering the latest business news, community events and making it presentable to the people.
CurrencyTimes is Media news Brand in Crypto News world Currency Times covers everything from Cryptocurrency, Blockchain, Bitcoin World Currency Times find the most recent news, most recent costs, leap forward investigation stories over the eventual fate of cash.
TheBitcoinPodcast.com is an online podcast for crypto, blockchain news.
Blockchain, Crypto Currency, Bitcoin, Ethereum News website.
Bitcoin.Pl is a Poland-based cryptocurrency news platform that ensures people get daily, reliable updates. They have their sire designed in such a way that once you get on the page, you start enjoying the best form of reporting and publishing news.
Bitcoin Garden keeps you updated with news on things happening all around the crypto world. Its style of writing and reporting is unique and designs are topnotch.
Coin Center is a site that has its focus on policies involving cryptocurrencies such as Bitcoin, Ethereum, etc. without having to make profits from its services. The site has incredible designs and it is one of the few sites with simple designs but great information. The first category on the site are "The Latest" which is currently happening at the moment while other categories include Hot Takes, etc.
Bitcoinspot is a Polish-based cryptocurrency information platform where readers get updates easily.
Token Economy is a platform that doesn't only talk about cryptocurrency news but blockchains, Initial Coin Offerings, DApps or anything that has to do with token growth in the economy.
Mycryptopedia is an educational website dedicated to helping everyone and anyone learn about cryptocurrency and blockchain technology all in one place. Creating Mycryptopedia is our way of encouraging greater adoption of this promising area. For newcomers and veterans, Mycryptopedia is a one-stop-shop for anyone wishing to further their knowledge about cryptocurrencies and blockchain technology.
Bitrazzi is a subsidiary of Webrazzi, the leading Turkish tech blog dedicated covering tech startups since 2006. As the leading source of tech startups in Turkey and the region, Webrazzi and its experienced team launched Bitrazzi in December 2017 to cover the development of bitcoin, cryptocurrencies and blockchain ecosystem.
KryptoMoney.com, supported by Southridge Internet Corp., publishes latest news and updates about Bitcoin, Cryptocurrencies, Blockchain Technology and Upcoming Initial Coin Offers (ICO). Apart from publishing latest crypto news, the team behind KryptoMoney aims to boost the Blockchain Ecosystem in Canada by educating the masses about this revolutionary technology and helping blockchain startups in Canada.
CryptoCoreMedia scripts the interface between worlds where blockchain integrity and human wisdom lift together.
CoinReport is a global digital currency news portal, with a dedicated team of cryptocurrency reporters and analysts. And is very much involved in Bitcoin-related projects to educate new audience just beginning to get into Bitcoin or trying to understand its concept.
Shea Newkirk (aka The 'Stache or CryptoStache) is a blockchain, cryptocurrency blogger and influencer.
We are a truly international team just like Bitcoin and Cryptos are truly international currencies. This community is global and growing by the day. We are made up of Bitcoin geeks, crypto currency traders, forking cool content creators, writers, artists and film makers. We have veterans of Bitcoin who have experienced this industry from its early days through to people who are new to this but see what an amazing community it is to be part of.
Brave New Coin (BNC) supplies spot pricing for bitcoin and 0ver 330 cryptocurrencies and assets to global financial markets. We have built a superior Market-Data Engine for the Blockchain & Digital Equities industry. We collect, process & index live data from over 160 trading platforms in real-time to produce Digital Asset API's and Blockchain Data tools for Developers, Traders & Enterprise.
Coinspondent is a German-based news site that has its site updated with the latest news on cryptocurrencies.
ForkLog magazine is an information resource dedicated to Bitcoin, Blockchain, and decentralized technologies. Cryptocurrency events, Bitcoin price analysis, op-ed's, crypto technologies, and all the news about Bitcoin. Working for you since 2014.
Goanadupa Bitcoin is a Romanian-based news platform with recent news and updates.
Coin News Asia is your premier pioneer in news, information, and prices on bitcoin and other digital currencies with focus on the Asian cryptocurrency ecosystem.
CryptoAnalyst is the world's premier cryptocurrency news analysis site, bringing you all the headlines in crypto adoption, regulation, and much more.
BitcoinsInIreland is an Irish-based crypto network where recent news and articles are updated.
The Dapp Daily is an Ethereum-oriented source of information in the crypto society.
BTC World News no doubt is one of the best news platform that gives exclusive details on Bitcoin all around the world.
CoinLaw is the only media platform dedicated to providing legal news, analysis and opinion from the global cryptoasset and blockchain sectors. CoinLaw was founded by Bertrand Theaud and Matthieu Bonnici, both accomplished lawyers based in Hong Kong, who realised the potential of blockchain technology and cryptoassets to reshape the financial world.
UnchainedPodcast.com is the official blog of Laura Shin, former senior editor of Forbes, and host of the Unchained and Unconfirmed podcasts.
CryptoGround.com is an independent publishing house that provides Cryptocurrency & Blockchain Technology News. It is a News Media Platform which serves its audience with accurate News and Analytical Articles.
Asia Blockchain Review aims to connect all blockchain enthusiasts on a regional scale, facilitating the technological underpinnings of blockchain through a range of group discussions, technical workshops, conferences and consulting programs.
Block Media is a cryptocurrency and blockchain technology news portal in Korean language.
CoinLife is a cryptocurrency market and the mining industry news portal in Russian language.
TuoNiaoX also known as Ostrich Blockchain, is an information platform focused on blockchain and digital asset markets in Chinese language. Committed to become the preferred market information platform for the blockchain industry, providing you with the latest and most objective blockchain information, news, digital currency market and other services.
Coin Voice is a cryptocurrency and blockchain technology news portal in Chinese language, focused on original, deep, and high-quality blockchain content, dedicated to linking blockchain innovators around the world.
ICOshock aims to be an information portal for news about cryptocurrency and ICO's. We publish daily news and articles about what's happening in the market and new ICO projects. To many, this is a very new topic, and we aim to be a legitimate source of information where people can find updated and correct information.
The Block Beats is a cryptocurrency and blockchain technology news portal in Chinese language.
cybtc (彩云比特) is a cryptocurrency market and the mining industry news portal in Chinese language.
ChainTalk interviews with top traditional and crypto investors, entrepreneurs, developers, journalists, and influencers in Asia and around the world.
Decenter (디센터) is a cryptocurrency and blockchain technology news portal in Korean language.
Cryptonary provides the latest headlines and market insights from the cryptocurrency world.
ChainNews (链闻) is a cryptocurrency and blockchain technology news portal in Chinese language.
Reporting the future. The latest news about Bitcoin, ICO, trading, blockchain and fintech.
HKZBM (香港中本傳媒) is a cryptocurrency and blockchain technology news portal in traditional Chinese language.
Coin Post (コインポスト) is a cryptocurrency and blockchain technology news portal in Japanese language.
Blockcast.cc is a broadcasting news source for the blockchain community. Founded in South Korea and Singapore, Blockcast has a network of contributors in China, Hong Kong, South Korea, Singapore and Malaysia. Blockcast.cc aims to bring you the latest blockchain insights across the globe. Blockcast.cc has covered interviews from United Kingdom, Dubai, Singapore, Hong Kong, China, United States of America to South Korea.
Chain For (链向财经) is a cryptocurrency and blockchain technology news portal in Chinese language.
My Block Info started as private tool for ourselves to keep up to date on cryptocurrencies. The website covers news, charts, social media and prices in one single place.
iterduo (耳朵财经) is a cryptocurrency and blockchain technology news portal in Chinese language.
Investinblockchain.com provides readers with information and insight into investing in bitcoin, altcoins, and ICOs. This media outlet focuses more on guides and how-to's than market-moving news and is, therefore, an excellent resource for beginners.
MinerSight (矿视界) is a cryptocurrency market and the mining industry news portal in Chinese language.
Blockmanity is one of the fastest growing online publication on the new industry of Blockchain, started in March 2018. We cover the latest news on the Blockchain technology, regulations and the cryptocurrency markets.
JoinD (조인디)  is a cryptocurrency and blockchain technology news portal in Korean language.
IKIGUIDE is Singapore's First Blockchain and Cryptocurrency Portal.
lieyuncj (猎云财经) is a cryptocurrency and blockchain technology news portal in Chinese language.
Decrypt is the entrepreneur's guide to Bitcoin, Ethereum and Web 3.0.
Bitnewsbot.com is a bitcoin, cryptocurrency and blockchain news aggregator that "pulls" content from the top news business outlets in the world and presents them in a single website in order to help our readers stay informed and up to date.
This website is added to this list despite 'not listing aggregators' rule, because they do not push readers out to the news platforms that they pulled content from, but have the entire article listed on their own website itself.
apisgo (猛牛资讯 – Meng Niu Zi Xun) is a cryptocurrency and blockchain technology news portal in Chinese language.
PANews is a cryptocurrency and blockchain technology news portal in Chinese language.
Bitcoin86 (比特币资讯网) is a cryptocurrency and blockchain technology news portal in Chinese language.
Top Market Group Introduces their Blockchain events, jobs & ICOs. It also presents news related to blockchain, cryptocurrency, bitcoin & ethereum.