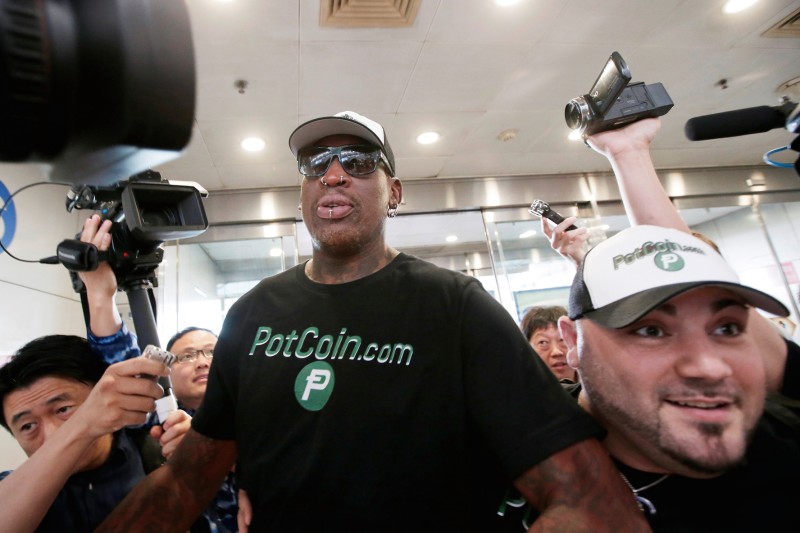 The recent historical summit between US President Donald Trump and the Democratic People's Republic of Korea's (DPRK) leader Kim Jong-un was a high-profile event that captured global attention. The summit was regarded a success for the major breakthrough it made in US-DPRK relations and in efforts towards a peaceful resolution of the nuclear issue in the Korean peninsula.
(Photo: Business Insider)
However, something else interesting was happening in parallel to the summit that sharp-eyed observers would have caught. Former NBA star Dennis Rodman showed up in Singapore ahead of the summit wearing a "Peace Starts in Singapore" T-shirt and promoting PotCoin.com. Potcoin is a cryptocurrency from Canada that debuted in 2014 and aims to help legal marijuana dealers in the US who are unable to put their money into the US banking system. The digital currency is seen as the solution to avoid having to deal completely in cash. Not only did Potcoin sponsor Rodman's trip to Singapore, it had previously also sponsored his trip to North Korea in June 2017.
Although Potcoin may be performing modestly, one has to admit that its decision to team up with Rodman is a novel marketing strategy that is paying off. A video of Rodman wearing the Potcoin t-shirt and crying over the Trump-Kim summit in an interview with CNN went viral and was picked up by numerous other media outlets. On the day of the summit, PotCoin's price surged by about 25% on Tuesday, adding $4 million to its market capitalization. When the company paid for Rodman's trip to North Korea in June 2017, its price surged by about 19%.
This unusual combination of global geopolitics, nuclear weapons, Dennis Rodman and legal marijuana shines the spotlight on celebrity endorsements and involvement in the world of cryptocurrencies becoming an astute marketing and publicity tool to spread cryptocurrency awareness. Words of praise, event appearances and significant investments from celebrities have helped boost the profile and bottom lines of numerous cryptocurrencies.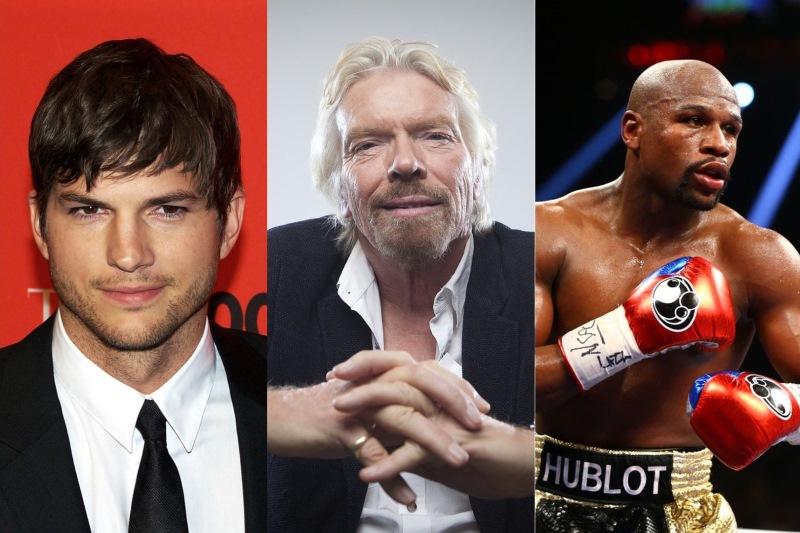 Pulling in Star Power
Actors, athletes, entrepreneurs and many others have all joined the crypto-bandwagon. Here are some notable celebrity endorsements:
Richard Branson, the flamboyant and larger-than-life founder of Virgin Group, is a believer in cryptocurrencies, having invested US$30 million in Bitcoin startup Bitpay in 2014. Bitpay is a global Bitcoin payment service provider and is one of the largest Bitcoin payment processors. Branson is also trying to make commercial space flights a reality and accepts accept Bitcoins as a form of payment for tickets on his upcoming commercial space travel service Virgin Galactic.
Hollywood actor Ashton Kutcher is another who has invested in technology companies over the last decade. The early investor in Twitter, Uber, Spotify and AirBNB was also an early evangelist for cryptocurrencies. Kutcher voiced support, through twitter, for Ethereum  as early as May 2014, more than a year before its initial release in July 2015. Ethereum is now one of the biggest cryptocurrencies in the world with a market capitalization of over $45 billion as of June 2018. Proving that cryptocurrencies can make a real difference to society, Kutcher donated $4 million in Ripple (XRP) on behalf of the cryptocurrency company to Ellen Degeneres' Wildlife Fund live during the Ellen Degeneres Show in May 2018. Like Richard Branson, Kutcher is also an investor in Bitcoin processing service Bitbay.
Floyd Mayweather, the retired boxing champion is on Forbes 2018 list as the world's highest-paid athlete with earnings of $275 million and endorsements worth $10 million. Part of his endorsement income likely comes from being an active celebrity endorser in the cryptocurrency market. In July 2017, Mayweather endorsed the ICO for blockchain prediction platform Stox.com. Soon after, in August 2017, he lent his star power to the ICO for a blockchain-based content marketplace known as Hubii Network.??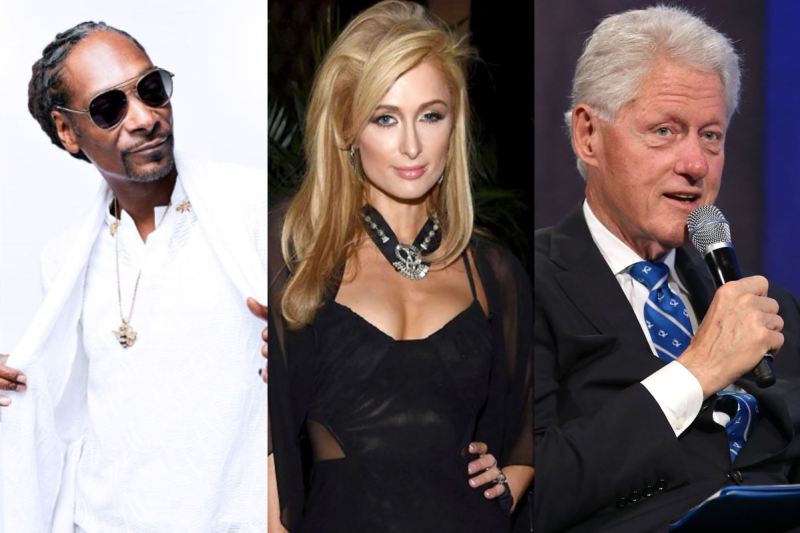 (Photo: Ripple/Getty Images/Bitcoinist)
Last September, in 2017, the TV star and heiress Paris Hilton tweeted the newly emerging coin called Lydian, saying: "Looking forward to participating in the new @LydianCoinLtd Token! #ThisIsNotAnAd #CryptoCurrency #BitCoin #ETH #BlockChain." The tweet has since been deleted, but not before reports looking into LydianCoin found that its chief executive had previously pleaded guilty to domestic abuse. A month and a half later, the SEC issued a statement, urging caution around celebrity-backed ICOs, that many believe was directed at Hilton.
As part of the first-ever New York Blockchain Week in May 2018, Snoop Dogg was booked to perform at the XRP Community Night, to celebrate Ripple (XRP), a San Francisco startup.
More recently, former U.S. President Bill Clinton will headline Ripple's Swell conference later this year on October 1-2, the cryptocurrency payments startup announced  in a press release. The question-and-answer session will be hosted by former National Economic Council director and advisor Gene Sperling, who served under both Clinton and President Barack Obama, and is currently on Ripple's board of directors.
Do your Homework
The emerging and exciting trend of celebrity endorsements and involvement in cryptocurrencies aside, at the end of the day, the crypto-investor and adopter would do well to keep his or her feet firmly planted on the ground and not be too swayed by all that star power. Just as celebrities endorsing, promoting or investing in cryptocurrencies ought to do their homework, a responsible investor needs to do due diligence – as with any type of investment, it is very important to know and understand what one is investing in. A checklist to evaluate a cryptocurrency or platform is a good way to spot value and opportunities in the thriving cryptocurrency landscape.