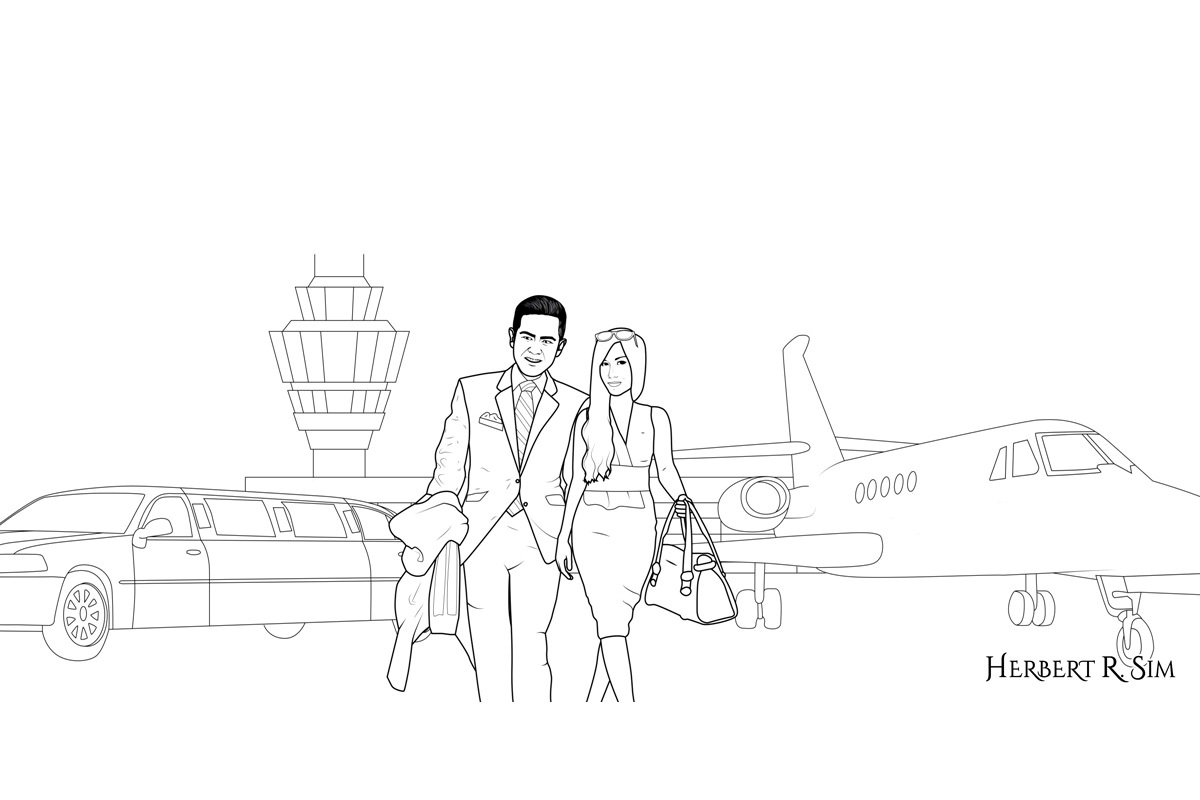 An illustration featuring myself alongside editor-in-chief of WardrobeTrendsFashion, Vanessa Emily, showcasing luxury corporate travel with a limousine and private jet in the background.
While today we are supposedly spending a big chunk of our lives staring at our computer and mobile screens, soaking more information than probably our brain can process. The impact of this changing pattern in content discovery and consumption is big, especially in the fashion industry.
Today, we are what we share and this is what is building the unique identities of individuals and brands. If you can be the source of new fashion ideas and inspiration, you can be the fashion; people will then follow you and buy from you.
Bringing content from the accustomed traditional world of printing to the world of digital would have proven to be an impossible move, without the ideology and acceptance of digital transformation.
WardrobeTrendsFashion a.k.a. WTF has re-defined the fashion world by mastering what runs the internet – 'the content'. WTF sells more than just fashion, WTF sells the online luxury fashion experience. With the power of curated content, WTF has become a stamp of approval for a targeted audience for fashion discovery.
This is a new wave, fraction of the fashion industry that is tech savvy and understands on how to leverage the 'new' internet, especially social media as a marketing & distribution channel.
Perceived value is what a customer believes merchandise to be worth, when he or she agrees to pay (or not to pay) for ownership of the product. Compared to the real value of the product, perceived value is more difficult to measure directly; yet it has a greater impact on its value to the customer. Having said that, perceived value of products offered by a brand is also measured by the brand loyalty, awareness and positive associations which the brand has engendered in its target market.
Talking about physical fashion stores, product display is a critical component of a customer's showroom experience. Brand owners invest heavily on displays to make the product look larger than life. On the other hand, with emergence of Social commerce when information sharing is becoming more and more visual, you can't go too far if you don't have a streamlined process for content production. With product photos, imagine as if your customers are looking at your product from your eyes. Let your photos communicate as much visual information that your customers need to be convinced about the product value.
We're living in an era when brands have to be completely transparent and honest. Companies today no longer have the same information benefit over the customers which they used to have earlier when there was no Internet as they could run business in isolation with the customer.
An unpleased customer today can cause more damage to a brand with the help of social media than any time in the history.
A community is built on real life pictures which are not always perfect. Any product picture that's taken by your customer from her smartphone is as important to your business as the one taken by your production team. There's no saying no to a luxury online fashion magazine.