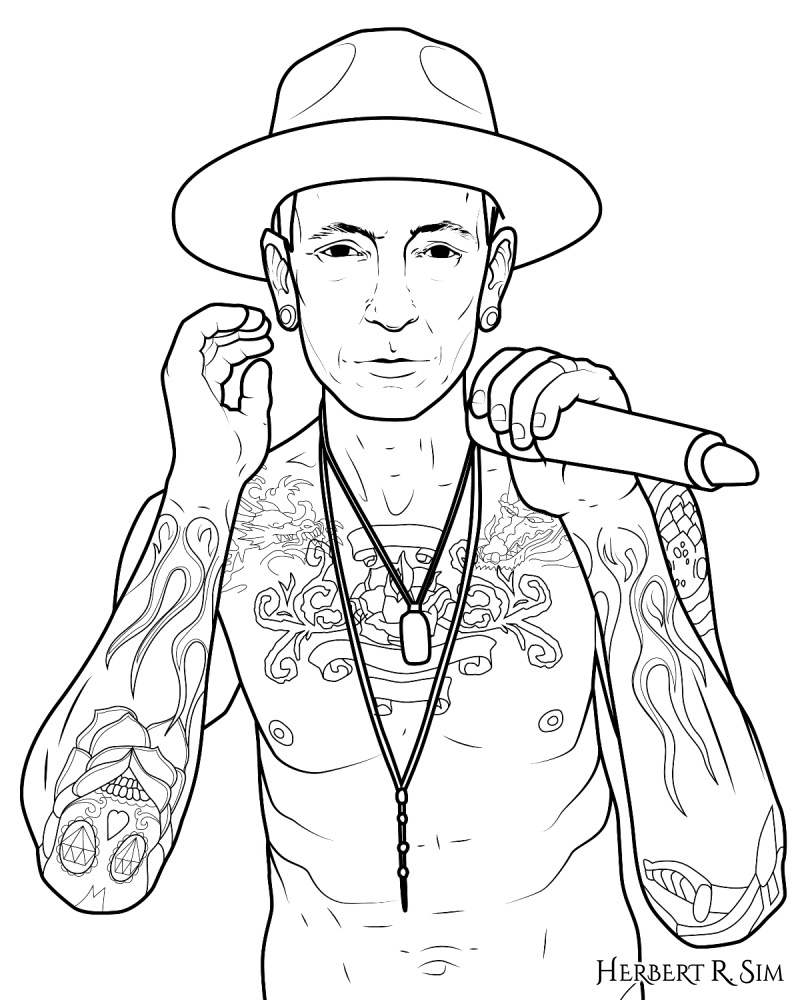 Referencing a couple of different portrait photos of Chester Bennington, I sketched out the above.
———————————————————————
"To pigeonhole a genre as being successful or unsuccessful is weird"– Chester Bennington (March 20, 1976 – July 20, 2017)
Outside of music affecting the brain as an emotional experience, it is also a physical experience. One reason for this is a hormone related to bonding called oxytocin. The "cuddle hormone," as it's sometimes called, can be released by singing.
I grew up listening to Linkin Park. Songs like In The End, Papercut, Numb and the many more wonderful hits Linkin Park is known for. At times, life hits you exceptionally hard. This time, it hit me even harder when I heard the first heard the news of Chester Bennington passing.
The news first came down on the afternoon of Thursday, July 20, 2017, my initial reaction was, "probably a celebrity death hoax. I mean it has to be because it doesn't make sense". But as the minutes passed by, and with Linkin Park co-frontman, Mike Shinoda confirming the news on Twitter, writing, "Shocked and heartbroken, but it's true.", it was indeed true. Chester Bennington, Linkin Park lead singer, had committed suicide.
His tragic suicide was a personal blow. Memories of me shutting the world out with his songs came gushing in. What happened? So many unanswered questions. But why? Did he not show any signs? Was he not happy?
Even though the news came during a long string of musician deaths, this one was one of the most shocking, totally unexpected. Reinforcing and further strengthening the need for us reexamine the importance of mental health, from crushing the stigma surrounding it to the warning signs to look for in those around us.
Chester was an icon worldwide and had an impact in the music industry in all markets. People looked up to him. Those who grew up with his music looked up to him. He was an inspiration. He was humble, and he made our music scene better.
I have never seen someone channel that power with such raw intent like Chester Bennington. When I think of the late, great, Linkin Park singer, I envision the image of Bennington squeezing the microphone with both hands, a slight bend at the waist, head tilted down, but still towards the crowd, eyes closed .
Somewhere I belong. What a three-word phrase. It's a question, a statement, a thought and a journey all rolled into one. For Linkin Park, it was the lead single from 2003's Meteora. At the bridge, Bennington always had his moment. He takes over — starting with "I will never know myself until I do this on my own," and ending with "I'll find myself today." But in between those lines lies "I will never feel anything else until my wounds are heeled".
Bennington had his demons and he had his struggles. Just like you and me, with our own demons and struggles.
"When I'm writing, I'm constantly thinking about myself, because it's the only experience I have to draw on. And I don't see an exact reflection of myself in every face in the audience, but I know that my songs have validity to them, and that's why the fans are there." —  Chester Bennington (1976-2017)
I guess I can relate to this as I'm the same when I'm writing my pieces. Good bye Chester, you will forever be remembered as a legend, a music icon, a gift taken too soon.
———————————————————————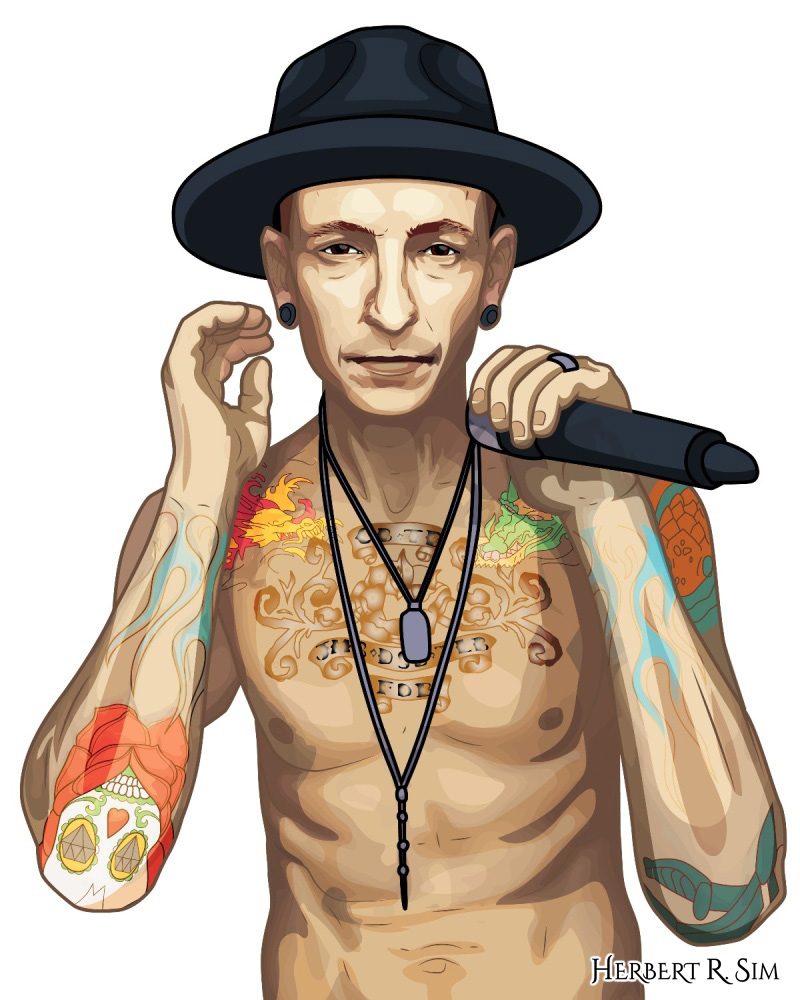 In my final illustration, with full color, I made sure to capture his tattoos, and the subtle pain in his face and eyes.