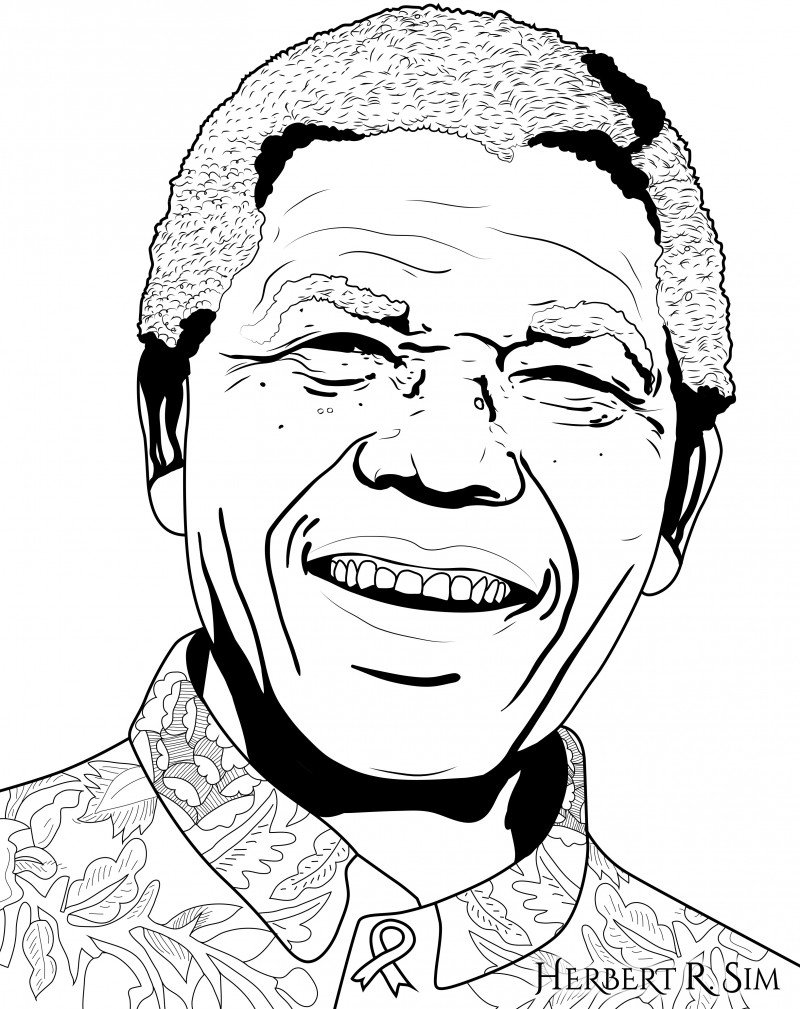 I started digitally producing this digital illustration sketch on the day the news of his death broke. It took me approximately a month to get this sketch right, to be able to properly capture the warmth of in his eyes and in his charming smile, referencing this photo via IDA International.
———————————————————————
Nelson Mandela (18 July 1918 – 5 December 2013)  has always inspired me to think beyond myself, to think of people in the wider world as part of a common humanity.
We need more like him. In a world full of selfishness, we need leaders who inspire us and motivate us with action as much as words. After all, words without action are meaningless.
Nelson Mandela inspired countless people to devote their lives to peace, justice, and reconciliation. He was all about leadership for freedom, equality, truth and love.
I'm inspired by him through his life, his struggles, his words and his deeds. He was truly a man who walked the walk as well as talked the talk.
As I grieved upon learning of the demise of this iconic leader, I stopped to think what was Nelson Mandela's life all about. It was about incapable of being selfish.
This man that changed the world grew up in a tiny village and was the first member of his family to attend school. With his hunger to learn more, there was an insatiable thirst to change his fate.
"There is no passion to be found playing small – in settling for a life that is less than the one you are capable of living".
Nelson Mandela could have made a comfortable life for himself as a young lawyer and later one half of Mandela & Tambo, the only law firm in South Africa run by blacks at the time.
But this wasn't enough for Mandela. He wanted real change, a fair and equal society where blacks and whites could rule together in a democracy.
This is the greatest life lesson Mandela has taught me. You can be anything you want. Big or small. Be part of something you believe in.
He taught me that nothing is impossible. From lawyer to political activist, from prisoner to the president of a nation and global iconic leader, he had endured far more than many of us can even imagine.
In the beginning you have to put in a lot of hours to learn your craft. At least 10,000 hours according to Malcom Gladwell.
As Gladwell explains in his riveting book Outliers, there are no instant experts. Most of us need to invest roughly 10,000 hours of practice (or 5 years of 8-hour days) to achieve mastery in any field.
Education played a key role in Nelson Mandela's life, even though his own parents were illiterate.
When you combine passion and education, you've found the key to moving forward in life. And just like Nelson Mandela did, he was able to draw upon this learning while he was in prison to mobilize support from around the world for the struggle against apartheid, and then later as president.
In life, you get what you put in.
One of the most remarkable things about Nelson Mandela is that everything he did was to help others. He was passionate. But most importantly he had a lot of compassion. For those around him and to those he knew nothing of.
What I admired most was he led his life by example. The more you help others, the more you get back in return. The more generous you are with your time and knowledge, the more you will receive.
It doesn't matter if there'll be a reward. It might or might not come from the same person or source. Do it anyway because whenever you make a positive impact in someone's life, you end up enriching your own life.
Regardless from where you are or where you live in this world, we can all remember Nelson Mandela as a sincere leader. Never one who is selfish, and constantly sacrificing for the needs of others.
By injecting the energy and spirit of Madiba into our daily lives, that's exactly how to keep Nelson Mandela's legacy alive. His inspiration offers me hope and life. Thank you Madiba, and Rest in Peace.
———————————————————————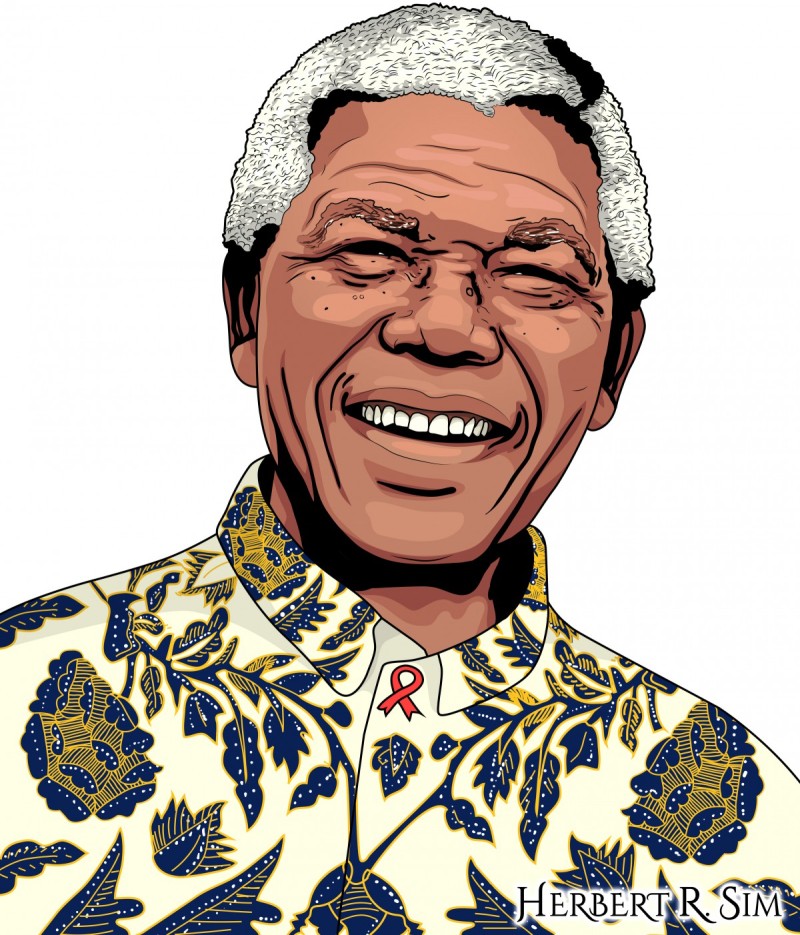 That first photo i sketch referencing the portrait shot of Nelson Mandela face, was visualized with him wearing this shirt spotting traditional South African stylized prints. And also to capture the 'Red Ribbon' of his efforts championing to heighten awareness of HIV/Aids.