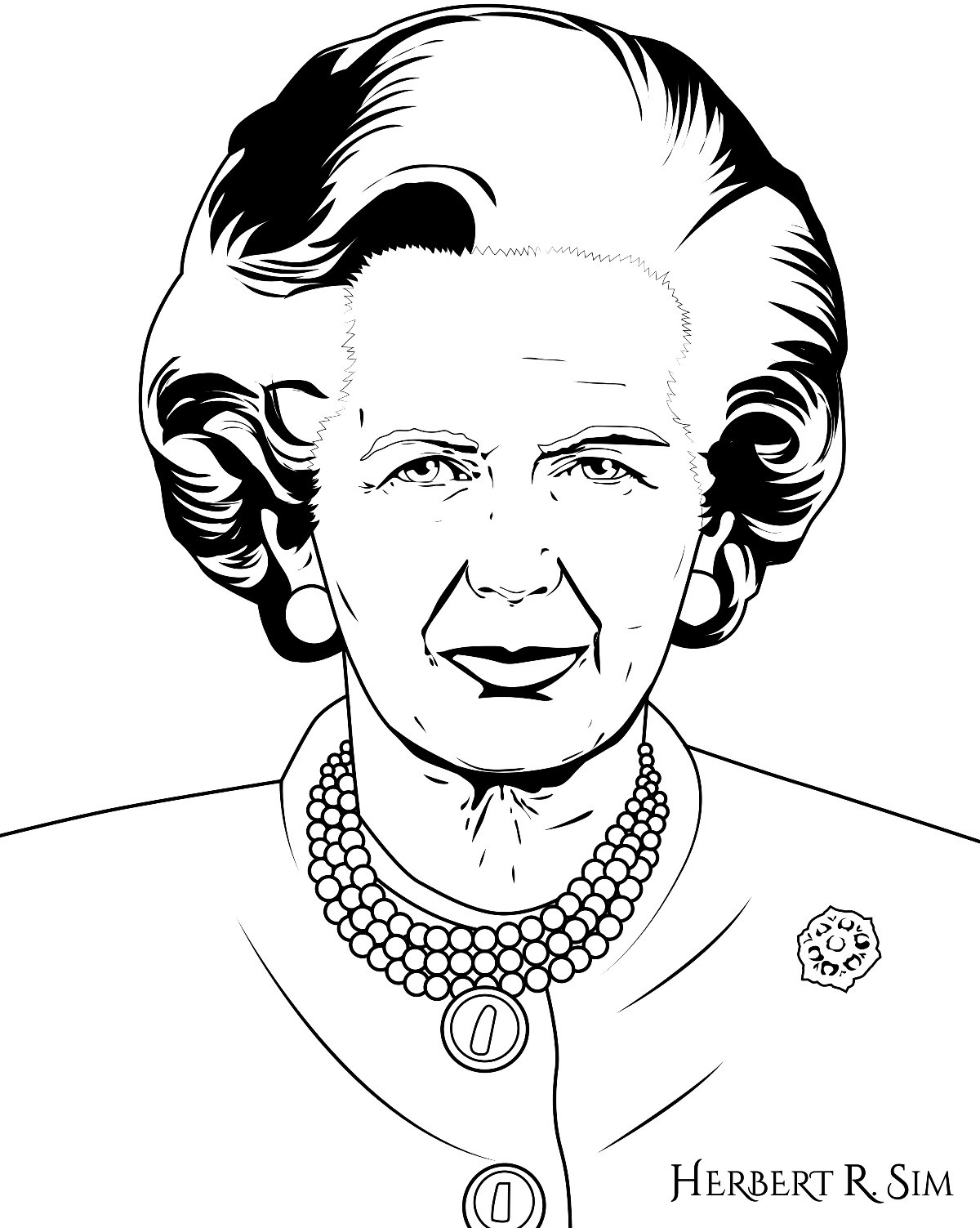 Referencing this portrait of Margaret Thatcher via Harper's Bazaar, I digitally produced this digital illustration sketch.
———————————————————————
I remember how gloomy it was when I heard the news.
Margaret Hilda Thatcher, The Iron Lady has passed on.
Known as the Iron Lady, Margaret Thatcher (13 October 1925 – 8 April 2013) was a strong Conservative who changed England's perspective on its economic and political life. Which somehow changed my own perspective on how I viewed economic and political issues.
Through Thatcher's memoir: it was apparent that she spoke up with such courage and strength, just as she described herself, "This lady is not for turning."
When she believed in an ideal, whether it was transforming the British economy or saving a terrified Jew from Austria, she was not afraid to follow through, even if she had to stand up against popular opinions to do so.
More often that so, we're taught in life to not defy the odds. Accept what may come, and persevere through. Defying the odds was exactly what Margaret Thatcher did.
She had a completely new approach to the management of the economy had been applied and all the old assumptions were reversed.
It is true that British society now gives conservatives, among others, cause for concern with its crime, disorder, dysfunctional families, and dependency.
But it is much less obviously true that if there is anything that Mrs. Thatcher's economic reforms did, it was to make it so, be it cultural, religious and moral trends.
She was a born natural leader. A woman of steel. An inspiration. That continuing inspiration is, indeed, a crucially important element of the Thatcher legacy.
Losing her first two parliamentary elections didn't stop her from trying the 3rd time. And she finally won a seat in Parliament after running in the staunchly Conservative district of Finchley in northern London in 1959. If that isn't inspiring then what is?
An opinion poll for Prospect magazine rated Mrs. Thatcher better equipped to steer Britain through the economic maelstrom than Gordon Brown (47 percent to 34 percent) and better by a still wider margin than David Cameron (49 percent to 24 percent).
In that light, it is encouraging that a recent survey by the Times of Conservative parliamentary candidates found that the likely new intake is "to a large extent followers of Margaret Thatcher and her revolution."
Did you know that the first seven seconds in which you meet somebody, according to science, is when you'll make a "first impression."
In 1985 Mrs. Thatcher said "The essence of the well-dressed woman should never be exaggerated. Appearance is the first impression people get of you. And it does matter. It matters tremendously."
This stuck on me like moss to a rock. In which I learnt that maintaining a neat and tidy appearance as soon as you're out the door is in fact being respectful to whoever you're meeting.
Margaret Thatcher never failed in her grooming, despite a heavy work schedule. So why should we?
Where there is discord, may we bring harmony;
Where there is error, may we bring truth;
Where there is doubt, may we bring faith;
And where there is despair, may we bring hope.
—  Margaret Hilda Thatcher
Born in a cramped apartment above her father's corner store in which lacked of running water, central heating and even an indoor toilet, no one expected Margaret Hilda Roberts, was one day going to be the Prime Minister of the United Kingdom.
In my eyes, she will always be a woman of tenacity. Now against all the odds, in my opinion, no one could do it better than the lady who, 25 years before, once thought the sky was beyond her limit.
———————————————————————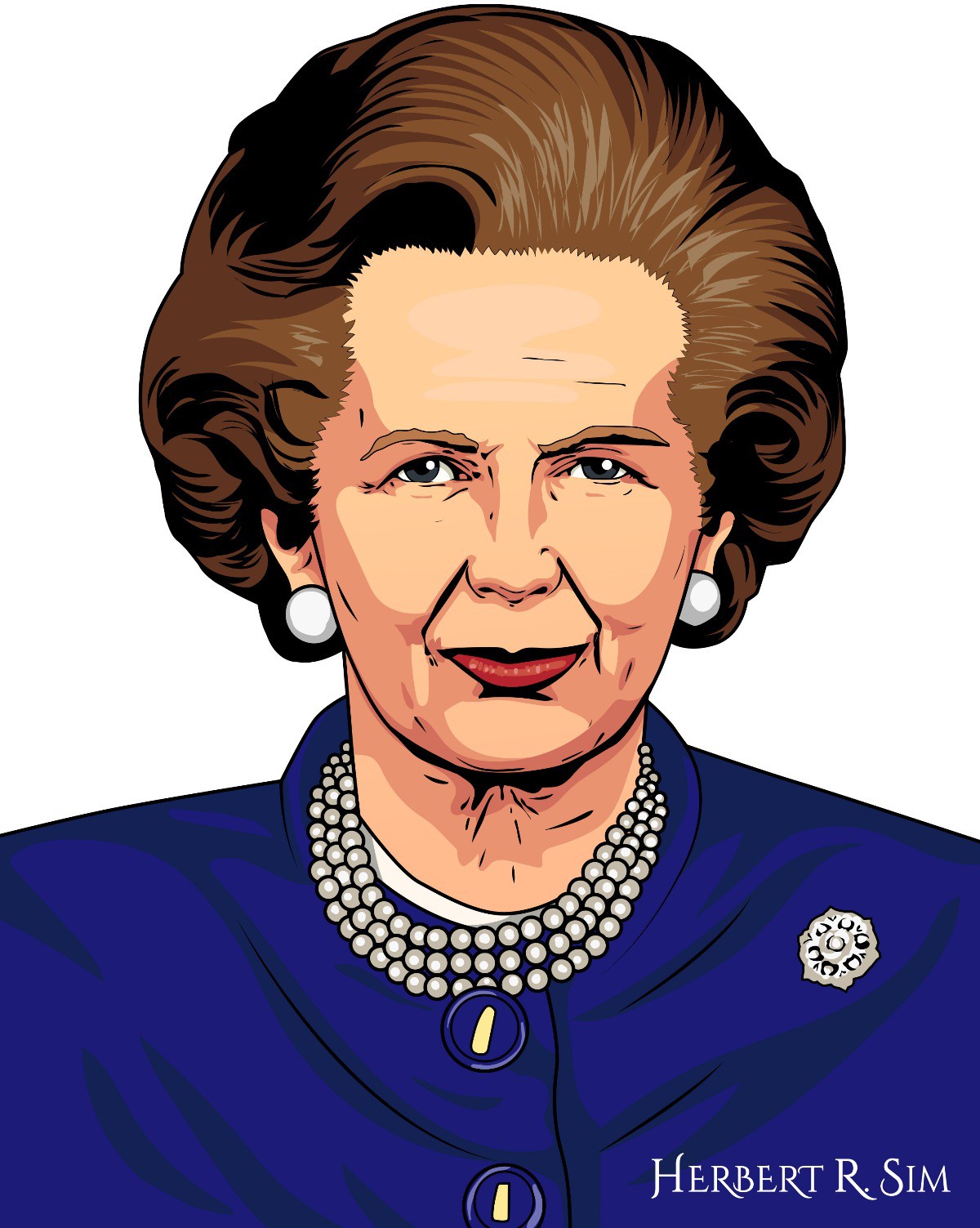 Above is my final digital illustration of The Iron Lady, Margaret Thatcher. If you compare it was the sketch above, before the coloring, this one captures the subtle smile, and the ironclad intensity in her eyes of 'defying all odds'.