When it comes to flying cars and delivery drones, there's been a doubtful perception by some at this incredulous idea, which perhaps, suppresses the reality that these airborne creations have been around, and not just figments of one's imagination.
Even more impressive is the fact that while some groups may dismiss electric Vertical Take Off and Landing (eVTOL) designs as mere fluff that will never come to fruition, the autonomous urban aircraft industry is projected to hit an estimated US$1.4 trillion by the year 2040 – reflecting conviction. eVTOLs, as its name suggests, pair the convenience of vertical takeoff with helicopter-like landing, while maintaining the efficient aerodynamic flight of a plane.
US authorities do not seem too perturbed by the technological advances that are powering the industry, with regulatory approvals granted to companies who are leading the drone delivery race. Amazon got the FAA (Federal Aviation Administration) approval, and so did Alphabet's Wing – its drone delivery subsidiary – as well as global shipping and logistics giant UPS.
The bigger question, however, isn't about whether drone delivery services are going to "fly". While there is a need for the smooth integration of an unmanned aircraft traffic management system (UTM) to regulate air traffic, especially in cities with high population density areas and crowded air spaces, flying drones can be considered to be less disruptive to our daily routines. Still, drones that are widely used in either corporate or consumer sectors involve short-range surveillance and those used for photographs and videos.
—————————————————–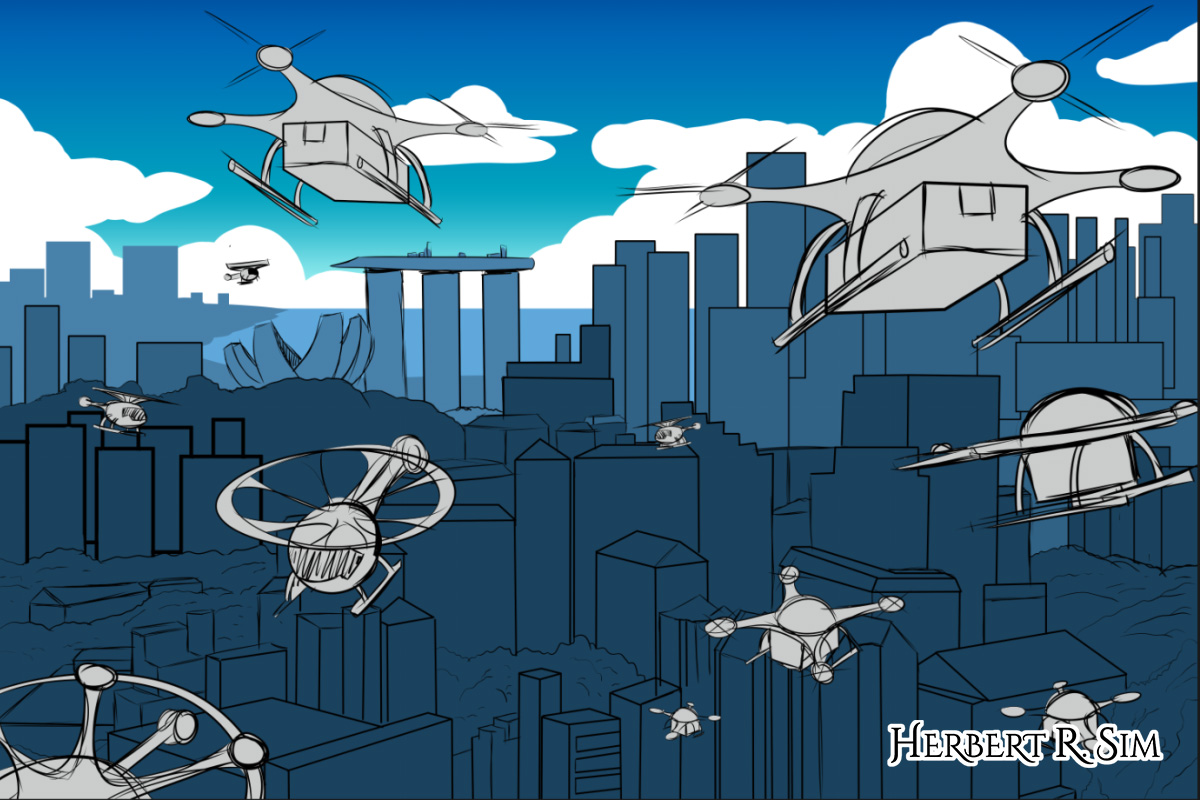 My illustration sketch of Flying Cars and Drone Deliveries in Singapore – with the iconic Marina Bay Sands and ArtScience Museum in the backdrop. Follow-up art piece to my earlier 2016 'Future of Mobility in Singapore'.
—————————————————–
In fact, drone delivery services have been tested and commenced operations in some parts of the world. In Ireland, drones have been used to deliver medicine to the vulnerable in light of the pandemic and in Singapore, drones have been used to carry supplies to ships anchored off the island.
When it comes to flying cars however, there's the question of safely integrating flight paths within urban air spaces, since automobiles are considerably larger than drones. There's also a need to plan and simulate flying from point A to B while navigating concrete jungles, and the prospect of leveraging autonomous software to power – for example, a taxi fleet. This would certainly invite comparisons with the Jetsons' Orbit City, from the 1960s animated sitcom.
The good news remains that automotive suppliers have made tremendous improvements in autonomous systems over the past few years, with the likes of sensor fusion, lidar systems, artificial intelligence and a host of other subsystems. Of course, installing the software in a flying car will invite a different sort of scrutiny as compared to a land model.
The debate surrounding the VTOL industry has often revolved around the relevancy and necessity for aerial vehicles and associated functions. Such debate has unearthed multiple reasons as to why taking to the skies is more boon than bane, where eVTOLs can be seen as a viable solution to specific modern-day issues.
Easing congestion and aerial mobility
For starters, flying cars are seen as solutions to the massive traffic congestions that occur in major cities. In the US for example, traffic congestions waste more than three billion gallons of fuel and keeps drivers in their vehicles for almost seven billion extra hours each year. Flying cars, then, can help passengers bypass traffic jams and in the process reduce carbon emissions.
When it comes to transport mobility, the two most accessible and normalised options are land and sea mobility. Aerial mobility, naturally, becomes the next big thing – possessing huge potential to create a smoother experience for passengers. Aerial mobility vehicles like air taxis and autonomous cargo aircraft are slated to provide and usher in the age of accessible air travel.
Some air-mobility solutions, including freight-delivery drones and passenger-transport eVTOLs, are not expected to enjoy an exclusive airspace, but to fly in spaces used by commercial flights and other general aviation aircraft. This will then require an integrated airspace management system that can help VTOLs avoid obstacles and complete their flights safely.
—————————————————–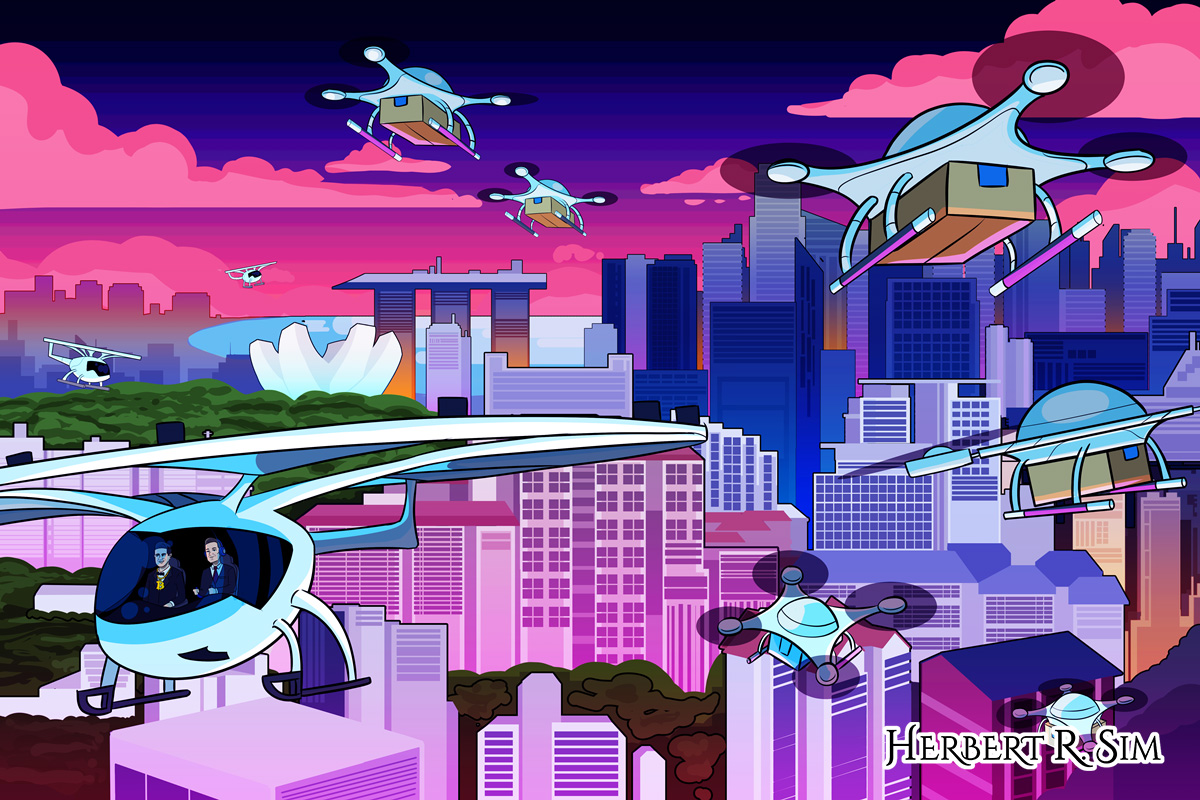 Featured in the flying car is Bitcoin Man, with his iconic Bitcoin Chain.
—————————————————–
Developments are positive
Around the world, various auto and aircraft manufacturers, including ride-hailing companies, have been conceiving and developing flying car concepts, with some of them keen on taking charge and leading the eVTOL race.
These companies include Airbus, Boeing and Uber, with the latter having already announced its air taxi network a couple of years ago while just recently, unveiled a partnership with Hyundai – one that will see the South Korean car manufacturer produce Uber's fleet of eVTOLs.
Uber's foray into flying cars and autonomous vehicles isn't new, having spent over $457 million on related research and development in 2018. Specifically, the costs were clocked at Uber ATG, the company's autonomous vehicle unit and Uber Elevate, its eVTOL unit – representing one-third of the Uber's R&D spend back then.
In fact, some companies have made headway in terms of producing a working prototype. SkyDrive, one of Japan's latest flying car start-ups, has also showcased what looks like a sleek two-person eVTOL aircraft, capable of covering several tens of kilometers at 100 kmh..
In Slovakia, a flying car capable of hitting top speeds of 160kmh and reaching an altitude of above 8,000ft (2,500m) has been issued with a certificate of airworthiness by the Slovak Transport Authority. Dubbed the AirCar, the hybrid car-aircraft takes about two minutes and 15 seconds to transform from car into an aircraft, and was only granted the certification after more than 200 take-offs and landings, coupled with 70 hours of flight testing.
The future is bright for take-off
With what may seem like a heavier focus on eVTOLs and the technology that drives them, air-mobility stakeholders are still working on various pieces of the puzzle that – once solved – could edge the industry closer to realisation. One of these puzzles is to solve infrastructure needs for eVTOLs – specifically, the creation of vertiports. Vertiports are either structures or land and water bodies that are designated for VTOL landing and take-off.
While drones are more compact and occupy much lesser space as compared to flying cars, it is crucial that some attention must be paid to the creation of vertiports as the basis of an effective and functional aerial network.
Additionally, regulators such as the Federal Aviation Administration (FAA) in the US, while expected to gradually enable new UTM features, may not reflect the same in most major markets where implementation could still take several years. For one, the regulatory framework is one of the main obstacles to the mass deployment of delivery drones and this difficulty could be amplified for ambitions such as VTOLs cruising across the sky.
Essentially, regulators will play a critical role in setting comprehensive guidelines that will serve as the foundation for the industry – from vehicle requirements to airspace management. Industry stakeholders must educate the public to address core concerns about air mobility, including safety and the range of benefits. Only then will there a breakthrough in the enablement and normalisation of flying cars and drone deliveries.
Certainly, the sky's the limit.