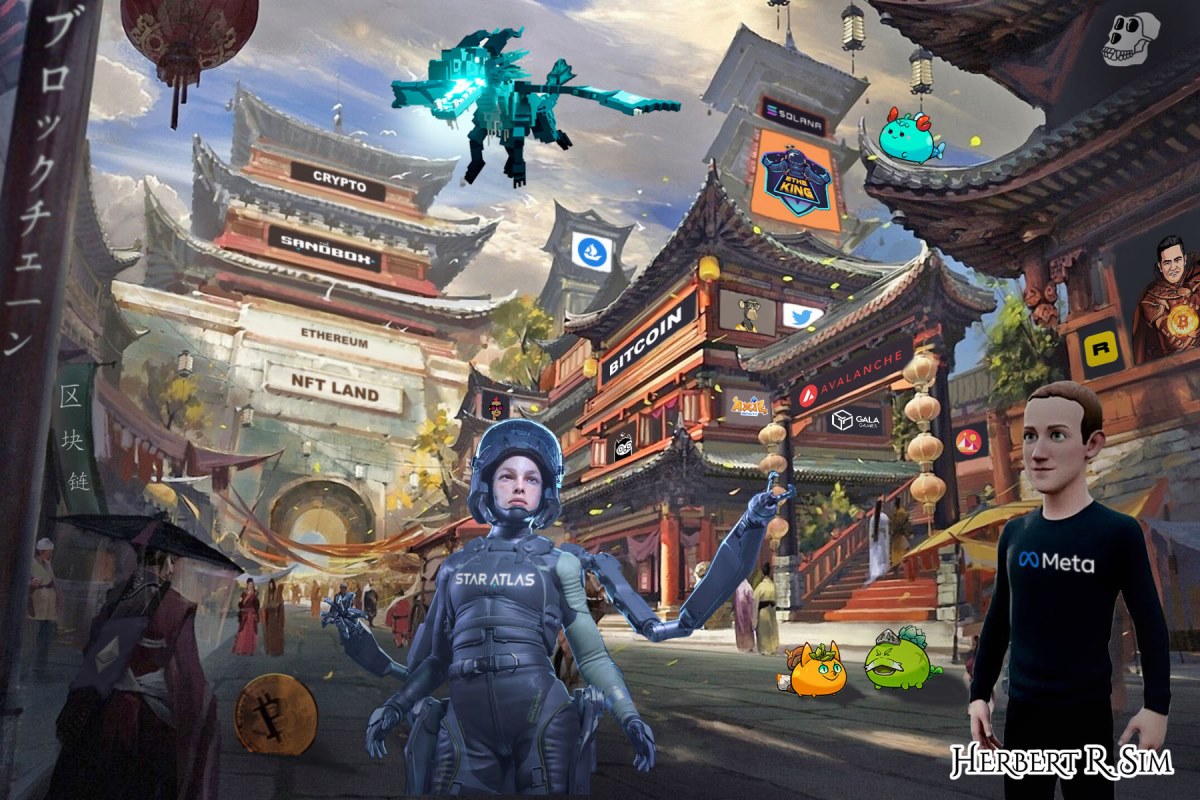 In the above, featuring Mark Zuckerberg's metaverse avatar, Facebook Meta, Star Atlas, Axie Infinity, Sandbox, Decentraland, GALA Games, Opensea, Rarible, Crypto Punk, ETHEKing, Moonbirds, Bored Ape Yacht Club (BAYC), The Bitcoin Man, Solana, Avalanche, Ethereum.
Over the past decade, the cryptocurrency landscape has transformed and undergone a series of changes.
It has become more than just holding digital tokens, but a focus on how best to leverage blockchain technology to provide various benefits and utility.
Since the release of Bitcoin's whitepaper in 2008, the crypto scene has grown into a massive ecosystem comprising myriad spheres of blockchain work and initiatives.
From DeFi applications and NFTs to Web3 and smart contract solutions, these alternative avenues have enabled retail investors to explore and thrive.
With each success story and technological breakthrough, there will be new people who are drawn to the space. Some will be keen to uncover more before investing, while others prefer to "ape" into meme bandwagons and hope their money moves in a similar direction.
The NFT boom in 2021 is a classic example, where despite NFTs having been around for years, conceived a new wave of collectors and threw the likes Azuki and Bored Ape Yacht Club into the public eye.
One might argue that media attention can be superficial at times, fanned by the fact that more than US$25 billion were spent on NFTs in 2021. But hefty sales aside, legitimacy appears to be reinforced when big-name celebrities and luxury brands decide to delve into the space – contributing to the rise and rise of the NFT industry.
More than just a JPEG
Fast forward to today and you'll realise that NFTs have transitioned into being more than just your average profile picture, but actual projects that bring utility and value.
These traits can be found in the form of staking and unique tokenomics, exclusive access to alpha groups (essentially people who make calls on the next big project), as well as P2E (Play-to-Earn) blockchain games that offer economic incentives, or GameFi as the community would call it.
Just google P2E games and you'll notice familiar names: Axie Infinity, Alien Worlds, Star Atlas and The Sandbox, just to name a few. These are highly popular titles with a massive following, where top players can make a living off the income generated.
You would also have come across Wax Studio's Blockchain Brawlers game that earned US$357 million in its first week, or how Gala Games hit a peak of US$5.4 billion in terms of market capitalisation with its GALA token.
Essentially, GameFi puts together two core concepts: decentralised financial products and the ownership of in-game assets in the shape of NFTs. This marriage allows for players to tap on various pathways to generate income, whichever route that the P2E game is based on.
In terms of in-game mechanics, there are two types that most games run on: either those that are based on traditional liquid mining or games that incorporates the mining mode entirely.
For traditional liquid mining, players will "stake" (or pledge) needed NFTs before they can start playing, while for the latter option, users can commence the game immediately – in the process gaining useful in-game items or currencies that can be sold on an exchange for fiat currencies.
One can also earn income via other methods, for example, by obtaining NFT weapons to improve a character's skills, trading NFT land parcels, staking NFTs, and nurturing pets for reproduction.
Passive Income through buying NFT!?
Full disclosure, myself Herbert Sim a.k.a. The Bitcoin Man, I have personally invested into Play-To-Earn blockchain game – ETHEKing.io.
In the first phase, which has already been launched, investors are allowed to purchase as much NFT land as possible. Each plot can be mined daily to earn $ETHE for an immediate profit and later rented to players who participate in the free-to-play game. Although designed to provide passive earning opportunities for the crypto investor, it is worth noting that purchasing land will become beneficial in the phase two launch focused on building a profitable kingdom.
The second phase of gameplay, which is soon to be released, will add on a mobile strategy game, where players can construct, upgrade and grow their land while simultaneously defending their territories and earning rewards via NFT collectible. Leveraging the P2E model, players will be tasked with the mission to control a group of soldiers to gain Moon Point (MOP) in-game coins, which can be traded with ETHE for profits outside the NFT landscape.
Together, this dual release will ensure that barriers to entry are lowered to encourage widespread NFT use, and interested investors still have a profitable avenue to participate, although not at the player's expense.
Real-world monetary incentives in a virtual setting
NFTs are often used as in-game assets that can be transferred out of the game to be traded on NFT marketplaces and crypto exchanges. Compared with traditional games, this reward system is highly attractive and highlights the strengths of having digital asset ownership – providing an environment that gives players discretion over how they can monetise their in-game NFTs.
An example can be seen in the metaverse game world, where the concept of land ownership and the monetisation of such have grown extremely popular. Examples include Decentraland and The Sandbox, with key developments driving even more engagement and growth for both platforms.
The Sandbox for example, is a virtual world where players can purchase pieces of digital real estate and then monetise their gaming experiences. The SAND token is used within the game's ecosystem and holds actual monetary value that players can exchange for.
For Decentraland, it's an Ethereum-powered virtual reality platform where users can purchase land NFTs and create activities for other users. These curated experiences can be monetised and the autonomy afforded to land owners have been key to increasing the value of MANA – Decentraland's native token.
Of course, there's an array of virtual worlds for users to explore – each tailored to suit one's taste and expectation of what a metaverse should be. Some top choices right now include WorldwideWebb (W3) – a blockchain-based role-playing game that's set in a cyberpunk virtual universe – as well as Matrix World, a multichain virtual environment that allows creators to build 3D dapps (decentralised applications) and even customise in-game NFTs.
Take a deep dive into the idea of collecting land NFTs and you'll realise how important NFTs are, not just to the GameFi ecosystem but also to the success of multiple metaverse worlds.
Add to the fact that institutional investors are beginning to recognise the potential of digital lands and P2E blockchain games, you can sense that the community is on to something.
Adrian Cheng, CEO of Hong Kong's real estate giant New World Development, has signalled his intention to acquire one of the largest plots of digital land in Sandbox and to build a virtual space that would feature a group of 10 companies.
Such an intention isn't something new, as PwC Hong Kong, one of the biggest consulting firms globally, has also purchased Sandbox land in a bid to cater to interested clients.
Similarly, Tokens.com, a Canada-based technology company that deals with DeFi and NFT-based cryptocurrencies, caught the headlines with its acquisition of virtual real estate from Decentraland for US$2.4 million.
Of course, digital lands aren't all the hype.
On the blockchain gaming front, Krafton, the South Korean gaming behemoth that is behind the uber popular PlayerUnknown's Battlegrounds (PUBG) video game, also aims to expand its crypto portfolio. It will be working with Solana Labs to create more blockchain games that would allow players to earn NFTs.
Of investments and a glistening future
The partnerships and transactions above can only prove to be a bullish signal for the blockchain industry, P2E gaming marketplace, and the millions of gamers and NFT collectors around the world.
As compared to traditional video games, blockchain-based P2E titles will continue to attract players for a variety of reasons.
Apart from the aspect of profitability, P2E gamers are hooked on the idea of asset ownership – apart from the other reasons that compel them to enjoy traditional games in the first place (think engaging narrative, stunning visuals and exciting gameplay).
Better yet, the gradual assimilation of blockchain and mainstream business units could usher in even more newcomers to the space – in the shape of retail investors and institutional backers.
These stakeholders could have been sitting on the side lines for the longest time, weighing up if they should partake in this massive digital pie and are simply lacking a conviction push.
With the explosive growth of GameFi and its ensuing hype train that seems difficult to derail, P2E blockchain games could see a future as bright as the proverbial star.