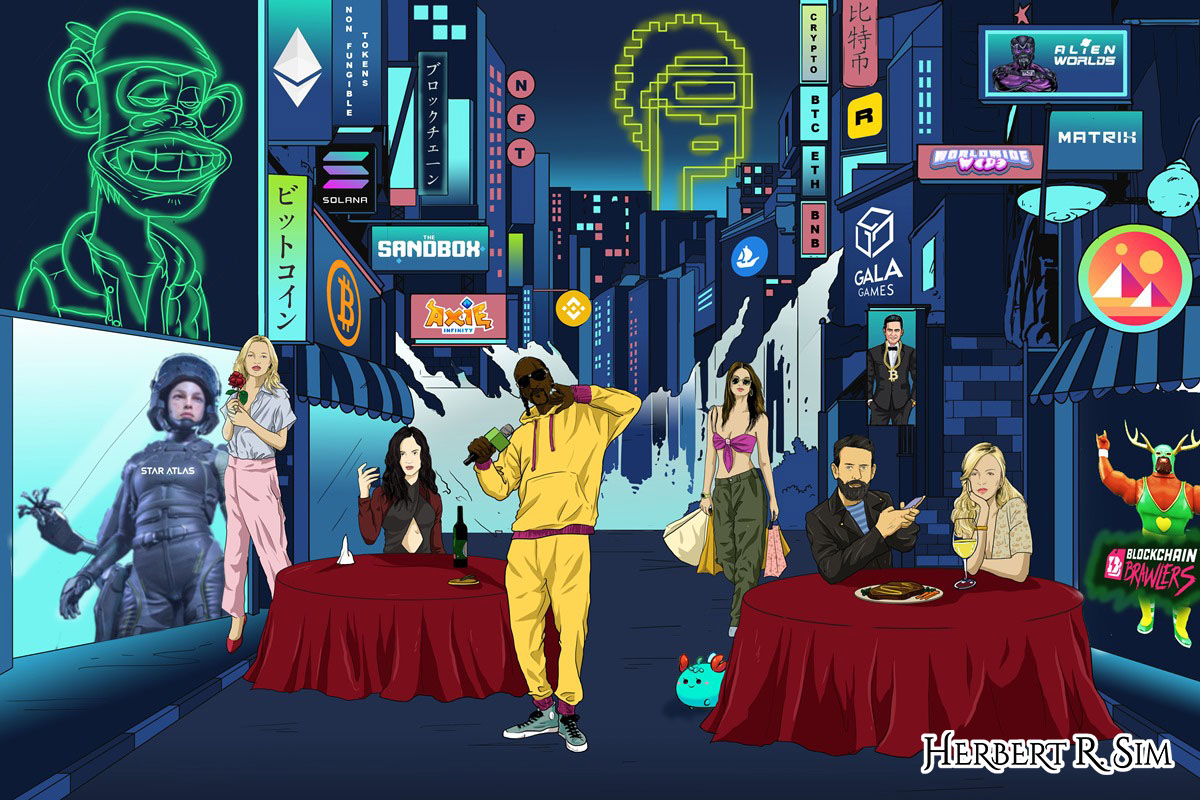 In my latest illustration of Non-Fungible tokens, I draw the current top celebrities backing the NFT industry – Lindsay Lohan, Kate Moss, Snoop Dogg, Emily Ratajkowski, Jack Dorsey, Grimes.
————————————————————–
To the uninitiated, non-fungible tokens (NFTs) are a mystery, a fad that's simply blown out of proportion and fuelled by hype.
Essentially, NFTs are a type of cryptocurrency created on smart contract platforms like Ethereum (the largest market right now) and others like Solana and Avalanche – with each digital asset being unique and cannot be replicated. An NFT acts like a certificate of authenticity, giving value to collectors.
The sort of negative perception by some groups regarding NFTs is understandable, given the premise of a digital artwork being priced at seven figures for example, proving incomprehensible. Recent big money purchases in early 2021 have indeed raised eyebrows, hitting global mainstream news sites and left crypto enthusiasts dumbfounded.
Mike Winkelmann, better known as Beeple, is a digital artist who managed to sell an NFT of his work for a cool US$69 million. Other eye-popping sales include a masked alien CryptoPunk that was snapped up for US$11.75 million and whistle-blower Edward Snowden's artwork titled Stay Free for US$5.4 million.
Even Bored Ape Yacht Club, launched in April 2021, was already generating close to US$16 million in volume within its first month. Twitter founder Jack Dorsey also jumped on the bandwagon by auctioning off an NFT of his first tweet for US$2.9 million, before converting it to bitcoin and donating to charity.
Perhaps fuelled by the massive purchases, various NFT marketplaces like OpenSea, Rarible and SuperRare have sprung into life – with existing projects gaining tremendous traction and volume. Just for Q1 alone in 2021, a stunning US$1.5 billion in NFT sales were recorded, charting a 2,627% increase versus the last quarter of 2020.
A swift (and unexpected) resurgence
What's notable is that historically, the first NFTs were created slightly less than a decade ago, around 2013/2014. They were kept largely in the shadows since they were an extension of what some people within the crypto space wanted – a digital asset other than Bitcoin which they could trade or collect.
When CryptoPunks and CryptoKitties leapt onto the NFT scene in 2017, there was a burgeoning hype that ignited the NFT space and caught the media's attention. The latter for example, is an Ethereum blockchain-based game that allows players to purchase, collect and sell virtual cats. Such was its popularity that within days of CryptoKitties' launch, it had clocked over US$1 million worth of transactions.
However, as time went by, the heightened interest eventually faded and the intense volatility of the crypto markets kept new retail investors at bay – unsure if it'd be worth it to take the plunge.
Until today that is.
In fact, one can attribute the surge in NFT buyers to Bitcoin's bull run in the early parts of 2021. Bitcoin's stunning market movement drew not only fresh investors to the crypto space, but also dragged an otherwise stale market of alternative coins towards new all-time highs.
Coupled with the influx of institutional money and a changing sentiment regarding cryptocurrencies – one that is more receptive and positive – investors have become more willing to convert a portion of their portfolios to crypto and NFTs.
The explosion in holders gradually reinforced NFTs as a legitimate investment avenue, with big money sales persisting for various projects (Crypto Punks and NBA Top Shot for example), while the number of new NFT mints have also increased to liven up the space and cater to demand. Getting a waitlist spot or even a mint token was never this competitive.
This unprecedented situation was a delightful surprise for the NFT community and the ecosystem, often considered to be purely speculative. Now that it is finally receiving intense attention (and affection), the spotlight does not look like it'll ebb anytime soon.
From Ethereum's OpenSea to Solana's MagicEden, various marketplaces have reflected this renewed sense of optimism for the industry – with huge volumes of transactions to show for. NFTs aren't simply just about cool ape profile pictures anymore, but capable developers and marketing teams adding utility to the projects. NFT buyers are starting to look at tokenomics, strong communities, marketing initiatives and yes, the quality of the artwork.
The glare of the NFT spotlight grew even more intense when celebrities and luxury brands began to strut into the fold, to partake in an exciting, thriving space.
————————————————————–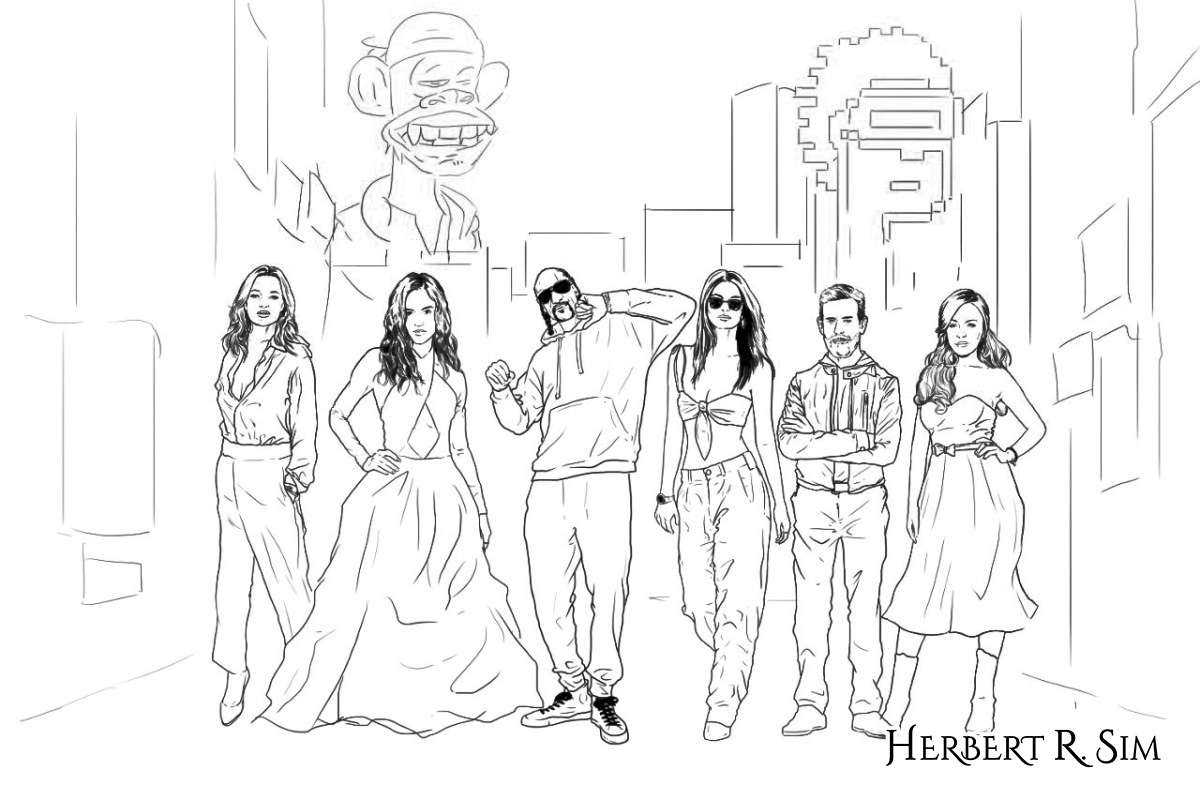 In the sketch illustration of the celebrities, I also included the current top NFT brands – Bored Ape Yacht Club (BAYC), and Crypto Punks.
————————————————————–
Star power and global brands
Paris Hilton, for one, saw the frenzy and was quick to the game, creating a series of NFT pieces that eventually sold for over a million dollars. Grimes, Elon Musk's musician wife, took her extremely imaginative and futuristic art to new heights, at one point netting her US$6 million in under 20 minutes.
Next up was Snoop Dogg, who introduced a limited number of pieces that showcased his memories from his early years – in a collection titled "A Journey with the Dogg". One of the pieces sold for over US$100,000. Other celebrities that have created or signalled their interest in NFTs include Lindsay Lohan, Emily Ratajkowski, Kate Moss and even skating legend Tony Hawk.
With each passing endorsement or partnership with an NFT project, with each purchase and sale of six-figure NFTs, it seems like the rich and famous have unknowingly made NFTs an asset that can appreciate in value – a further boon to NFT investors and an encouragement to those who're still sitting on the fence.
Luxury brands, too, have determined that the NFT space is the next sphere to break into. Dolce & Gabbana for one has partnered with UNXD – a digital marketplace – to launch an NFT collection. Before them, Gucci had auctioned off an NFT of a 4-min video clip for US$25,000, inspired by its Fall/Winter 2021 collection. Rimowa, too, is releasing NFT artworks with Nuova, a design company.
For those who're wondering if the digital version of a physical product is even sellable, NFT collectors are begging to differ. Jacob & Co, a US luxury watch brand, sold an NFT version of its highly popular SF24 Tourbillon for US$100,000.
Indeed, digital assets are making a momentous comeback and when the public reads about how LVMH, Cartier and Prada are collaborating to launch a blockchain consortium called Aura, which could in the future have the interface necessary for brands to create NFTs, it is only a matter of time before JPEGs step into mainstream territory.
Welcoming creators and builders
Such positive momentum in the NFT space has attracted not just a wider group of buyers with varying degrees of purchasing power, but also developers, artists and individuals who are capable of creating their own NFT projects.
Such a scenario can only strengthen the claim for NFTs to be considered as viable investments, and not simply tied to pure speculation.
In fact, successful projects are often thought to house bright, hardworking developers, excellent marketing teams, talented artists, and a tight knit, "diamond-handed" community. Bored Ape Yacht Club, The SandBox, VeeFriends, CryptoPunks and Axie Infinity are examples of stellar NFT projects that are leading the space and will only serve to inspire more artistic creators and blockchain builders.
Moving in the right direction
When it comes to the future of the NFT space, it is tough to cast fear, uncertainty, or doubt. Indeed, the rise in various NFT marketplaces across different blockchains is an encouraging one.
Apart from Ethereum and a fast-growing Solana NFT ecosystem, there's also Avalanche, Terra Virtua, Polygon and even NEAR Protocol for users to explore.
These platforms will appeal to NFT collectors and crypto holders who are looking to put their eggs in different baskets, scout various ecosystems and delve into the technologies that each blockchain can offer.
Essentially, NFTs have evolved and are able to offer so much more than just being your chosen profile picture.
If there's anything to glean from, it is that the future for NFTs is a bright, thriving one.