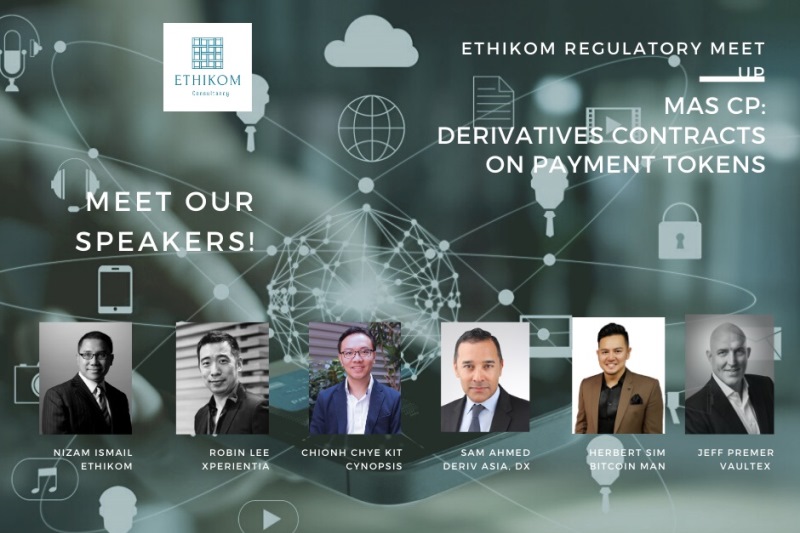 Herbert Sim will be speaking at Ethikom Regulatory Meetup – MAS CP on Derivatives Contracts on Payment Tokens (Cryptocurrencies) on Monday, 9 December 2019, 3:00 PM – 5:30 PM.
—————————————–
Monetary Authority of Singapore (MAS) has recently issued a Consultation Paper (CP) proposing to regulate derivatives with digital payment tokens (cryptocurrency) underlyings for Approved Exchanges.
MAS has proposed not to regulated such derivatives that are listed or traded on other platforms as such products as an asset class "are not suitable to be legitimised and accorded a regulatory status at this point in time."
MAS has stressed that it does not think that such derivatives are suited for retail investors.
Join our Regulatory Meetup as we discuss the implication of the CP on your businesses.
As MAS will be intoducing measures for retail investors who trade in payment token derivatives by June 2020, how can you get ready?
We would also be facilitating feedback from the audience, which we will collate in the form of a set of written submissions to the MAS.
Host: Robin Lee, MD Xperientia
Keynote Presenter: Nizam Ismail, CEO, Ethikom Consultancy
Panelists:
– Chionh Chye Kit, CEO, Cynopsis Solutions
– Herbert Sim, the Bitcoin Man and Founder, Crypto Chain University
– Sam Ahmed, MD, Deriv Asia and Head of Regulatory Sub-Committee, DX
– Jeff Premer, CEO, Vaultex Exchange