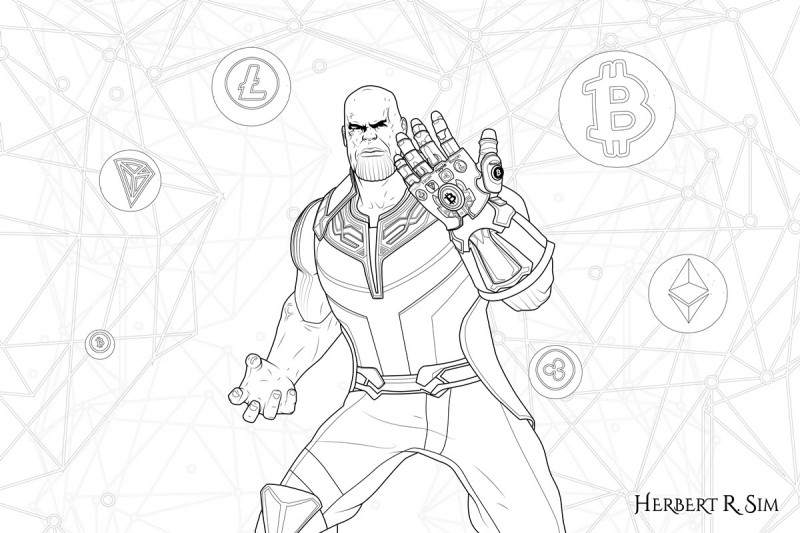 In my latest illustration, inspired by latest Avengers: Endgame' it features Thanos wearing the infamous Infinity Gauntlet.
———————————————————-
Blockchain technology is at an important crossroads of its evolution. It has shown to be a stable and secure architecture for use as a platform for currency exchange and a number of other applications managing value and information. However, there is still some way to go before blockchain can be said to have gained widespread acceptance by businesses and the average person.
One way this is being done is through gamification, the layering of game-like features on top of an existing technology platform in order to increase its attractiveness, participation, engagement, and interactivity vis-à-vis the userbase. Industry observers say that the numerous strengths of blockchain technology coupled with the engaging power of gamification makes both natural partners.
It is thus worth examining: What have been the success stories of gamification and blockchain? Where does its potential lie? Where is it lacking? And why do blockchain and gamification need each other?
Early Success
In fact, gamification has long been a valuable tool for major businesses. One of the earliest examples being airlines and credit card companies which built points ecosystems designed to get users to spend and participate, and rewarding them with redeemable prizes.
In the blockchain era, an early success for the gamification of blockchain was the CryptoKitties decentralized app: a virtual pet collection game where every "born" kitten was unique. Gamers bought, sold, traded and bred unique digital kitties, each with some special characteristic based on its "DNA" as validated by the blockchain.
Eristica is another game-based platform that has seen a growing following. Eristica takes its name from the Greek phrase "eristikē technē", which means "the art of winning disputes". Observers have predicted that it could become the next media platform – similar to Vine and YouTube – where people can post video challenges, challenge other users, and compete in a global leaderboard on a P2P platform powered by blockchain technology.
The gaming element involves users placing bets with other users and even celebrities using the Eristica utility token (ERT). Whenever a challenge is won or successfully predicted, users are rewarded with ERT tokens.
———————————————————-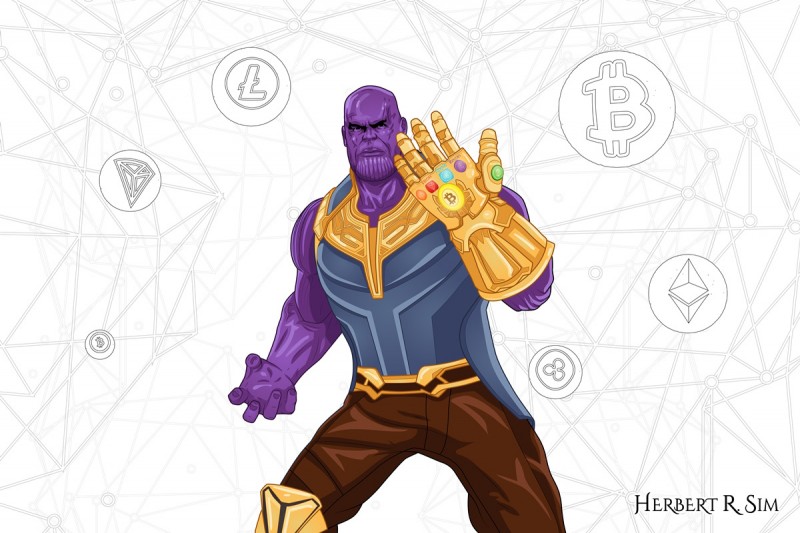 This time however, the Infinity Gauntlet is imbued with Cryptocurrency stones — Bitcoin, Bitcoin Cash, Ethereum, Litecoin, Tron, Ripple.
———————————————————-
Online Gaming
Online gambling is one of the fastest-growing markets worldwide, what with a burgeoning number of the world's population gaining mobile internet access. The online gambling industry is expected to reach $81.71 billion in 2022. A reality of the online gambling scene is the presence of fake websites and a lack of transparency for gamers to know which sites are trustworthy.
Blockchain technology can make an impact in this area by restoring the trust and transparency gamers deserve. Because blockchain-based gambling platforms are decentralized and free of third-party influence, gamers will be fully aware of what goes on. Gamers' money can go directly into smart contracts with zero worries of middlemen interference, while having all transactions on the blockhain can solve problems like delayed cashouts and manipulation of game results. This allows gamers to focus on the pure entertainment aspect of their gambling experience. Examples of 'blockchain casinos' as they are called are Cashbet, Sp8de, TruePlay and LetBet.
A high risk and high reward part of the wider cryptosphere, gambling cryptocoins such as FunFair, CasinoCoin and Peerplays are gaining popularity as well. Launched late last year, GanaEight Coin (G8C) is another coin that can be used in online casinos. A major feature of G8C is that it can be used on its own blockchain to bet and play. The world of online gaming and eSports also has its share of coins such as GameCredits, MobileGo and Enjin Coin. The latter already has more than 250,000 gaming communities that use Enjin Coin on their platforms.
A blockchain platform that gives developers the opportunity to build games and decentralized apps like CryptoKitties is Zilliqa. Compared to Ethereum, which is also used to build games, Zilliqa is capable of higher speed and throughput; Zilliiqa can handle an impressive 2,828 transactions per second compared to Ethereum's 15-30.
According to its Co-founder Dong Xinshu, Zilliqa aims to boost the progress of blockchain gaming, which has been lukewarm, by providing developers a tech stack that is user-friendly and powerful enough to build ambitious games that could rival the popularity of non-blockchain games like Fortnite or League of Legends. Zilliqa has already scored a win by luring the popular game Etheremon away from its Ethereum home base.
Virtual Items but Real Value
Another potential market for gamification in blockchain is the purchase, ownership, sale, and trade of the virtual items that are obtained through other gaming activities. Think virtual weapons, powers, knowledge, and even lives that are earned during gameplay.
Though the terms of use for most electronic games prohibit the purchase and sale of virtual items for fiat money, the reality is that there exists a large underground economy for this that could be worth anywhere between $15 and $50 billion per year.
Blockchain's ability to assign unique IDs as well as ownership to virtual items makes it an ideal platform for gamers to safely and securely deal in virtual items. Naga Virtual is an example of a platform which allows players to monetize the long hours spent playing their favourite games. It enables them to buy, sell and trade items from different games and platforms (PC, Mobile, Console, etc.) among each other.
———————————————————-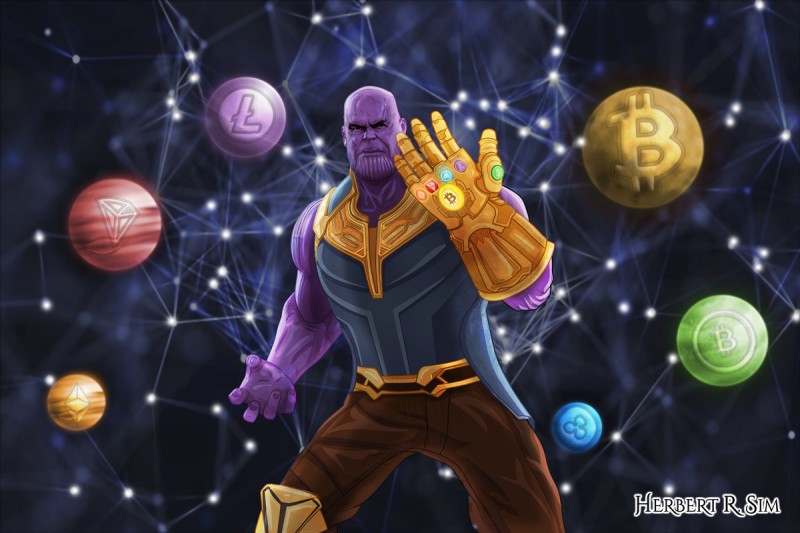 "The One Gauntlet to rule the cryptocurrency planets and worlds"
———————————————————-
Spend, Not Hold
The tokenisation of commerce is another growing trend that utilises blockchain technology alongside cryptocurrencies. Tokenisation is essentially a data security measure for payments where sensitive data such as credit card numbers are replaced by an algorithmically generated number called a token.
The tokenisation of retail activities, particularly online and on mobile platforms, has been paired with the gamification approach to promote more interaction and facilitate transactions between businesses and customers. One of the major problems that many businesses issuing tokens face is getting users to spend instead of holding on to their rewards. However, some businesses have uncovered how to combine both blockchain and gamification to nurture greater fungibility while incentivizing spending tokens over saving.
HotNow, a Thailand-based mobile advertising network, has successfully gained hundreds of thousands of users and signed up over fifty thousand merchants since its creation as a platform to reach mobile smartphone users with location-based retail deals. The tokenisation and gamification of its ecosystem has helped greatly in improving the relationship between merchants and consumers, who can participate in mission-based games and be rewarded with tokens which unlock valuable discounts and promotions at their favourite retailers.
Blockchain-Powered Democratisation
But currently, the rewards that users of the gamification approach are eligible for is limited to that specific company or community. For instance, it is not possible to exchange air miles for ride-hailing promotions unless the respective companies jointly come up with a promotion for customers to be able to do so. In general, there is a restriction to the value and reach that loyalty rewards have.
Blockchain can help overcome, or democratise, these limitations. Instead of points, users can be rewarded with tokens of monetary value and which can be exchanged for other cryptocurrencies or fiat money. Such a blockchain-enabled architecture need not be constrained to a single base of customers or community. The blockchain tokens can be used by all the communities using that blockchain, making the possibilities endless.
In the context of blockchain and gamification being natural partners, businesses running blockchain platforms can use gamification to overcome existing obstacles. In turn, gamification can be that "killer app" that tips the balance to ensure that blockchain and cryptocurrency technology truly achieve widespread usage in business and society.