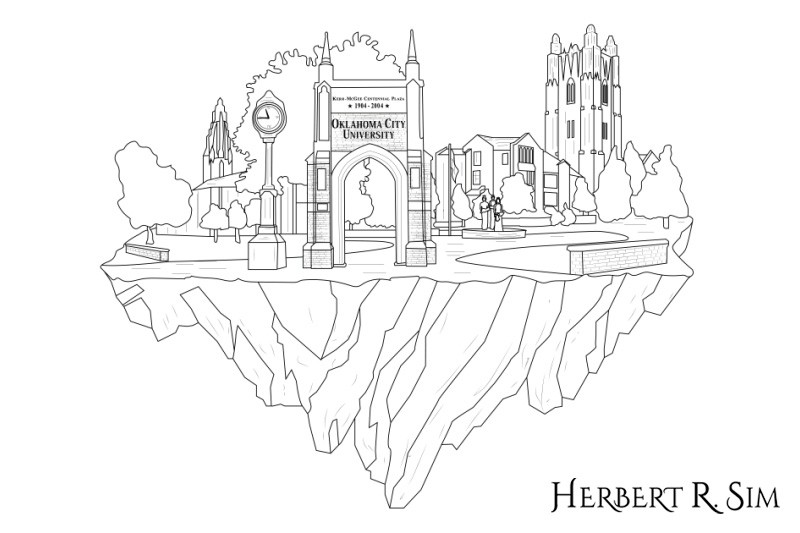 Referencing  a photo of Oklahoma City University campus via Getty Images, I digitally produced this digital illustration sketch.
———————————————————————
With a heavy sigh, my 'uni life' has now come to an end.
Ok, who am I kidding. As much as I loved the journey, it's so good to SHOUT OUT LOUD "I have finally graduated!!" Wohooooooooo!!
Looking back, it has been a good 3 over years since I first made my entry into the university. Armed with keen interest in Mass Comm, it couldn't be more obvious that pursing a Bachelor of Arts in Mass Communications made all the sense in the world. Not regretting it one bit. Oklahoma City University (OCU), a private university historically affiliated with the United Methodist Church, was more than I could have ever imagined it to be.
One of the reasons why I chose OCU is because it's mid-west, authentically and uniquely American, as well as a university that is associated with Christianity. Something close to my heart. Impossible to shake off the feeling of 'there's nothing quite like something close to home'. Besides, how can anyone resist a university with a motto like 'Veritas Ecclesia Cognitio' (translated to Truth, Church, and Knowledge)?
And why mass communications? Aspirations, Aspirations, Aspirations. To be an effective communicator, with now given that the world of communication has evolved since the existence of the internet and the smartphone. It is the most simplified way to pave the way to pursue the dream of eventually becoming an author.
To learn the skill-sets of Mass Media Writing, Advertising, Broadcasting, Journalism and Public Relations is to equip myself for the next chapters of my journey. A versatile degree that allows me to pursue my dream to become what I aspire to be, and at the same time, get me a job in any of the fields – Advertising, Journalism or Public Relations.
Reminiscing, it was around this time just earlier last year in 2009, that I first conceptualized and founded the publication WardrobeTrendsFashion a.k.a. WTF, during one of a group work brainstorming session at the university itself. It's remarkable how your brain starts to work in ways so creative when you surround yourself with bright and enthusiastic peers alike.
However, with that being said, the operational costs outweigh the revenue, making it not sustainable at the moment. It does twist my heart into a huge knot knowing that trying to sustain this brainchild of mine is getting harder month by month. I can only do so much at this point of time and it a struggle between working on this publication full-time simultaneously juggling a full-time job. I fear I will eventually have to make a choice.
I have also been working hard, learning skills on the side to further aid my endeavors, such as Adobe Photoshop and Wacom — how I produced this digital illustration with. Given that illustration can appear to have a daunting number of tools, the trick is to keep my eye on the ball. Being capable of doing way more than just drawing and painting. Whether it is image editing, image manipulation, compositing or digital illustration, is my goal.
There's a lot about OCU that I'll miss but what I'll miss the most is definitely the several traditions OCU maintains, one of it being the largest Homecoming in fall. This digital illustration of Oklahoma City University was drawn on an island, high above, in the clouds, as a memory of my university student life, serving as a reminder, an inspiration to myself — a city of dreams, to finally one day, fulfill my dreams.
———————————————————————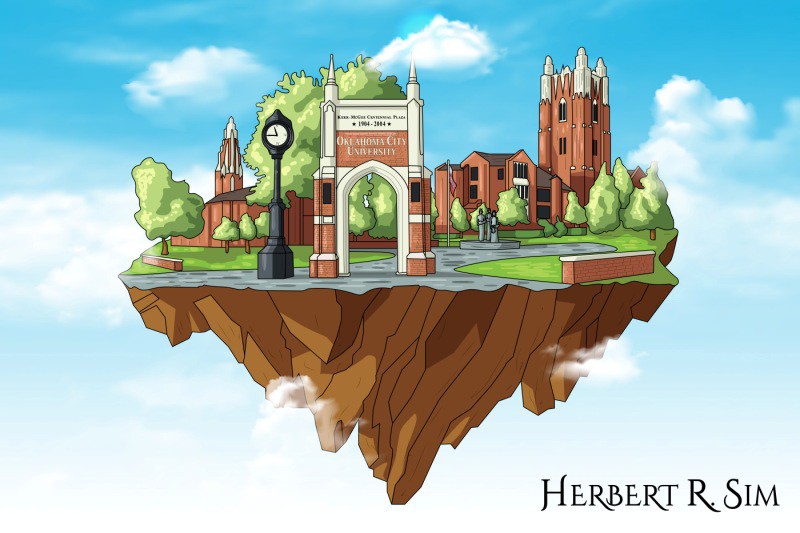 Above is my final digital illustration of Oklahoma City University campus.