My Work-in-progress illustration of "Digital INDIA: Cyberpunk 2077", featuring of course India's iconic Taj Mahal, including TRON-inspired vehicles, futuristic plane and architecture.
——————————————————————–
The Indian crypto sector is seeing a resurgence in interest with increases in trading volumes as well as the number of new users. Three crypto exchange executives across India, are currently witnessing all-high trading volumes.
Nischal Shetty, CEO of crypto exchange Wazirx said to Bitcoin.com, "People in India are more upbeat about crypto despite the extended lockdown, which has led to people showing even greater interest in crypto in India. With millions of people not having the opportunity to work due to the lockdown, crypto is turning out to be an opportunity for Indians to trade and earn from it."
According to Sathvik Vishwanath, CEO of crypto exchange Uncoin, "India's crypto winter increased the people's interest in sound digital assets and new ways to take control of their wealth." On Uncoin, according to Vishwanath, present volumes were 10 times greater than before the Supreme Court ruling or before lockdown in India began.
In a much-anticipated landmark ruling, the Supreme Court of India overturned the Reserve Bank of India's order to prevent banks from providing banking services to individuals and businesses that deal in cryptocurrency.
"The position is that [virtual currencies] are not banned, but the trading in VCs and the functioning of VC exchanges are sent to comatose by the impugned Circular by disconnecting their lifeline namely […]. What is worse is that this has been done (i) despite RBI not finding anything wrong about the way in which these exchanges function and (ii) despite RBI not finding anything wrong about the way in which these exchanges function and (ii) despite the fact that VCs are not banned", the court stated.
As a result, digital asset business in India can now legally interact with the country's banking sector to provide rupee-to-crypto on and off-ramps. This is a huge win for the country's blockchain industry and, potentially, for the global crypto markets as the demand potential for "digital gold" could be substantial in a country that adores gold.
The excitement about the ruling could be felt when scrolling through Crypto Twitter on the day following the ruling. Nischal Shetty, the founder and CEO of the digital asset exchange WazirX, which was recently acquired by Binance, tweeted: "Crypto has won in India. We won!"
Surge and strengthening of India's crypto activity
While celebrations are merited, the Indian crypto community still has to wait for a pending bill that would restrict the trading and use of cryptographic assets before it can In 2017, the bitcoin price climbed from under $1,000 per bitcoin at the beginning of the year to around $20,000 by December, largely driven by retail investors and so-called fear of missing out as early bitcoin adopters became overnight millionaires embark on a full-fledged celebration.
Bitcoin and crypto banking services platform Cashaa India saw its trading volume rocket by 800% in the two days after the ban on the country's banks facilitating cryptocurrency transactions was lifted.
"The platform also registered a volume of 600+ [bitcoin] in the first 24 hours," Cashaa chief executive Kumar Gaurav told bitcoin and crypto industry news site Coindesk.
India's bitcoin and crypto ban was originally brought in to calm over-eager investors who were at risk of losing money to the myriad of scams that plagued the market in 2017 and 2018. Indian crypto exchanges were adding up to 300,000 new customers every month before the crackdown, it's been reported.
——————————————————————–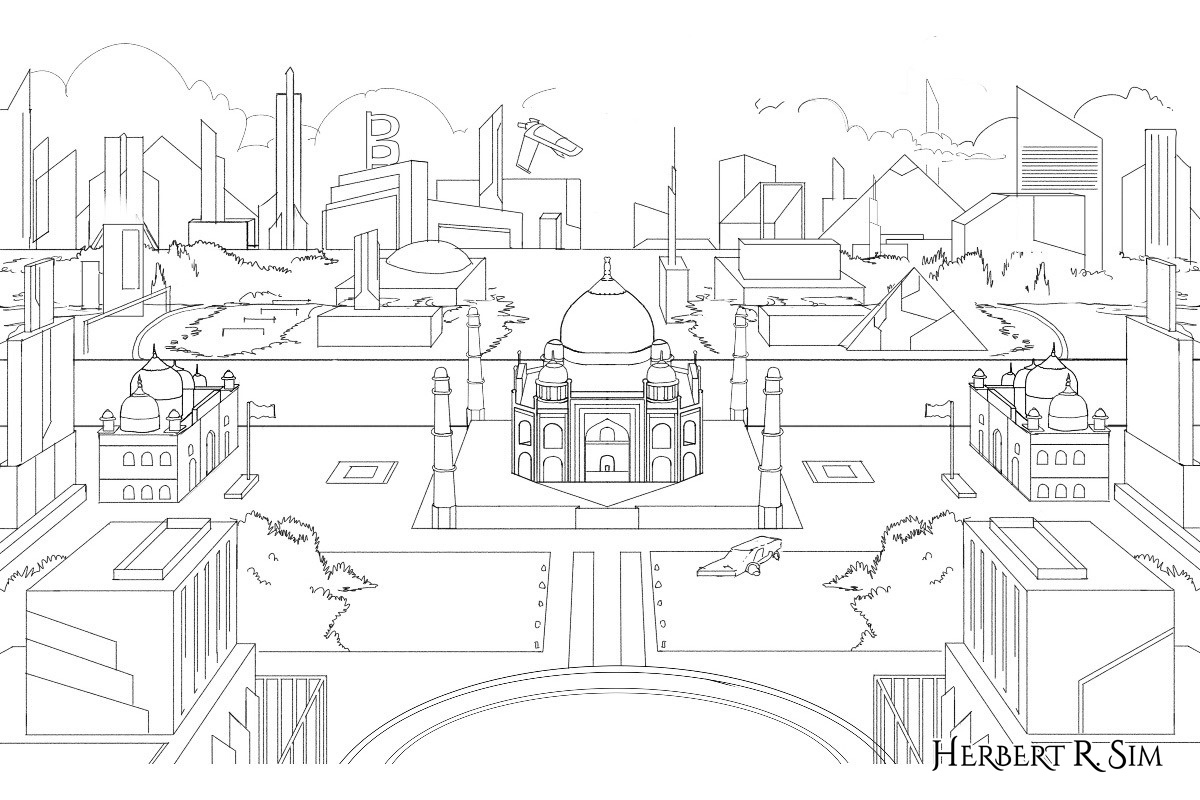 Here in my initial sketch of the FUTURE of India, perhaps…
——————————————————————–
Can India use bitcoin to drive innovation and discovery?
Since the ban has been lifted, a survey carried out by peer-to-peer bitcoin marketplace Paxful found three in every four people in India with some understanding of cryptocurrencies have invested in them.
"India is moving toward a digital economy and digital assets such as bitcoin will help especially the huge unbanked population in India." said Kishore Mansinghani, CEO of Future1Exchange. Future1Exchange is a new entrant in the Indian crypto industry, which recently launched the world's crypto auction exchange. This is a good example of innovation and opportunity, during this pandemic, the innovation – P2P non-custodial escrow system using smart contract.
"India has proved itself as a center for innovation, and we're excited to see the growth and discoveries they will bring to the [bitcoin and crypto] industry," said Paxful chief executive Ray Youssef, adding: "India has a lot of potential in all aspects of growth."
As India struggles with record high unemployment, likely to be significantly worsened by the coronavirus pandemic, the survey also revealed people in India believe cryptocurrencies could spur job creation and economic activity.
The link between lockdown and economic crisis
India's national lockdown has now been extended beyond 4 May for another two weeks —potentially making the country's economic crisis more dangerous than the coronavirus pandemic itself.
A recent study found over half a billion people around the world could be pushed into poverty by the economic fallout from the spreading coronavirus pandemic.
Elsewhere, bitcoin and cryptocurrencies have seen a surge of interest around the world since the coronavirus crisis began, causing some traders and investors to recall bitcoin's epic 2017 rally.
China's cryptocurrency in the pipeline
China is all set to launch its own cryptocurrency. The country has been taking steps to ensure that there are no negative posts or articles around cryptocurrencies or blockchain technology, which enables the existence of virtual currencies. The Chinese government has been, for the last few weeks, removing all the online posts claiming blockchain technology is a scam, reported The Independent.
According to the UK-based publication, the move marks a significant shift in the country's policy towards blockchain. It came days after President Xi Jinping hailed it as an "important breakthrough" that should be developed.
It further added advertisements for blockchain courses have suddenly started popping up on several social media sites in the country, thus speaking volumes about the focus on blockchain technology.
China's passing of a new cryptocurrency law
"China has also passed a new law, which will come into effect on 1 January, aimed at facilitating the development of the cryptography business and ensuring the security of cyberspace and information," according to the article that added "It is understood that the new law will precede the launch of China's state-backed cryptocurrency, which is expected to be unveiled early next year. No specific dates have been given."
However, it is important to mention here that China's central bank, which began exploring the possibility of creating a cryptocurrency in 2014, had imposed a ban on bitcoin exchanges and other cryptocurrency platforms in the country.
China's plan to launch its digital currency while banning other crypto-exchanges is a move quite similar to that of India's.
China's central bank has started testing its official Bitcoin-like digital currency DCEP, and the bank is now planning to roll out the virtual money payment system soon. Days after Facebook-backed Libra scaled down its ambitions to become a global currency, China is now inching ahead in the race.
Digital Currency Research Institute of the People's Bank of China (PBC) said that the research and development work of China's official digital currency DCEP is proceeding steadily, PTI reported. China is currently carrying out internal pilot tests for the cryptocurrency in four cities. However, the cryptocurrency has not been officially launched yet, state media reported.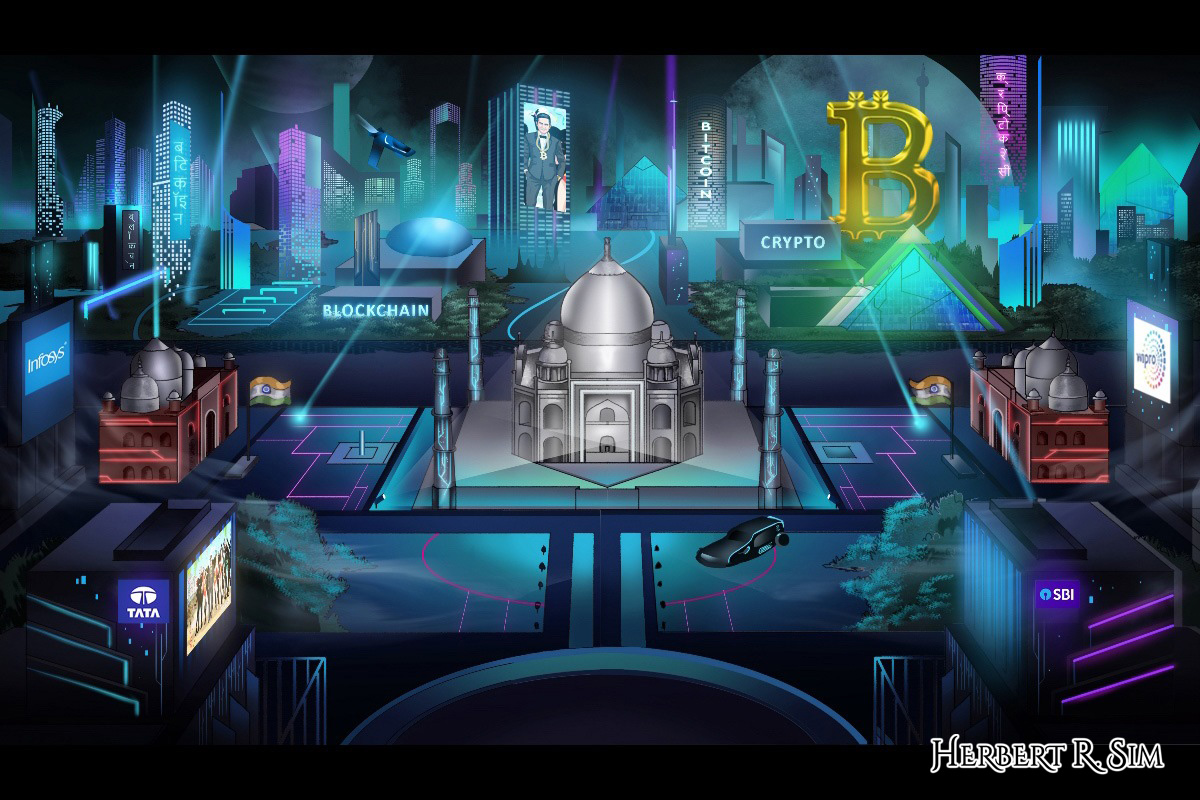 In my final completed piece, I detailed in all the cyberpunk style neon lights, spot lights lighting up the night sky, with the center of focus on Taj Mahal. The company brands featured here are the some of top tech companies of India – TATA, SBI, INFOSYS, WIPRO.
——————————————————————–
Setting the pace for China's and India's new digital banking
Trial runs for DCEP will be piloted in a small range of banks and end users. After that, it will be spread to a wider range with certain improvement in technology and system, the Global Times reported. Later, more banks are also likely to participate in the test of the DCEP to improve overall technology, security and stability of the payment tool, Chen Bo, director of the Finance Research Centre at the Institute of Finance and Economics at the Central University of Finance and Economics told the daily.
The Indian government, in July last year, said that it wished to criminalise all commercial dealings in private cryptocurrencies but it would encourage blockchain technology. An inter-ministerial committee set up by the Government, to study the ecosystem, had admitted that the distributed-ledger technology (DLT) behind digital currencies had positive effects if deployed in financial services and suggested that India must consider introducing an official "virtual currency" to replace private cryptocurrencies such as Bitcoin, Ripple, Ethereum etc. At present, trading in cryptocurrency is illegal in India.
In July last year, the country's central bank, RBI, had imposed a banking ban on entities dealing with the cryptocurrencies following which the entire ecosystem has collapsed with several big players such as Zebpay, Koinex and other downing their shutters.
Meanwhile, according to Coindesk, Bitcoin is likely to rally in November with a price-positive event due in six months. The portal, which tracks major movements of cryptocurrencies closely, added that Bitcoin, the leading cryptocurrency, in October recovered sharply from five-month lows below $7,500 at touched $10,000 levels.
"The rally could be extended further next month, as the cryptocurrency is set to undergo a mining reward halving in May 2020. The process is aimed at curbing inflation by reducing the bitcoin reward per block mined on the blockchain by 50 per cent every four years," the portal added.
The path ahead for China and India's cryptocurrency
By drawing out the unique competitive advantage of blockchain technology, the digital currency could change the global financial system in big ways — including cheaper and simpler financial transactions, more accessibility to entities/users and the ease of cross-industry partnerships and linkages.
Unlike decentralised cryptocurrencies, such as bitcoin, that allow users to transfer value with no central authority or third party involved, the government-backed digital currency is put under the centralised mechanism of the central bank and thus is as stable in value as its cash cousin," the China Daily wrote in its editorial.
An IMF research note said: "These firms would thus be responsible for doing what they do best — innovating and interfacing with customers. The central bank, instead, would provide trust to the system by requiring that coins be fully backed by central bank.