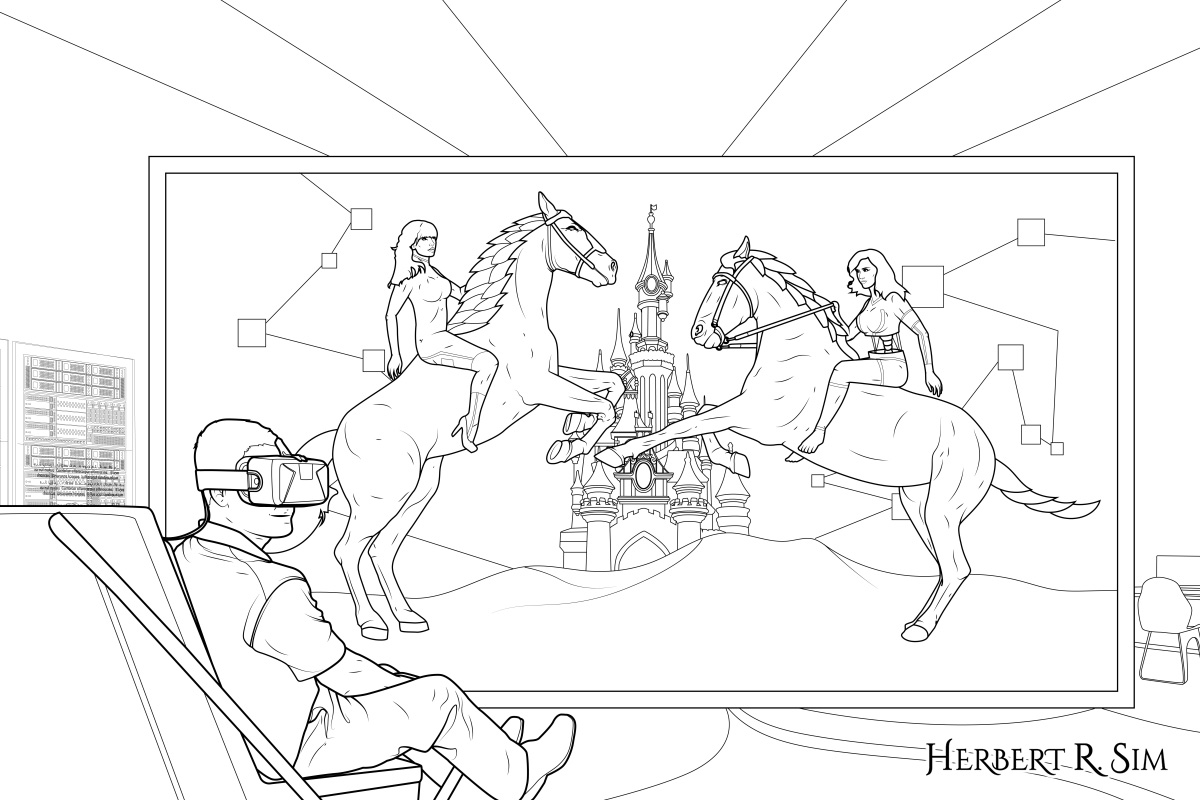 Inspired by recently launched music video "Ready For It?", I illustrate Taylor Swift riding a white horse, versus Katy Perry riding a 'Dark Horse', pun-intended – her earlier song from February 2014.
————————————————————
Technology, a pervasive force intertwined with the past, present and future of civilisation, has an impact on even the most intimate aspects of humanity – sexuality. Future sex technologies and the like hold transformative implications for love, sex, intimacy and relationships on a human-human and human-machine level.
What are the various dimensions of future sex and intimacy from a technological – and more significantly – a personal, societal and ethical viewpoint? A look at the future of sex presents possible answers.
Distance-less Intimacy
Physical distance between people has traditionally been an obstacle for relationships and other forms of human-human interaction. However, advances in technologies related to remote sex and intimacy are relegating the problem of distance to the past.
Teledildonics, or the technology of app-connected sex toys, is fast becoming the solution to a couple who want to be intimate despite being thousands of miles away. While it may seem new, teledidonics has been in existence commercially in different forms since the 1990s. During this time, there was a lot of fear and activism around HIV/AIDS, and teledidonics allowed people to experiment with sex in a safe and healthy way without fear of contracting a Sexually Transmitted Infection (STI).
Teledildonics has the potential to let people truly engage in virtual reality (VR) sex when they are apart. Essentially, it connects corresponding toys via the Web. Each toy uses haptic feedback (similar to a smartphone touch screen) to respond to touch, so a partner feels what someone is doing and vice versa. Through teledildonics and VR tech, devices create a telepresent experience that makes someone feel as if they are physically present in a place with the help of vibrations, compressions, and stroking.
Sex tech companies like Kiiroo and Vibease sell such remotely-enabled sex toys. Other products in the market include toys from OhMiBod, We-Vibe, Kiiroo, and Lovenese. There are smart vibrators and male sex sleeves that allow users to interact with each other through mobile and desktop apps. Haptic touch technology enables the real-time tracking of sexual motions and transmits these "sensations" between lovers who may be in different continents. These innovations signal a future of remote sex and intimacy that is multi-sensory and immersive.
————————————————————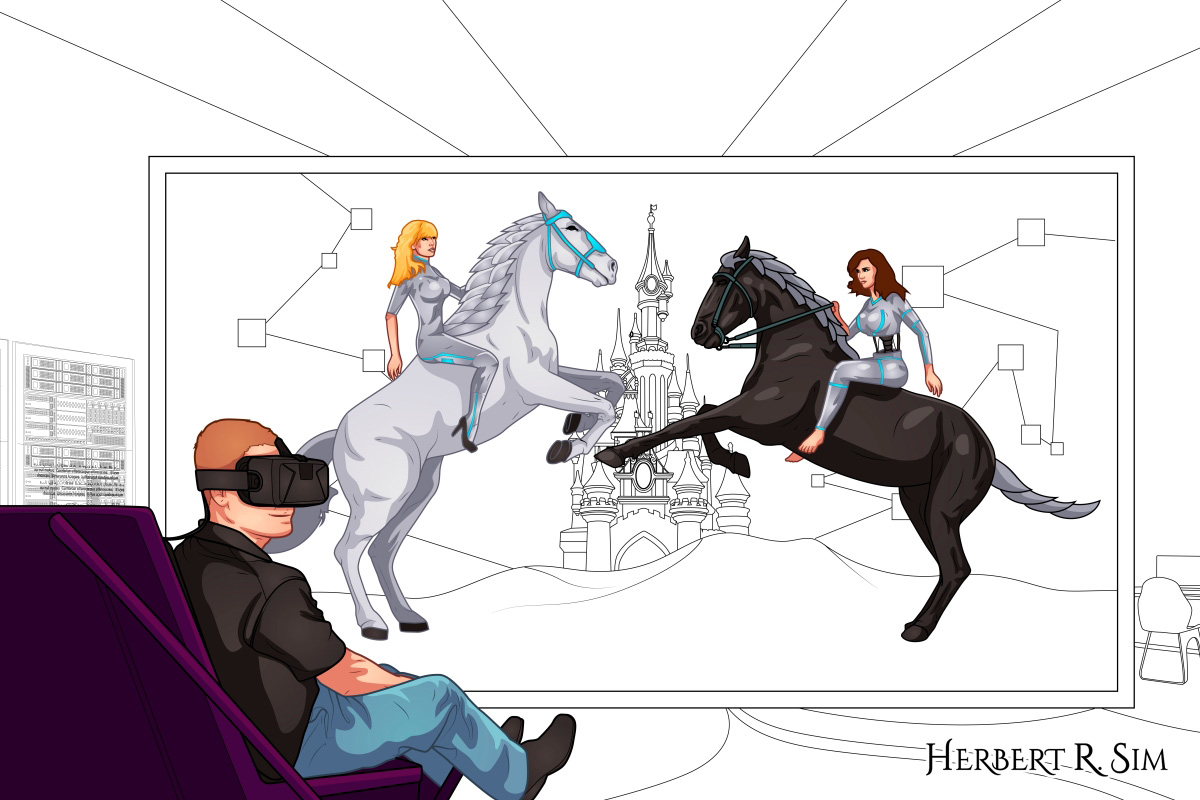 Taylor Swift versus Katy Perry was chosen because of the alleged "Bad Blood" between them. In the background, to showcase that it is a virtual reality scene as seen/experienced by the guy wearing the googles, I illustrate a 'Disney' castle in the backdrop.
————————————————————
Social Media for Grownups
VR tech, part of the equation for remote intimacy, is by itself enabling people to explore their sexual fantasies in a safe and acceptable environment. Similar to social media, these adult virtual worlds can be customised vis-à-vis the sexual environment or avatar/body one adopts. People can meet each other in real-time and take part in activities such as virtual dance parties, and enter non-judgemental spaces designed to cater to particular desires.
Virtual sex environments can have societal benefits. For people who live in rural or conservative areas that might look unfavourably upon non-traditional sexual preferences, virtual sex offers an avenue to improve one's overall well-being and self-acceptance.
Virtual worlds now come in the form of increasingly popular multiplayer virtual sex worlds, where one can not only find chat partners for intimacy or sex, but also see lifelike visuals of avatars. Virtual sex chat games like 3DXChat (NSFW) have thousands of members registered in its 3DXChat forum, underlining the popularity of virtual fantasy platforms. Another platform is the massively multiplayer online sex game Red Light Center (NSFW) which offers a 3D sex chat realm and a social center similar in style to Facebook for its more than 8 million members. Other virtual sex worlds with similar features are Chathouse 3D Roulette, Yareel and Sociolotron.
Motion-capture animations of actors help create incredibly lifelike moving graphics in virtual realms. And the realms look set to become even more life-like with the integration of remote sex toys and VR tech like those mentioned before. According to The Future of Sex report, by 2020, people will regularly pair VR and haptic sex toys to fully immerse themselves in adult entertainment.
Robo Love?
Moving from the virtual to material realm, robotic sex dolls take centre stage in the future of sex. Already, there are numerous manufacturers making life-like robotic dolls worldwide, though experts predict that in the coming decades, they could become widespread not just for sex-related purposes but for sexual therapy and as companions for lonely, disabled or older people.
A prominent example of a robotic sex doll is RealDoll. Manufactured by a California-based company, RealDoll is a hyper realistic silicone creation that costs US$15,000 and can talk, blink, smile and recall facts about its owner's life, in addition to having sex. Powered by an AI named Harmony, the doll is being hailed as the most significant development so far in the $30 billion sex tech industry.
————————————————————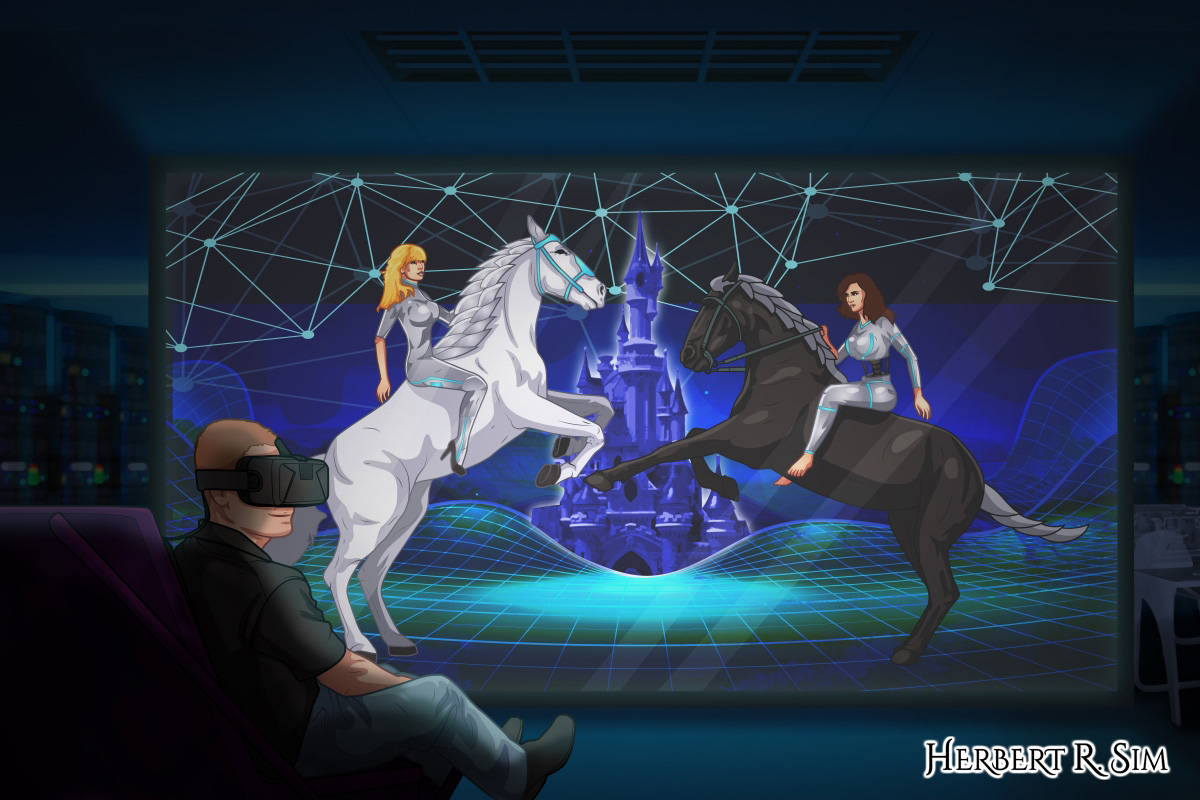 The ground of the Virtual Reality is digital grids, and the sky is mapped by 'blockchain' style lines connected by dots. Also in the backdrop, the guy is in a server room, filled with mainframe super-computers.
————————————————————
Robo Ethics
While realistic love robots are undoubtedly a technological milestone in the realm of sex and intimacy, they pose ethical questions. Kathleen Richardson, a fellow in ethics of robotics at De Montfort University, UK, and founder of the Campaign Against Sex Robots, belongs to the camp which thinks that human-android coitus is not ethical. Sex robots, often assigned a female gender, perpetuate a culture that objectifies women.
Richardson avers that sex is already thought of as instrumental, and women especially are already treated like objects. Much of the imagery in movies, video games, VR and pornography depicts an unrealistic and physically enhanced image of a woman, one who does not exist in everyday life. The development of sex dolls reinforces this unhealthy aspect of male desire which views women as sexual property to be owned and used.
Academics elsewhere have warned that we must be ready to grapple with other unprecedented ethical quandaries as sex robots develop. A recent example is the Roxxxy robot by TrueCompanion, which comes with various programmable personalities including "Wild Wendy", "S&M Susan" and "Frigid Farrah." According to the manufacturer, if a person sets Roxxxy to Frigid Farrah mode and touches her in a private area, "she will not be too appreciative of your advance", implying the absence of consent in such a scenario.
This provided fodder for an impassioned essay in the New York Times about the dangers of selling robots that cannot give consent as it might end up "normalizing rape by giving it a publicly acceptable face" through a commercial sex product.
Behavioural Changes from Pornography
The porn industry has experienced a massive boost thanks to future sex technologies. In fact, the porn industry is one of the chief drivers of VR tech. The integration of VR with porn means that people will be able to explore their kinks and fetishes in a more realistic way without having to go through with the deed in reality.
On the plus side, VR porn can act as an empathising tool where people can put themselves in others' shoes (i.e. gender, race, etc.) to understand one another in a more intimate way and be able to experience other identities. Virtual sex means no unwanted STIs or pregnancies.
However, there is a dark side to the greater convergence of technology and porn as it could lead to physical and behavioural changes. Many fear that the already addictive qualities of pornography could be exacerbated by VR porn. This could negatively impact the way we interact with one another socially and develop relationships. Researchers from Newcastle University in the UK have observed that VR changes the experience of porn from detached observer to protagonist. They warned that this has the potential to blur the line between reality and fantasy, possibly damaging human relationships and encouraging harmful behaviour.
Porn, like virtual sex realms, has been found to make people more open minded and comfortable about sex, though one study found it could make people a little too comfortable.  For example, based on a survey of 265 men, homosexual men who watch more sexually explicit porn where condoms are not used are less likely to use protection themselves. If the porn they watched did feature condoms, they were more likely to use them too.
While the future of sex and intimacy will irrevocably be transformed by technology, we will also need to consider the humanistic implications of this revolution that reaches the most intimate recesses of the individual psyche and societal structure.
————————————————————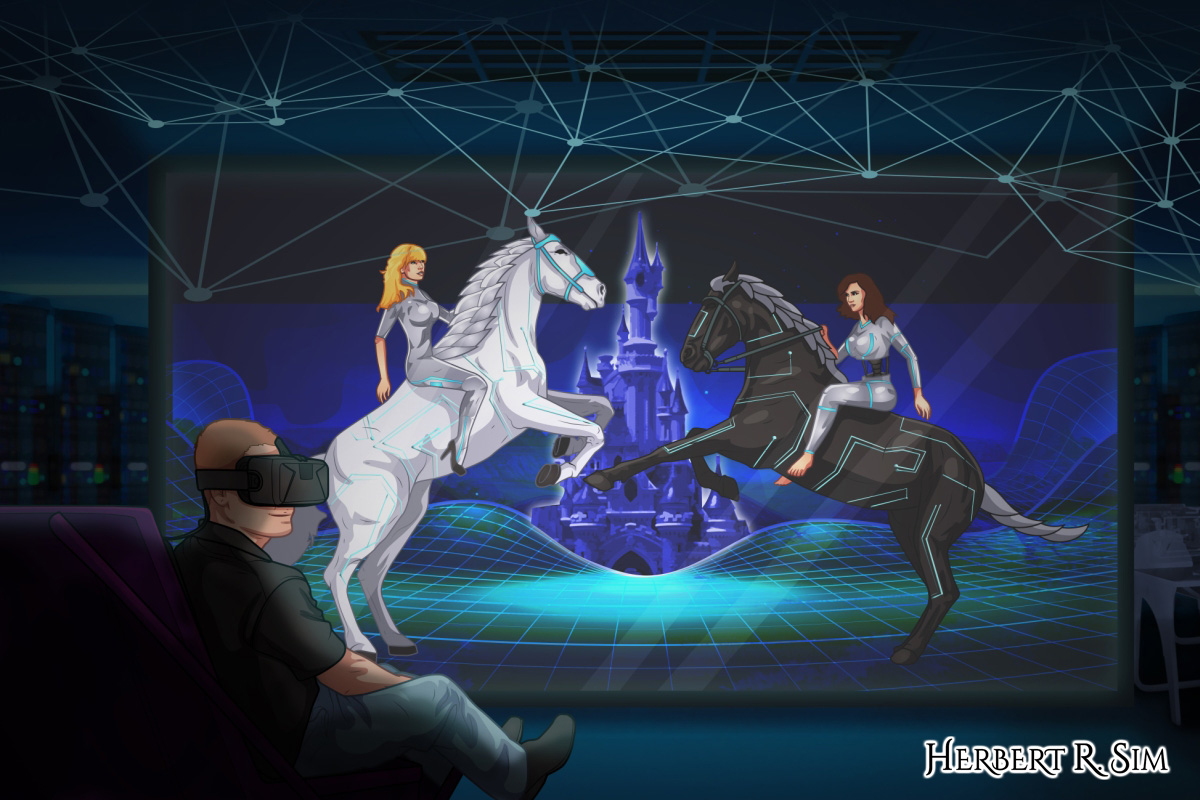 In my final illustration, I further detail in the technological lines onto the horses, you might have already noticed that the illustration – the lines on the body of the horse, and on characters, were inspired by 'Tron: Legacy' movie.