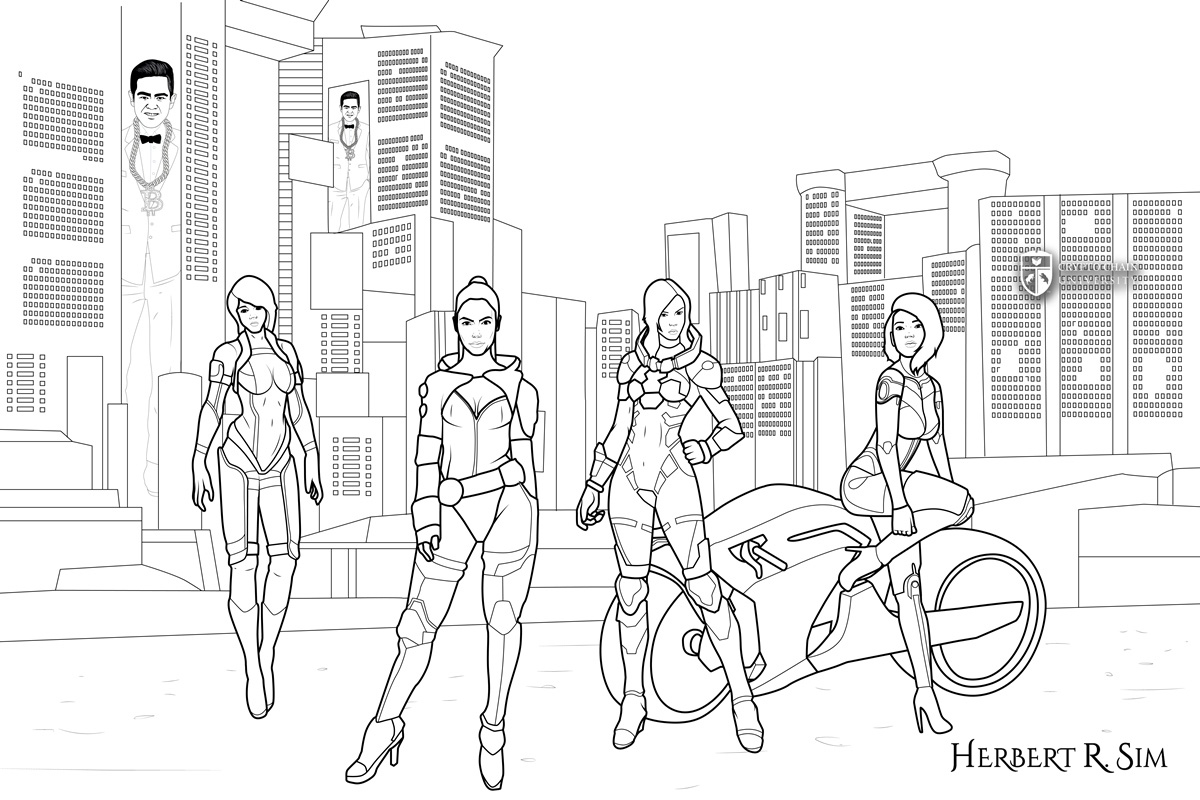 Above is my sketch showcasing women in cyberpunk fashion style, against a futuristic backdrop, referencing that of the strong Amazonian women from the recent movie Wonder Woman. You might find resemblance to an earlier art of mine – 'Search Engine Champions'.
—————————————————————-
The stock for blockchain technology continues to rise as businesses begin to realise the potential of blockchain-based systems such as cryptocurrencies and smart contracts. There has been an increase in demand for talent and innovation, as banks, financial institutions, multinationals and governments, among others, ramp up research and development of blockchain-driven solutions.
In May this year, Deloitte announced that 10% of global GDP would be built on top of blockchain applications. This ambitious statement is testament to the transformative nature of the technology and the effect it will have on business and society.
Given the vast potential of blockchain-based products, there are similarly myriad opportunities for the development of talent in the blockchain and cryptocurrency space, notably for women. However, a survey of the technology ecosystem today reveals a gender imbalance in terms of the opportunities afforded to the fairer sex. While there are a number of prominent female leaders in the blockchain sector, diversity issues persist as the participation of women trails far behind that of men.
Diversity Quotient
It has been observed that there are even fewer female entrepreneurs in the cryptocurrency industry than there are in other tech sectors. Surveys indicate that only 1.76% of the wider Bitcoin community are women, while more than 90% of Bitcoin users are male. There are a number of reasons that explain this jarring gender disparity.
First is the well-documented gender gap inside the tech industry itself.  A 2016 report by McKinsey revealed that women made up 37% of entry-level roles in tech, compared to 45% in the overall sample. Furthermore, only 25% advanced to senior management roles with just 15% reaching the C-suite.
Secondly, there are imbalances in the financial industry in general. According to exclusive data from The Financial Times, the world's largest banks, insurers, asset managers and professional services firms have made some headway in getting more women into finance, but they are still failing to promote women. While half of the overall workforce was female, with 58% being female at junior level, around 75% of men dominate senior roles, and the year-on-year the percentage of women in mid-level jobs stayed flat at just over 39%.
The success of cryptocurrency and blockchain technology hinges heavily on mainstream adoption by business and society. And that definitely means getting more women on board.
—————————————————————-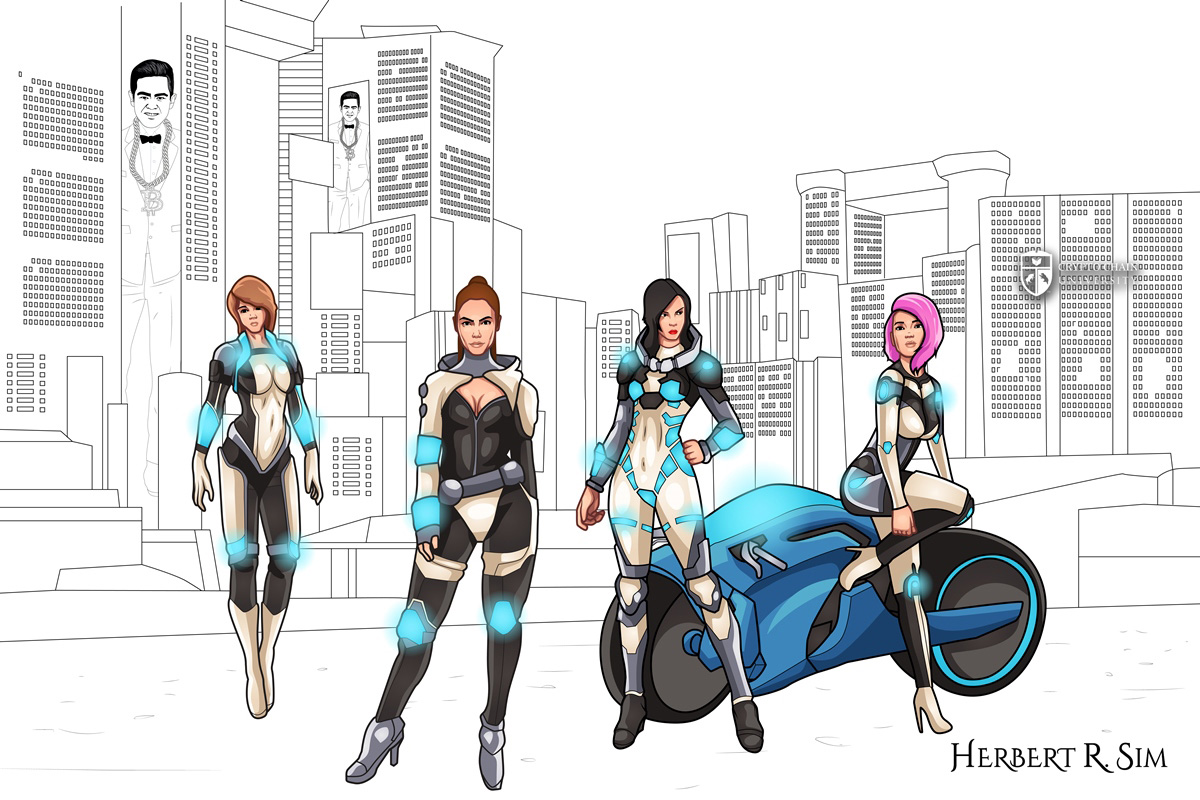 To showcase that the women featured above are #WomenInTech, I illustrate them wearing cyberpunk fashion styled suits, taking inspiration from TRON. Notice the glowing parts in neon blue, along with the iconic futuristic-looking motorbike.
—————————————————————-
Bridging the Gender Gap
It is critical to ask what can be done to get more women empowered in blockchain technology and reverse the massive gender divide. There are a number of ways this can be done.
Education is the primary tool required to get more women into STEM (science, technology and mathematics) in general, and blockchain and cryptocurrency in particular. There are numerous organisations doing this. For example, the MIT Media Lab Digital Currency hosted a digital currency mini-hackathon last year with Girls Who Code, a US non-profit which seeks to close the gender gap in technology and to change the image of what a programmer looks likes and does.
Educational initiatives can even be found in the most unexpected of places. Code to Inspire, a coding academy for girls in Herat province, Afghanistan, is a great example of another organization addressing educational gaps in the developing world and empowering young women.
Mentoring programmes can very effectively complement educational initiatives. Partnering more experienced women who are already in the industry with younger women who may want to work in blockchain and cryptocurrency could be a great way to support and encourage more women to learn on the job, and more importantly, to stay in the industry.
Scholarships and internships can offer women material support and concrete pathways to progress in blockchain and cryptocurrency. Other than scholarships that hopefully lead to careers with routes of advancement, short-term projects with a very specific scope that companies are working on could also be a way to get someone young and hungry involved.
Finally, advocacy for greater female participation and development of their talents is definitely needed.  As women who work in cryptocurrency themselves have opined: when someone asks for a list of attendees, guests, speakers and contributors for a tech event or conference, everyone could do their part by suggesting both women and men.
Women are definitely taking ownership by being their own advocates. Women in Blockchain Global is a support system for women in blockchain all over the world. Consisting of students, researchers, developers, individuals seeking a career change, and professional women, the collective hosts global and partner events such as conferences, networking events and hackathons.
Alpha Females
While there are gender diversity issues in the tech sector, have no doubt that there are brilliant and capable women leading the way in crypto and blockchain.
Blythe Masters is a powerhouse formerly from Wall Street and now in blockchain. A former executive with J. P. Morgan, Masters has now taken to the blockchain industry as CEO of the financial technology firm Digital Asset Holdings. Her CV comprises senior roles and advisory positions throughout her career, and she has brought her experience in economics to blockchain infrastructure.
Masters sees Bitcoin as a distinct invention with its own benefits and aims for her firm to build what will be the common fabric or infrastructure. An all-round leader, she is also a philanthropist who serves on boards for the Breast Cancer Research Foundation and the Global Fund for Women.
Deftly straddling the academic and corporate worlds is Susan Athey, a leading economics professor at Stanford University who specialises in the economics of technology. She sits on the board of decentralized payment network provider Ripple Labs and is considered an authority on virtual currencies, digital economics, mathematics and computer science.
Athey is a winner of the John Bates Clark Medal, awarded to American economists under the age of forty judged to have made the most significant contribution to economic thought and knowledge. In 2012, she was elected to the prestigious National Academy of Science. On cryptocurrency, Athey shared that she was intrigued by its ability to expand commerce and financial services to people in the world who are unable to access such services locally, let alone have access to international financial and commercial markets.
Yet another trailblazer is Elizabeth Rossiello, the CEO of BitPesa, an up-and-coming player on the Bitcoin remittances scene. BitPesa is a digital foreign exchange and payment platform that uses blockchain settlements to significantly lower the cost and increase the speed of business payments to and from markets in the African continent. BitPesa is a market-maker in every major African currency and opens corridors for business payments and trade between Africa's markets and the rest of the world.
In March this year, world-renowned authority on innovation, media, and the economics of technology Don Tapscott tweeted his hypothesis that "having more women in the blockchain ecosystem would mean better collaboration and more sensible governance." Based on the positive correlation between higher levels of women in leadership and stronger business results, this comes as no surprise.
The greater involvement of women in the evolution of blockchain and cryptocurrency is critical, as it promises to be a foundation for our future.
—————————————————————-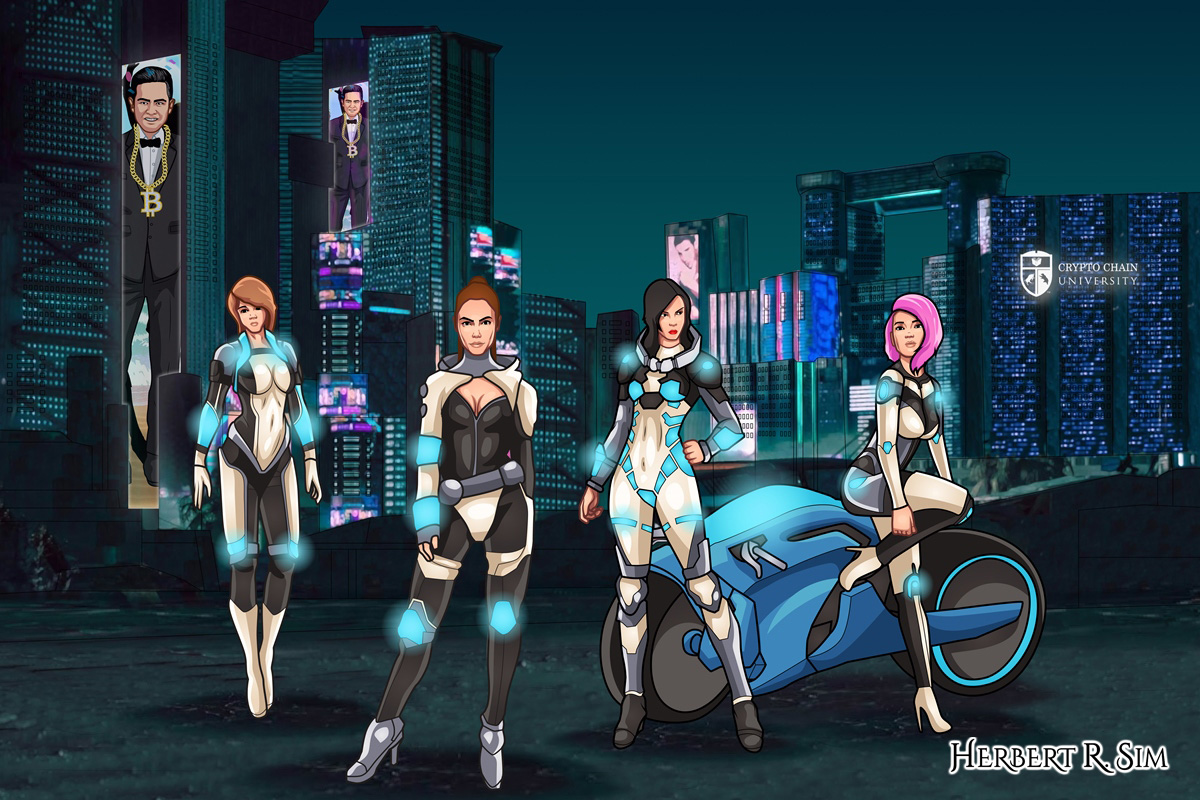 Here above is the final illustration in full color subtly in the background billboards features myself as 'The Bitcoin Man', along with Crypto Chain University's logo on the right side.