The ascent of China as a major geopolitical player in the international landscape occurs in parallel to its development as a growing technological power. Along with advances in sectors as varied as e-commerce, artificial intelligence and biomedicine, the cryptocurrency and blockchain space have also been buzzing with growth and innovation.
When it comes to cryptocurrencies, China has increased and maintained a massive market share in Bitcoin, the predominant virtual currency. According to Goldman Sachs in 2015, approximately 80% of all Bitcoin was traded in Chinese Yuan, while China has held more than 50% of the global Bitcoin market since late-2013, when Bitcoin prices skyrocketed almost overnight.
The growth of the cryptocurrency and blockchain space in China is shaped by the numerous companies and projects that China's vast pool of entrepreneurs, businesses, technological specialists and venture capitalists are driving in order to unlock the potential of decentralised currencies and distributed ledger technology.
———————————————————–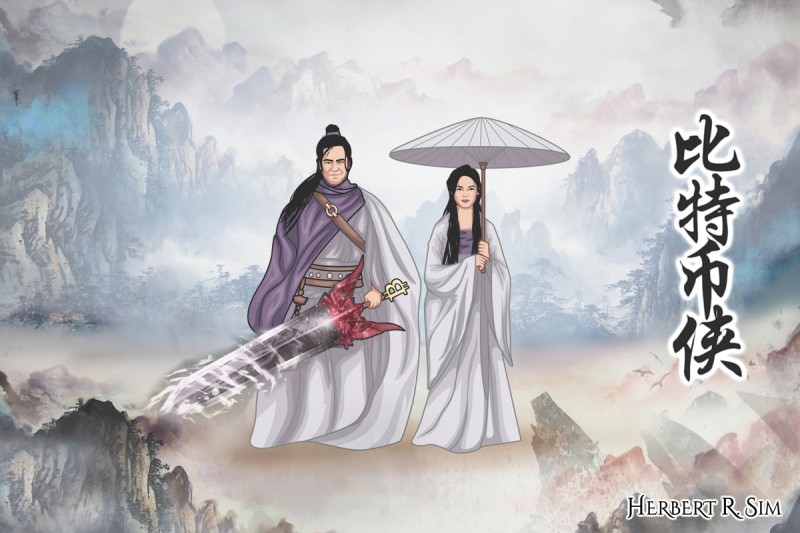 An illustration, in Chinese style of #TheBitcoinMan, that I worked on to accompany this article. I entitled it "比特币侠 (Bǐ Tè Bì Xiá)".
———————————————————–
There are a number of major players responsible for the growth of China's vibrant cryptocurrency space. BTCC, previously known as BTC China when it was founded in 2011, is one of the longest-running Bitcoin exchanges in China and widely considered a leader in China's Bitcoin ecosystem. BTCC is a trailblazer in many aspects of the business. It was among the first Bitcoin exchanges to secure venture capital investment (just two years after its inception). In 2014, BTCC introduced the first Bitcoin ATMs in China in order to make cryptocurrency more accessible to the masses. Shortly after, it launched its own Bitcoin mining pool, and in April 2016, announced that the mining pool was to be made available internationally.
Adding to the trend of China's cryptocurrency firms spreading their wings beyond the domestic market is OKEx, another cryptocurrency exchange that has embarked on attracting venture capital investment to expand its operations beyond China. OKEx is one of the top digital asset exchanges by trading volume and serves millions of users in over 100 countries. It provides hundreds of token and futures trading pairs to help cryptocurrency traders realise an optimal strategy.
Deemed one of China's 'Big Three' Bitcoin exchanges, Huobi has introduced innovations in the financial market that seek to bridge the gap between the crypto space and the traditional stock market. In 2015, it was reported that Huobi was launching a new trading platform named Caimao that would give users the option to mortgage their Bitcoin to borrow Chinese Yuan, which can then be used to trade shares on the Shanghai Stock Exchange. The intent behind this platform is that Bitcoin holders who want to participate in the Chinese stock market can do so without having to cash out their Bitcoin holdings as they believe in staying invested in cryptocurrencies.
In addition to cryptocurrency exchanges in China are cryptocurrency mining companies. Mining involves using special software to solve math problems in exchange for a certain number of cryptocurrencies. The Beijing-based Bitmain is one such mining giant. The development of cryptocurrency entails innovations not just in software but also in the hardware that makes mining possible. In 2016, Bitmain was one of the first companies to enter the race in a new era of Bitcoin miner manufacturing that focuses on offering an efficient and long-lasting machine. Bitmain also operates Antpool, the world's largest Bitcoin mining pool with 28% of the network's hashrate (amount of computing power the Bitcoin network is consuming to be operational).
Exemplifying the vibrancy of the Chinese cryptocurrency scene is HaoBTC, which in addition to running a mining operation and providing wallet services, officially launched a Bitcoin exchange in April 2016. The exchange offers basic buy and sell features along with an open orders book and charts. Additionally, HaoBTC has a multisig wallet which is integrated as part of the exchange platform.
Like many other operators, HaoBTC's mining operations are located in Kangding, a city southwest of Chengdu, where low electricity costs, cheap equipment and manufacturing costs, and the cool climate of the mountainous region make it ideal for mining cryptocurrencies. The Bitcoin mining community in China is a highly influential one, estimated to control 70% of all mining worldwide.
———————————————————–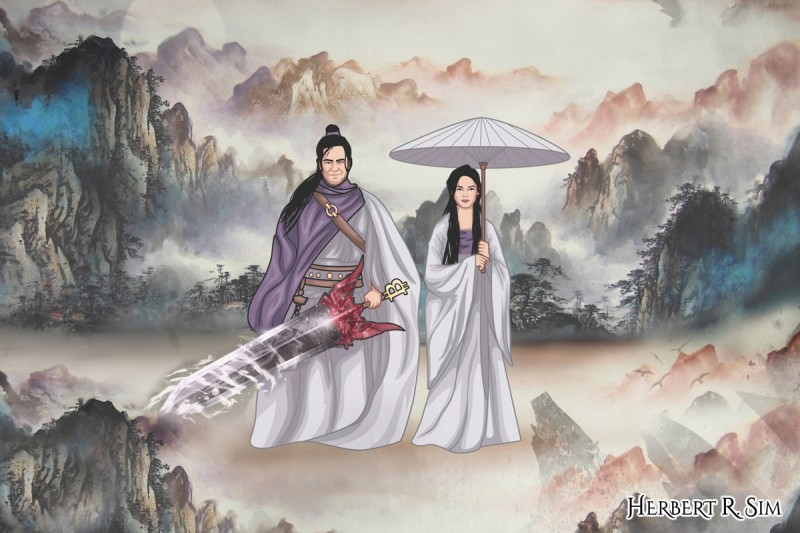 The Work-In-Progress, without the mist and Chinese character words yet.
———————————————————–
The burgeoning cryptocurrency scene in China is coupled by an embrace of cryptocurrency's underlying technology, the blockchain, which is gaining traction in other sectors.
It was reported in May this year that the Chinese blockchain alliance, nicknamed ChinaLedger, has been created to develop and implement the distributed ledger technology into the country's financial infrastructure. The alliance led by Wanxiang Blockchain Labs consists of 11 regional commodity exchanges, equity exchanges, and financial asset exchanges. One of the main goals of ChinaLedger is to create an open source blockchain protocol that can serve as a foundation for developers to create new applications. The ChinaLedger project is said to have the support of leading digital currency and blockchain experts including Vitalik Buterin, the founder of Ethereum.
In the massive e-commerce space, Alipay, the online payment platform of Alibaba, the world's seventh-largest Internet company, announced that it may supply a cloud service platform based on blockchain technology. Alipay has become increasingly interested in blockchain technology after observing the initiatives of leading financial institutions such as Nasdaq, which integrated blockchain applications into the conventional finance sector.
Alipay is planning the launch of a Bitcoin blockchain-based cloud payment platform for existing Alipay users as a response to the growing demand for simple and robust financial platforms to process and settle payments. If Alipay does successfully integrate Bitcoin into its existing platform, it would enable its 400 million users to use Bitcoin in settling international payments and transactions.
When it was created by the mysterious Satoshi Nakamoto, Bitcoin was designed to be the future of money. Given the myriad developments in its cryptocurrency and blockchain space, China is set to be a part of that future.