Above is my sketch of Blockchain and the game of Politics, a showdown between two presidential candidates – Donald Trump and Joe Biden.
——————————————————
In this article, we delve deeper into the impact blockchain has on geopolitical realities and the relationships between nation-states vying for participation in power ascending.
Blockchain and its intervention in US election voter fraud
There are already companies working to bring blockchain to the voting populace. One such firm is Horizon State, which has launched a unique solution to answer the question, "If democracy was designed with today's technology, what would it look like?" The company believes its first product is the answer. The company is currently preparing an ICO, planned for October.
Horizon's secure digital ballot box represents a cost-effective and smart solution to the problems inherent in today's voting procedures. Participants will use decision tokens (HST) to cast their votes from a mobile phone or PC, which are then logged into an immutable blockchain and used to reliably verify the outcome of the election. There can be no manipulation, recording errors, or tampering. More than voting, however, this system will be useful simply for making decisions in an environment where resources and authority are shared. It will also encourage participation.
Voter apathy has seen the number of people show up to cast their votes dwindle in recent years, even as it has become more important to do so. By providing an irrefutable and easy way to vote from one's phone or PC, these numbers would likely rise. Even governments have a reason to change the status quo: a single vote currently costs between $7.00 and $25.00, when all factors are considered. A blockchain product like this costs just $0.50 per vote.
Horizon State co-founder Jamie Skella noted that "Democracy is the opportunity to share in the decision-making processes that relate to the shared matters which affect us. Democracy is about reaching a consensus on how to best use our shared resources to achieve the best outcomes for our partners, children, colleagues, staff, and fellow citizens. Where there are shared resources in any cooperative environment, there remains no question: we need better-shared decision-making tools and processes."
Blockchain-based elections are being trialled in the real world for some time. In November 2018, the Thai Democrat Party, Thailand's oldest political party, held a primary election to elect its new party leader using ZCoin, marking the first large-scale political election carried out using blockchain technology. The vote was concluded with a total of 127,479 votes that came from all over Thailand.
Blockchain is paving the way for a direct democracy, where people can decide the course of policy themselves, rather than rely on representatives to do it for them. While the rules of a political election may have to be changed to make way for such a transparent system, blockchain is also ideal for informing business decisions, guiding general meetings, polling, censuses, and more.
The use cases for blockchain voting software are many and diverse. Its ability to engage and manage a constituency is crucial to the future of society, not just to produce a transparent outcome but to encourage all people to participate in their communities. Currently, the technology is still in its infancy, but it matures alongside the young voters it will one day help, and looks to be a key part of our collective future.
Venezuelans participate in blockchain-backed election voting
In the past few years alone, democracy by 'clicking' has seen more than its fair share of electoral upheavals: Russia's interference in the 2016 US election, the total collapse of Venezuelan society, and accounts of political corruption in Argentina. In another highly anticipated election of 2020, Venezuelans took to the polls by voting through the support of blockchain technology. Juan Guiado, the opposition leader of Nicolas Maduro's regime in Venezuela, held an 'unofficial' referendum that resulted in millions casting their votes.
The referendum was to decide on whether Maduro should resign from his position or remain in power. Over 6.5 million Venezuelans voted using a blockchain system.
The referendum was held on the Voatz platform, a pro-democracy blockchain-based application where citizens have the opportunity to securely and transparently vote.
At the same time that the referendum was taking place, Maduro's government held parliamentary elections that are being widely criticized by a variety of world governments for being somewhat or fully fraudulent.
Voatz is integrated into the Telegram messaging app, and Venezuelan citizens were able to cast their votes on the app last week over a four-day period.
——————————————————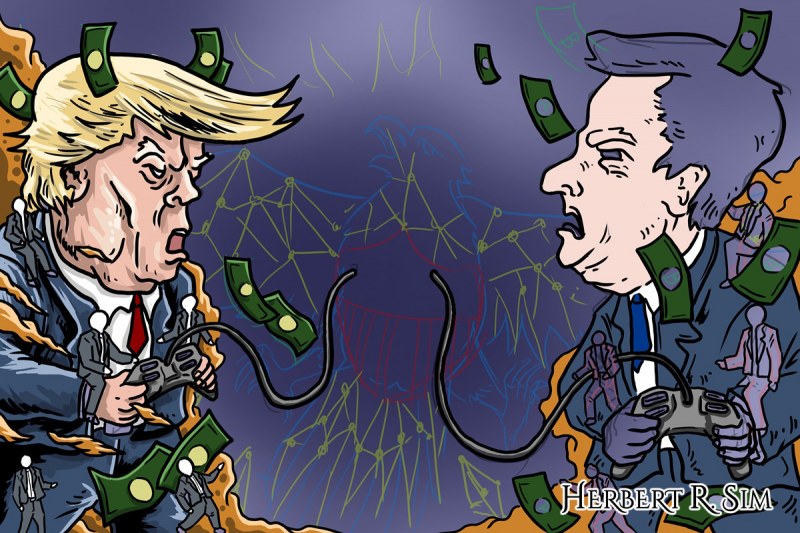 The illustration was done in caricature style, with little humans representing the people's support on each side, with the flying money representing the millions of dollars used to fund the presidential campaigns.
——————————————————
Enhancing food aid distribution
The World Food Programme (WFP), part of the United Nations, has developed a system called "Building Blocks". It uses blockchain to transfer money to those living in poverty. In January, 2017, it successfully completed a trial in Pakistan, providing assistance to 100 people. On May 1, this same system began operating in Jordan, providing money to 10,000 people. By 2018, the UN wants to expand this system to include 500,000 people worldwide.
A system that automatically distributes money to hundreds of thousands of people around the world, bypasses local governments. Depositing money into the bank accounts to some of the poorest people in the world, in nations with tight control over the political, economic and social system, could create fear in governments as to how this new disposable income will affect citizen behaviour.
From Pakistan to Indonesia, Jordan to Mozambique, will blockchain-fuelled assistance be viewed as a new threat?
Holding elections in a credible manner
Its Rio, a think tank located in Brazil, is developing a new platform for the government powered by blockchain. Once completed, it will enable a new kind of transparency in future Brazilian elections. Votes will be counted through "digital signatures" of people, signatures which will be linked to the unique number each Brazilian citizen has (part of their national ID card).
The ability to hold elections in a highly transparent and accountable manner will transform many countries where division, scepticism and doubt exists towards the political process. Non-governmental organizations (NGOs) can use blockchain to make sure elections are held without tampering, while governments that choose to ignore results of elections will have a tough time arguing against a blockchain ledger.
In the face of increasing political divide at both ends of the spectrum, blockchain could be the variable that reinforces democracy, not erodes it.
Economic expansion and heightened tech-politics competition
The People's Bank of China (PBOC), which is the central bank of China, finished a trial testing a "blockchain based digital currency" in February, 2017. Months earlier, in South Korea, the chairman of South Korea's Financial Services Commission (FSC), which controls all financial services in the country, said the government was going to lay the "groundwork" for a digital currency. One of the few public details about the project is that blockchain will be used. Other countries exploring the use of blockchain in digital currencies include Australia, Canada, the United Kingdom and Russia.
While using blockchain as the foundation of a digital currency isn't a new idea, blockchain itself could be the catalyst governments have been waiting for to launch digital currencies. And if it is, it has a huge impact for world affairs.
Take China for example. Having a digital Renminbi isn't just a more efficient way to manage the domestic money supply. Having a digital currency allows China to expand its currency from being a domestic to global by allowing people around the world to access the currency through an app or online platform. This method is far easier than trying to compete with the United States for global currency dominance by attempting to have countries store Chinese Renmibi alongside, or in place of, US dollars. It might be decades before China's currency is recognized as equal to America's as a reserve or universal currency, but it might only take years before tens or hundreds of millions of people are individually using a digital version of the Renminbi to sell/buy goods.
China's push for political and tech dominance
The political implications depend on who designs and implements the technologies. With the internet, the US recognized that startups such as Google and Amazon.com would generate more innovation than incumbent telecommunications and media providers who sought to exercise control. What we failed to anticipate was how effectively China could separate the economic benefits of internet connectivity from the political benefits of free expression. Now we are making the same mistake with blockchain. Only now China is a far more formidable financial and technological competitor than it was 20 years ago.
China's blockchain push serves two of its strategic goals: ending the hegemony of the dollar, and reducing technological dependence on the US for foundational technologies. A digital currency that China can extend globally will be synergistic with significant domestic blockchain development. Blockchain's decentralized trust offers significant economic and social benefits in a chronically low-trust country such as China. In Xi's words, China will "take the leading position … occupy the commanding heights of innovation, and gain new industrial advantages."
The US should approach blockchain like it approaches AI and other major technologies that raise significant public policy questions. The White House should convene policymakers, executives, technologists, and other experts to develop a coordinated blockchain strategy. Agencies such as the SEC should continue their efforts to adapt financial regulatory frameworks to cryptocurrencies, tokenized assets, and novel platforms such as Libra. However, the bigger emphasis should be on real-world barriers to adoption, and on making blockchain systems consistent with the rule of law while still open to innovation. This is where the US and China differ. Chinese courts and legislatures are ultimately subordinate to the Communist Party; there is always a limit to the technologically mediated trust that blockchain systems can provide. One of the first Chinese blockchain initiatives announced after Xi's speech was for party members to pledge their loyalty, immutably recorded on a blockchain ledger.
——————————————————
In my final illustration, I placed focused towards detailing in the American Eagle, but in digital blockchain style. With the Bitcoin logo in the backdrop.
——————————————————
Which nation-state will up the stakes for blockchain political domination?
The United States, Russia, China, and most of the G20 countries have devoted resources to blockchain solutions. The United Arab Emirates, led by its tech-hub in Dubai, aims to be the world's first blockchain powered government; and the Australia National Blockchain aims to move the nation towards blockchain immersion.
Many industry leaders have pooled into consortia — technology-specific, such as R3 and the Ethereum Enterprise Alliance; or business specific, such as the Hyperledger, Bankchain, TradeLens, and MediLedger. The goal for such co-opetition is to bring standards that lifts all boats, such as a Blockchain in Transport Alliance for supply chain management, or a Blockchain Law Consortium for the legal industry.
Like most new technologies, innovators and leaders in blockchain are not limited to major corporations and governments. The innovative bleeding edge often comes from small countries or nations with developing economies. Singapore, Malta, and Estonia have been leading the curve in international regulations, the Blockchain of Things, and digital identity. Development and investment continue to pour into impactful blockchain projects for real estate, agribusiness, and free expression in Latin America, South America, and Africa.
As other countries join in, we'll see most other sophisticated countries support Mark Carney's vision of a "synthetic hegemonic currency", which would grow from a basket of other fiat currencies to dominate money globally.
In the coming year, central bankers, policy-makers, and business leaders – all of us – will decide what the future of the digital economy will look like. Western economies have an opportunity to embrace decentralisation and the Internet of Value and, in doing so, maintain their leadership positions in the global economy. However, leaders will need a level of flexibility and openness that we have not yet seen.