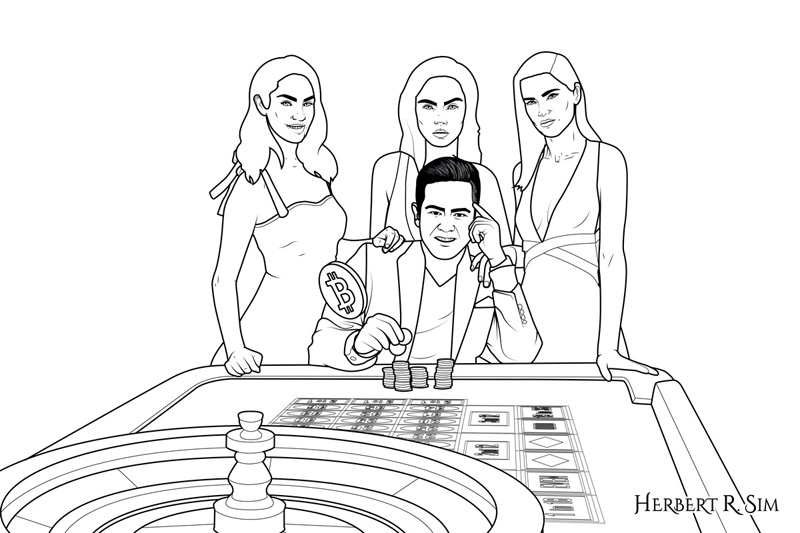 An illustration sketch featuring myself playing at a casino, but with Bitcoin cryptocurrency.
————————————————————–
Online gambling is big business. According to research firm Zion Market Research, the global online gambling and betting market rang the tills at US$45.8 billion in 2017. In America, online gambling is a $4 billion a year business. The global online gambling market – a veritable Digital Las Vegas on a global scale – is expected to reach $94.4 billion by 2024, growing at a compound annual growth rate of around 10.9 % between 2018 and 2024. The economically advancing Asia Pacific region is expected to see a substantial growth in online gambling and betting over this timeframe.
As part of this trend, the rise of cryptocurrencies in the past few years is projected to fuel the growth of the online gambling and betting market. As it is, by most estimates, more than half of global Bitcoin transactions are wagers on gambling sites. It is thus worth taking a look at the role that cryptocurrencies such as Bitcoin play in the growing online gambling scene.
Pair of Aces
Bitcoin and cryptocurrencies in general are deemed to be well-suited to the application of online gambling.
Bitcoin is the forerunner when it comes to cryptocurrency-based online gambling as it was the first cryptocurrency used for payments by various online gambling platforms. At present, there are hundreds of Bitcoin gambling sites available, catering to a wide range of big-money gaming. Classic favourites like poker and blackjack are available, but quick dice games, suited for an online platform, have seen their popularity skyrocket.
Bitcoin is a suitable currency for online wagers due to its anonymous nature and low payment-processing costs. While most credit cards charge 2 to 3 percent fees on each transaction, Bitcoins average around only 1 percent depending on the service used. Furthermore, Bitcoin moves quickly around the world and with little friction from bureaucratic requirements and qualifying criteria.
In much the same way that the Internet breaks down international boundaries, the uniformity of Bitcoin enables international gambling without the hassles of currency exchanges. Gambling enthusiasts like Bitcoin because they receive their winnings right away. There is no waiting for bank wires or deposits because Bitcoin is itself a payment processing system.
————————————————————–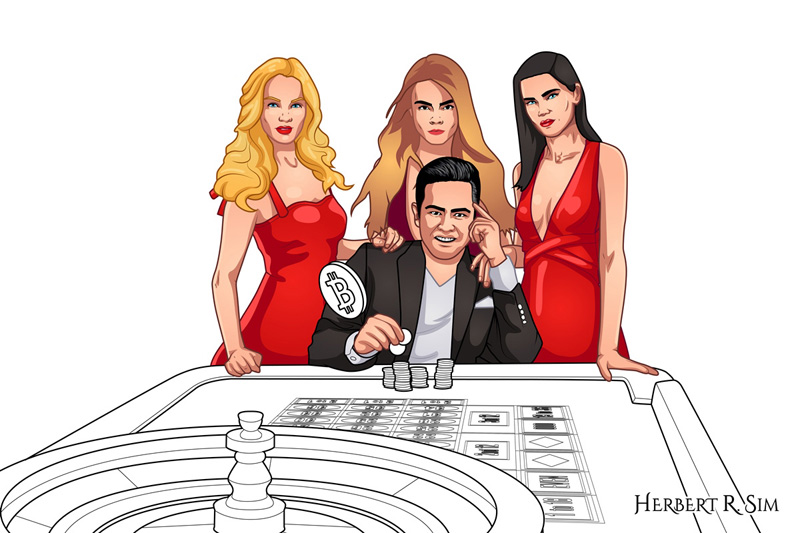 The girls were drawn to resemble Victoria Secret models – Candice Swanepoel, Cara Delevingne, and Adriana Lima.
————————————————————–
What is also notable about cryptocurrency-based gambling is how it is conceivably more transparent than traditional casinos or other online sites that use fiat currency. With the blockchain that undergirds cryptocurrencies being a public ledger, an inquisitive gambler would be able to follow all the transactions from a site's Bitcoin address. In fact, popular sites like SatoshiDice show the latest plays being transacted on the site itself, backing a claim to be "provably trustworthy".
Bitcoin software can be made "provably fair" to satisfy the most scrupulous gamblers. This is done by allowing players to ensure that the outcome of a gambling round has been determined by their input and a secret random number. Though this, chances that the software is rigged are eliminated. Such methods used by casino software work not only with Bitcoin but other popular cryptocurrencies such as Ethereum, Litecoin, Dogecoin and others.
SatoshiDice
No article on gambling and Bitcoins would be complete without mention of SatoshiDice (S.DICE), which claims to be "the most popular Bitcoin betting game in the universe". Launched by its operator Erik Voorhees in April 2012, the company's shares have been traded on MPEx, the Romanian Bitcoin securities exchange, underscoring its popularity. The site was sold in 2013 for $11.5 million in BTC market price at the time.
It is unclear who purchased SatoshiDice but if it is a significant gaming company that bought it and is they looking to expand beyond the SatoshiDice model, there would be spillover benefits for Bitcoin and cryptocurrencies as it would give it greater exposure to people who are unware of its uses.
SatoshiDice has been a catalyst for Bitcoin-based gambling as many SatoshiDice competitors have mushroomed since its launch. And rightly so, since all it takes is some web programming skills and an understanding of Bitcoin to be able to set up a Bitcoin-based (or other cryptocurrency) gambling site.
————————————————————–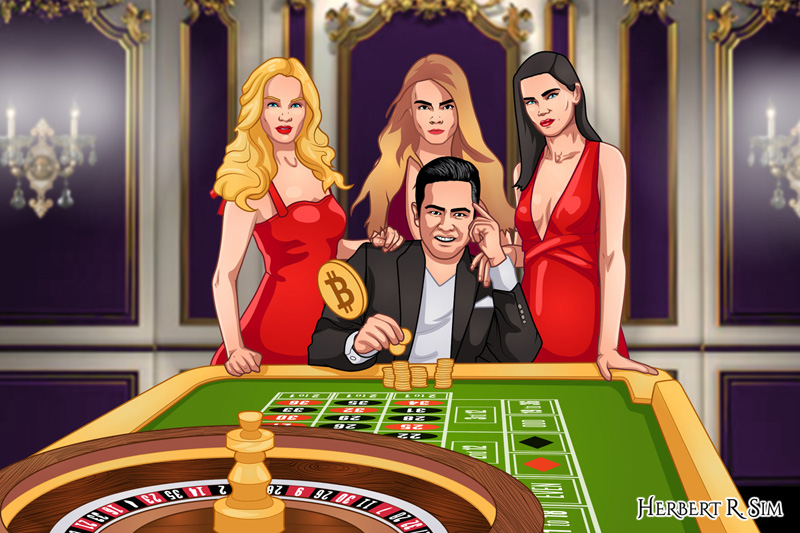 In the final illustration, it was colored in with a luxurious background on board a cruise ship.
————————————————————–
Digital Vegas Strip: Gaming Platforms
There are numerous Bitcoin-based online casinos emerging on the scene such as BetChain (since December 2013), BitStarz (April 2014) and Bitcoin Penguin (July 2014). Compared to traditional casinos which only accept fiat currencies, these online casinos that collectively form a 'Digital Vegas strip' are said to have a low house edge, offer loyalty programs and bonuses attract and retain customers.
Many of these sites also offer Bitcoin faucets, a reward system where a website or app gives out small amounts of Bitcoin called Satoshis (one hundred millionth of a single Bitcoin). In order to collect these rewards, visitors to the website usually need to complete a captcha or a task assigned to them.
Bitcoin Cash is a cryptocurrency of choice for certain online gambling sites offering popular games like Dice, Blackjack, Slot, Roulette, Video Poker, Plinko, Minesweeper and Lottery. Such sites are often run by cryptocurrency enthusiasts with an IT background (Programmers, System engineers, etc.) who had learnt of Bitcoin from its inception in 2011 and saw its potential.
Gambling cryptocoins are emerging as well. QixCoin is a new cryptocurrency that supports peer to peer gaming and is tradeable against other major cryptocurrencies. It possesses a built-in engine to verify card games like Poker or Blackjack.
For sports fans, Digital Fantasy Sports (DFS) is a token designed to give sports fans the opportunity to showcase their knowledge and confidence through sports predictions against other sports fans around the world. DFS also covers Fantasy sports and eSports. Wagers are placed on G.O.A.T., a gaming platform that offers most professional sports in the US and internationally. The platform is designed to give users the chance to interact with a global community via live chats and to experience games together.
Whatever one's game of choice, it seems that Bitcoin and other cryptocurrencies are well-placed to make an increasingly significant impact in the world of online gambling. A true win-win situation would be when cryptocurrencies bank on their growing popularity to become a part of the financial and societal mainstream much like fiat currencies.