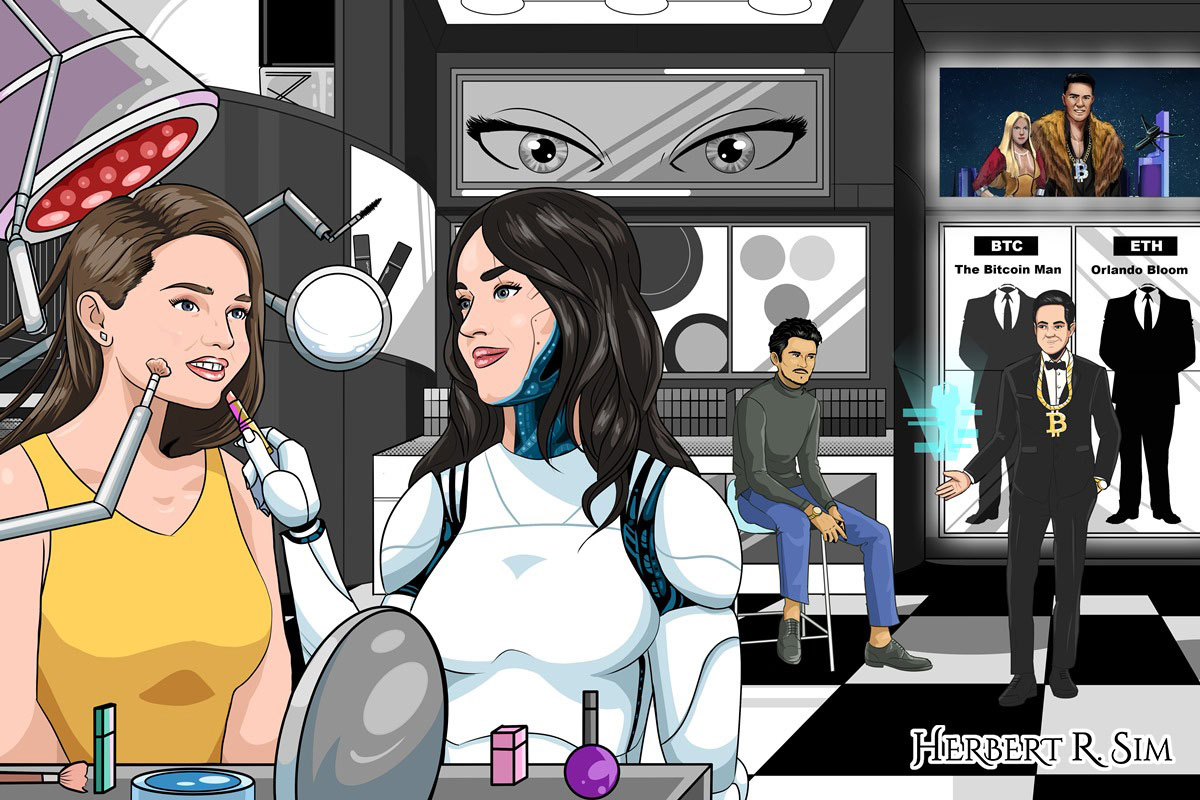 My latest illustration showcasing Beauty Industry using Robotics/Artificial Intelligence, featuring Katy Perry as a AI robot as a makeup artist for Miranda Kerr; and TheBitcoinMan showcasing the latest technology to Orlando Bloom.
————————————————–
Talk about blockchain applications in the real world and you'll probably think about the prominent ones, from JPMorgan's Ethereum-enabled Quorum blockchain (now acquired by ConsenSys) to KrisPay – Singapore Airlines' digital wallet that securely turns miles into cryptocurrencies.
In fact, as far as blockchain adopters go, multiple industries have had a stab at it, the likes of healthcare, manufacturing and even telecommunications.
What has caught many off guard, however, is the beauty industry's willingness to adapt and adopt, with beauty entities tapping on blockchain technology to help them tackle issues and in the process, refine traditional business models and attract even more customers.
Navigating rough winds
The fact that beauty brands are willing to confront industry problems – negligent labelling and supply chain traceability for example – speaks volumes of not just how serious they are in trying to resolve issues, but also how far blockchain technology has come to be considered as a viable option.
Additionally, as technology continues to advance and enable us to consume information however much we wish and whenever we want, perspectives on certain topics are constantly being reshaped and tested.
The undercurrent narrative for many consumers today, is the need to choose and view brands based not on just a product's quality, but also if they're responsible companies that possess a serious view on sustainability and ethical issues.
The same applies for beauty brands and how well they address those concerns.
————————————————–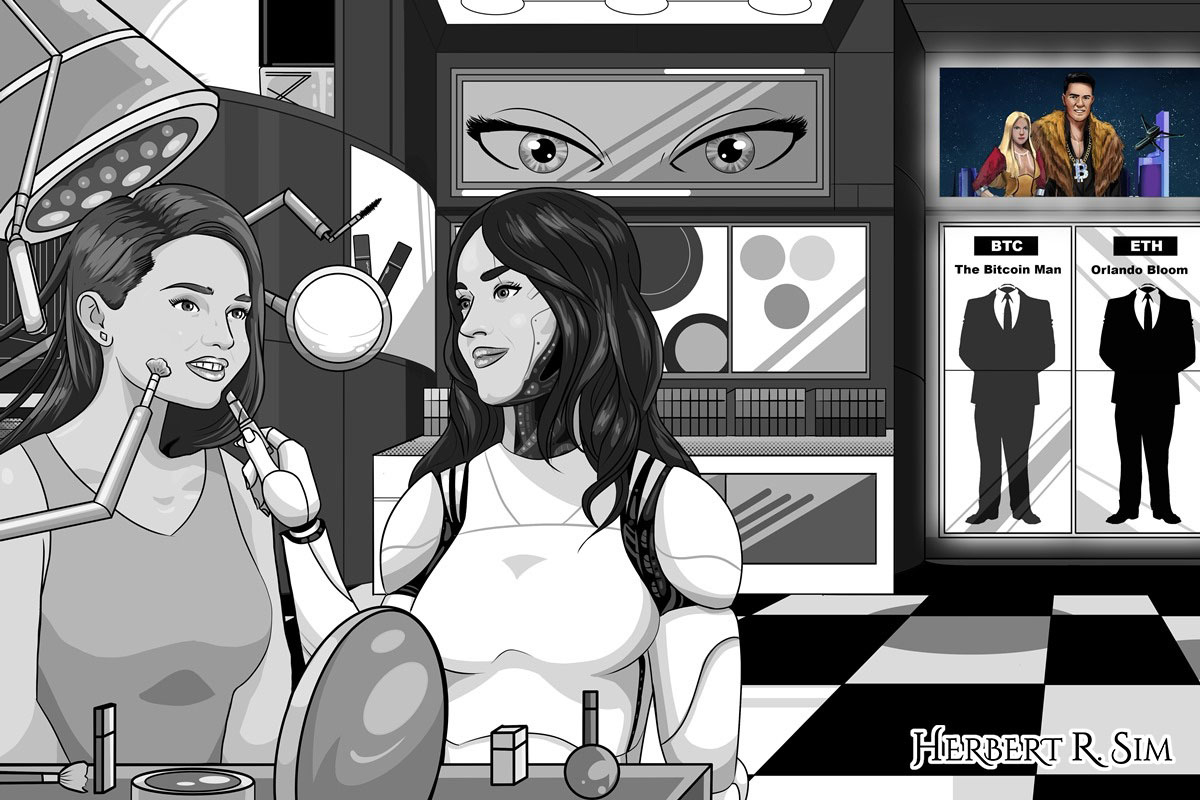 Here's the work-in-progress, as I sketched in part by part of the illustration.
————————————————–
Identifying and solving issues
Indeed, a common thorn in the beauty industry's flesh has been the existence and production of counterfeit products – often created without stringent conditions and may thus lead to the presence of toxic ingredients.
These ingredients, when applied to the bare skin, can cause health problems, scarring and even rashes. Furthermore, to ascertain whether a product is legitimately organic, the rules surrounding such a labelling are vague, with no regulatory definition established.
Such lackadaisical practices have dampened consumer confidence, while justifying those with a perceived understanding that the beauty industry is too self-absorbed with its own set of practices as well as profits.
This is in stark contrast to what some beauty companies are attempting to spearhead, acknowledging what consumers want and aiming to deliver progress in various spectrums – from the lack of supply chain traceability and product authenticity, to implementing innovative reward systems and offerings.
Multiple brands have led the way, including giants like Aveda under the Estée Lauder Companies (ELC), Seqens, a global player in pharmaceutical solutions and speciality ingredients, as well as Cult Beauty, a UK-based online beauty retailer.
Together with natural ingredients supply chain partner LMR Naturals by IFF and local Madagascar vanilla supplier Biovanilla, Aveda partnered with Wholechain – a blockchain-based traceability solution to trace the brand's Madagascan vanilla supply journey.
This was in 2019 and the company's goal was to heighten traceability by collating data from supply chain partners in real-time, and bring blockchain-enabled, traceable vanilla to more than 125 Aveda products by the spring of 2021.
Still on the traceability front, Seqens has also developed its own platform to track organic-certified cosmetic actives. This was done to ensure compliance with both internal and organic certification processes in real time, providing transparency to consumers and fuelling trust.
Cult Beauty, on the other hand, partners blockchain firm Provenance in its efforts to back up claims made by selected beauty products that it sells. The process is stringent and pulls information regarding a product's origin, processes, ingredients and claims.
Essentially, a two-stage blockchain solution is used, dubbed Proof Points – whereby the first stage relies on evidence provided by the brand and the second stage requires verification from independent third-party organisations such as laboratories and NGOs.
But wait, there's more.
EM Cosmetics, of beauty influencer Michelle Phan fame, has also taken an innovative approach by partnering with Lolli, a crypto rewards company, to enable Bitcoin rewards for customers.
Last but not least, there's also CosBall, the world's first personalised daily cosmetic product that taps on big data to store and analyse skincare formula recommendations. Its aim is to create a massive analytical database for skin types, which will enable them to provide an extremely accurate and tailored cosmetic solution for each customer.
The cause for blockchain adoption
While there is no certainty as to what may have stirred the adoption of blockchain technology by beauty companies, one thing is for sure – various occurrences and scenarios have proven favourable in turning brands towards blockchain partnerships.
In fact, millennial enthusiasm for cryptocurrencies and the assortment of associated technologies, can be seen as pivotal to the rejuvenation of the industry.
Considering that there was a 160% surge in the number of women who were involved in the crypto market in 2020, you'd understand how this group of savvy individuals could influence a female-dominated beauty industry and opt for brands that know and understand blockchain.
There's also a wave of global brands (think L'Oréal, Shiseido and Estée Lauder) that are channelling investments into beauty tech such as Artificial Intelligence and Augmented Reality – paving the way for other companies to at least take their first steps and try new tech.
Also, as Michelle Phan puts it, the beauty space is decentralised, where consumers can make their own decisions based not on what magazines say, but by facts, data and information that cannot be misconstrued. This is something that is made even more possible by multiple blockchain solutions.
This assurance stems from millennial customers who have, to a certain extent, gained a positive understanding of the crypto sphere and its web of functions and capabilities.
When a beauty product broadcasts its partnership with a prominent blockchain entity, it elevates its "street cred" among crypto proponents (or millennials) – and breaks apart the notion of being old-fashioned and dull in terms of brand perception.
Another key factor that may have accelerated the adoption of blockchain technology, is the ongoing Covid-19 pandemic. It has propelled safety and hygiene concerns to the fore of the beauty industry – from an initial pre-Covid focus on eco-friendly products, to shining the spotlight on product safety and hygiene in today's pandemic-stricken world.
————————————————–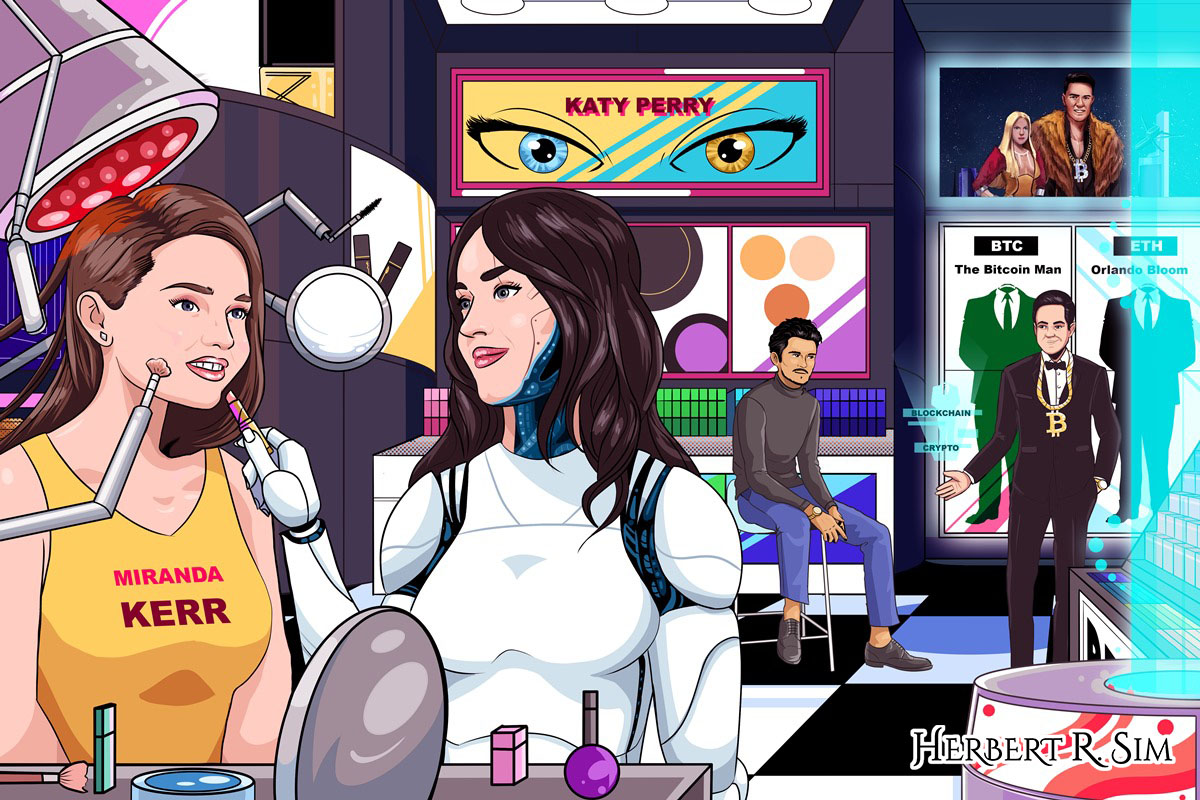 In the final illustration, I drew in the finishing touches to make it look as 'futuristic' as possible. In case that Crypto and Blockchain weren't as easily understood as part of the illustration, words were added in too.
————————————————–
Ushering in a new dawn
The good news is that blockchain can solve the above issues, such is its useability and adaptability.
It is only a matter of time before blockchain transforms into a mainstream solution and fulfils its original intention – to allow digital information to be recorded and distributed but cannot be altered or destroyed – and reinforce the fresh dawn that it's striving to create.
While beauty to some may seem like a superficial attribute – the usage of blockchain technology is anything but. Indeed, true beauty lies in the eye of the beholder, in this case, the consumers and now the causes that each brand is fighting for.