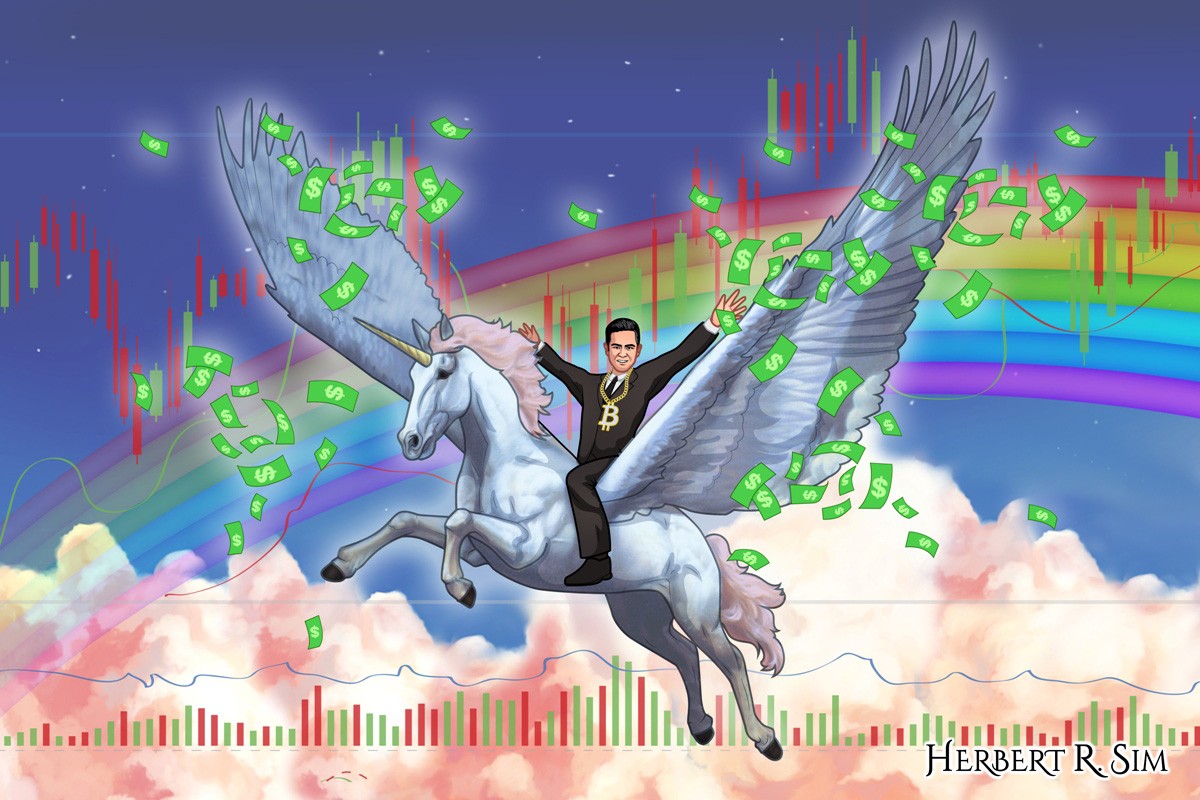 My latest illustration is inspired by Bloomberg Businessweek "Bitcoin Dreams" cover. – featuring me a.k.a. The Bitcoin Man, riding a technology unicorn.
———————————————————————
Internet traffic is what drives 'internet money.' So the best way to predict trends, evaluate markets, and to detect manipulation is through internet analytics aka digital market intelligence. Here below are 7 internet traffic tools and tips to help you determine what crypto projects and ICOs are organically growing, manipulated, or complete scams.
———————————————————————
Crypto Research
Find out which crypto projects are organically growing, manipulated, or complete scams
#1 – Project/Coin's Main Site
Check out the hosting on ViewDNS. If they have other shady sites on their server steer clear.
WebsiteInformer shows you daily visitor and page view information from Alexa. Website Informer also shows you who is behind the hosting and if they are using a CDN. If they have a Content Delivery Network they can handle surges of traffic.
A fast working website is a good sign. If their site is lagging they probably don't know what they're doing. Use Pingdom Tools to check the speed.
#2 – Organic Search
Google Trends is a good place to start. Figure out and search the coin's keywords and take a look at the:
Interest over time
Interest by region
Related topics
Related queries
Tip: Figure out and search the keywords that the developers, miners, and traders are specifically using.
You can use Google Correlate to find more keywords that relate.
Plug the keywords into Google Search and analyze the top ranking sites. The coin's main site should rank in the top. You can also refine the search to a particular time range to investigate news that may have caused the coin to trend in Google Trends.
Search the keywords in Google Images. Find and save any promotional media (ads and infographics) you find and then do a reverse image. Investigate where the media is being displayed and who is displaying it.
———————————————————————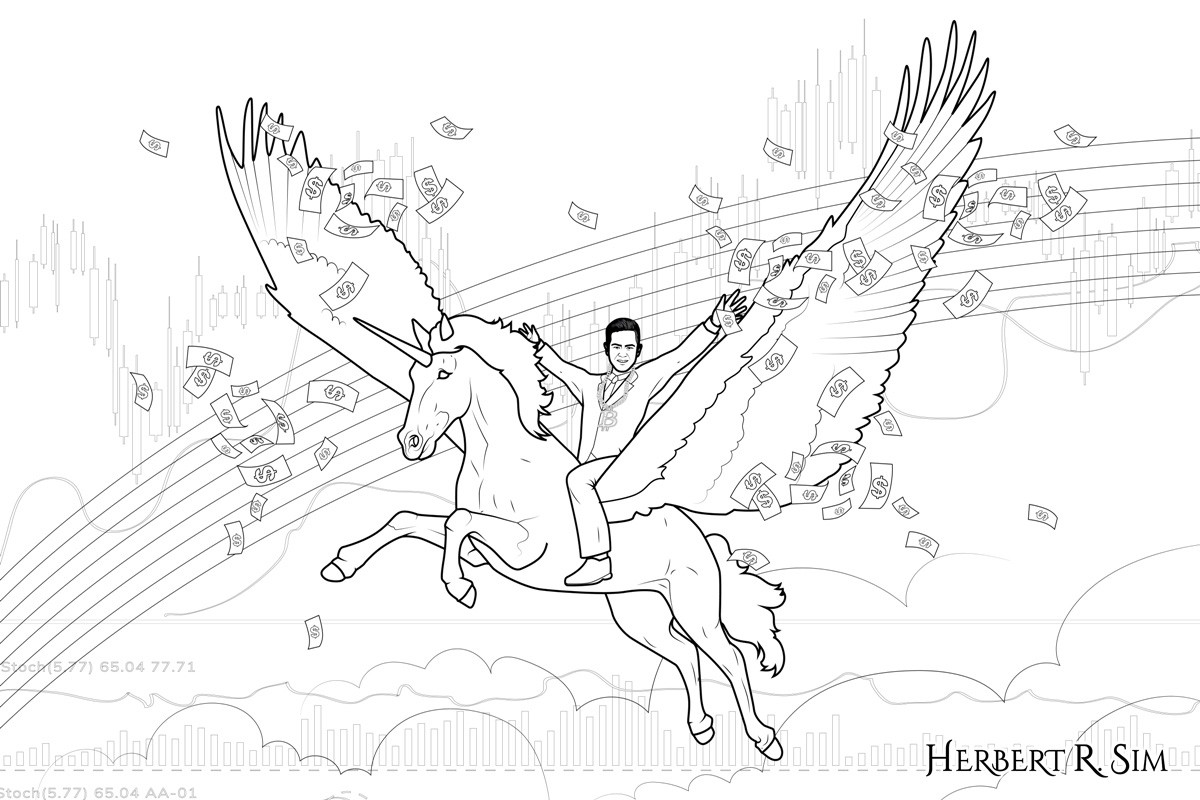 In the illustration background, it showcases the stock or cryptocurrency market charts
———————————————————————
#3 – Traffic and Backlinks
SimilarWeb is a powerful tool even without a subscription. It shows the top referring and destination sites — the sites that people are coming from and leaving to. It also shows traffic sources:
Referrals — People coming to the site from other sites, blogs, forums, ect.
Search — People coming to the site through the search engines.
Social — People coming to the site from Twitter, Facebook, Youtube, Reddit, Linkedin, ect.
Email —  People coming from email
Display — People coming to the site from display banner ads.
Direct — People who are coming from everywhere else; browsers, bookmarks, redirects, etc.
Tip: Figure out the sites that developers, miners, and traders are coming from and leaving to.
OpenLinkProfiler shows more referring sites (backlinks) and it's free. Investigate who's linking to the coin's main site. This tool also helps you sort out the spam (bots and bounties) — the fewer nofollow links the better. Lastly, keep a record of the number of backlinks over time to determine the growth rate.
Majestic is truly majestic if you know how to use it. They have a backlink history tool which visually shows you backlink growth on a chart. Without a subscription, they'll let you do 5 searches a day.
#4 – Paid Advertising
SEMrush can be used to determine the volume of Google's Paid Search and Display Advertising. Without a subscription they'll let you do 10 searches a day.
Adexpresso spys on Facebook ads.
Banner Ads are somewhat expensive in this niche. The minimum purchasing order for an adbuyer on a cryptocurrency authority sites is around 20 thousand USD. If you continuously see an banner ad on these sites it indicates that the ad buyer has a large budget. If it's an ICO consider why they're raising money if they already have a large budget? BuySellAds will give you an idea of the cost and volume of these ads.
#5 – Social Metrics
Be careful because this space is extremely manipulated by bots and bounties. Use BuzzSumo and SharedCount to identify which posts are 'most popular.' Then investigate some of the people that engage (share, like, and comment) with these "most popular" posts. All you have to do is click into their profiles and the fake ones will be obvious — they'll have ridiculous names, horrible grammar, mismatching pictures, and ton of fake interests, shares, re-tweets, friends, followers, ect. If you slightly suspect that the engagement isn't real then it's most likely fake.
Count out some of the fake and real profiles, determine the ratio, and estimate the overall real organic engagement of the media you're investigating. Over half of ICOs are scams and coincidentally over half of ICO social media engagement comes from bots and bounties.
Facebook, Twitter, Reddit, Youtube are completely searchable. Use the search boxes to find the "most popular" media, people, pages, and groups. Then try to determine if it's organic — sometimes it's tricky because even video views, page likes, and group sizes are manipulated.
Telegram Tracker shows group member growth but this metric is especially inflated by bots and bounties. Marketers try to make the communities appear larger than they really are. The best way to gauge a group's organic growth is by analyzing the message rate. In short, keep a record of the number of messages per day to determine the growth rate. Also, consider the sentiment because sometimes the message rate will increase due to bad news.
Here's are some extra analytic/trend tools for Reddit, Twitter, and Youtube:
———————————————————————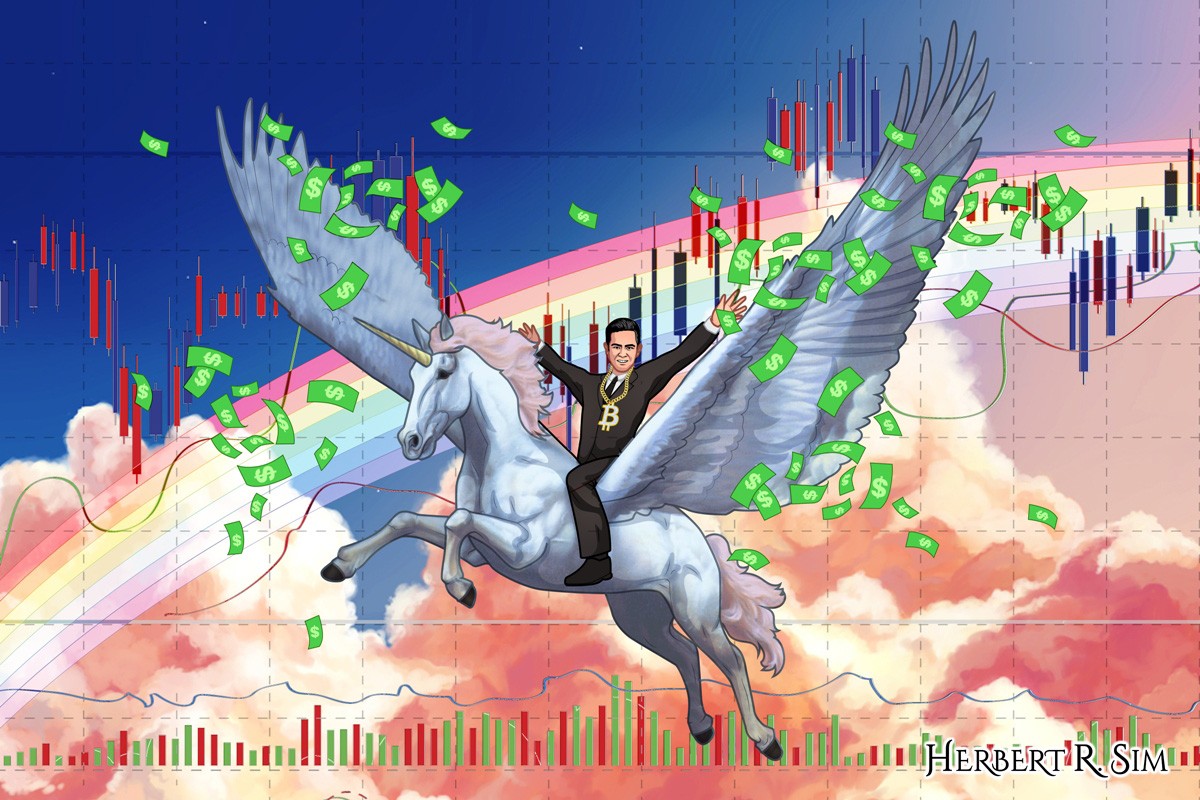 In my final illustration, it focuses on the action of 'throwing' redistribution of wealth, the idea of decentralization.
———————————————————————
#6 – Bounty Programs
Bounty programs incentivize people to like, share, comment, and join groups. These programs create a facade of engagement and hype. The fact is a majority of these 'people' use multiple bots. Absurdly this manipulation is blatantly transparent. Bounty hunters submit all their bot's engagement on Bitcointalk to receive their bounty. Google search "Bitcointalk Bounty (Name of the Coin)" to find the thread, and cross check it.
#7 – Airdrops
Some projects give out free coins to create hype. If you come across a surge of website traffic but you can't find anything to back it up then it's probably an airdrop. Market makers often drive up the price (paint the tape) before the airdrop so the coins trade at the 'established' price.
*Last updated Feb 2018.